Welcome to my stop on the Great Escapes Virtual Book Tour for Broadcast 4 Murder (Sophie Kimball Mystery) by J.C. Eaton. Stop by each blog on the tour for interviews, guest posts, spotlights, reviews and more!
All of Arizona's Sun City West heard Sophie "Phee" Kimball's mom scream bloody murder, but it's up to the reluctant sleuth to find the killer . . .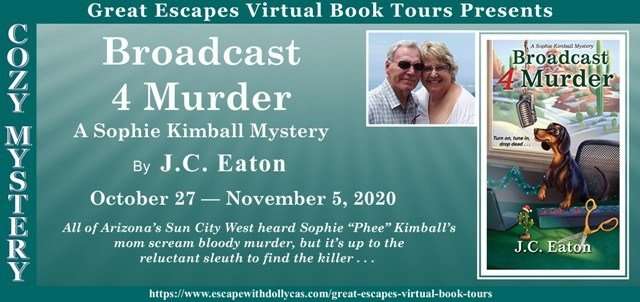 Broadcast 4 Murder (Sophie Kimball Mystery)
by J.C. Eaton
Broadcast 4 Murder (Sophie Kimball Mystery)
Cozy Mystery
7th in Series
Publisher: Kensington (October 27, 2020)
Mass Market Paperback: 320 pages
Phee's mother Harriet is going to be a star! At least, that's how the Sun City West retiree describes her chance to host a live radio program of her book club's Booked 4 Murder Mystery Hour on Arizona's KSCW. But instead of chatting about charming cozies, Harriet ends up screaming bloody murder over the airwaves after discovering the body of Howard Buell, the station's programming director, in a closet—with a pair of sewing shears shoved into his chest.
The number one suspect is Howard's ex-girlfriend Sylvia Strattlemeyer who believed she was going to host a sewing talk show before Harriet was offered the spot. But not only do the fingerprints found on the scissors not match Sylvia's, they belong to a woman who passed away twenty years ago at the age of ninety-seven. Now, with the whole town on pins and needles, it's up to Phee to stitch together enough clues from the past to uncover the identity of a killer in the present . . .
Author interview
Thank you both for taking the time to let my readers get to know you!
Since you're a husband and wife writing duo, I have to ask these!
How long have you been married? Over 38 years! Yep, we're that old!
Were you married when you started writing together? Yes. Ann wrote YA time travel mysteries prior, then Jim got the idea to co-author humorous cozies. Prior to that he had only written non-fiction. It was quite the leap.
Do you ever get into arguments about who the criminal is going to be? And who usually wins the argument if you do?! Goodness! All the time! Not actually arguments but a lot of pulling and tugging. We've learned to compromise on so many of the elements that comprise our novels.
What gave you the idea to write the Sophie Kimball series?
We live in a senior retirement community and take our small dog to the dog park all the time. After listening to the conversations and chatter, Jim said, "This is too good to pass up. We should write a mystery series set in this community. So much fodder!"
How do you select the names of your characters?
We sift through names in the paper, names of real estate agents in Greater Phoenix (there are loads of them!), and names that simply spring to mind. Then, we use parts of the names, combined with others. Sometimes, a name just "hits" us right. We met a lovely lady named Vernadeen at a Barnes & Noble book signing. Guess what? We gave her a last name and she is in Broadcast 4 Murder.
How long on average does it take you to write a book? And, do you stick to a strict writing schedule?
Usually 4 – 6 months for a first draft. Then we go through layers of editing. We can draft and edit at the same time but would not write two drafts at once. Way too confusing to keep the characters and plot straight.
Are you friends with any other authors (cozy mystery or otherwise)?
Yes. We belong to the Cozy Mystery Crew on Facebook. There are twelve of us and we support and promote each other. Children's authors Gale Leach and Fran Orenstein are friends of ours.
What is your favorite childhood book? (I'm sure you each have your own favorite!)
For Jim, it is Tom Sawyer and for Ann, anything Nancy Drew. (I loved Nancy Drew too!)
Ann, what was your favorite thing about being a middle school principal, and do you have any fun anecdotes you can share with us about your experience as a principal? (I know, the names will be changed to protect the innocent!)
The energy and humor that are always associated with middle schoolers. They're like puppies – their moods are so obvious. And, the energy was contagious. My favorite anecdote actually involves Jim. You see, most Friday nights we chaperoned the middle school dances. (That was our social life!). Well, at one dance, a few mothers approached me and said, "We think the boys are going into the boys room to smoke and get high. They go in and a few minutes later, they come out laughing hysterically. They must be doing something awful in there. So…I asked Jim to go in with another parent – a male. A few minutes later, they came out laughing hysterically. We asked what on earth was going on and they said, "The boys go in and someone gives a girl's name that they think one of the boys should dance with. Then they all come out laughing. No drugs. No alcohol. Just girls' names. Go figure!"
James, which career prepared you to be a writer more: the Navy or winery tasting room manager?
The winery, for sure. From organizing festivals to information about the wines, I learned how to present it to the public.
What was your favorite part about writing your latest book, Broadcast 4 Murder?
Coming up with the latest quirky characters. And an interesting plot twist.
Finally, is there anything else you'd like to share that I didn't touch on?
When we first started writing, we never imagined we'd get so close to our characters. We now feel like Sophie (Phee), Harriet, Herb, the book club ladies, Aunt Ina, and of course, Streetman, the neurotic Chiweenie, are all part of our lives. Streetman is based on our own, Chiweenie, Streetboy. Not quite as neurotic but in the same ball park. Aunt Ina is definitely based on a conglomeration of Ann's aunts!
Thanks so much! I love your answers! I can't wait to read this series. Your characters and the premises sound right up my alley!
About J.C. Eaton
J.C. Eaton is the wife and husband team of Ann I. Goldfarb and James E. Clapp, authors of the Sophie Kimball Mystery Series and the Wine Trail Mysteries. A New York native and former middle school principal, Ann has published eight award-winning and highly acclaimed YA time travel mysteries. James is a U.S. Navy veteran and retired tasting room manager for a large upscale New York winery. Visit their Website at JCEatonMysteries.com.
Author Links
Website: www.jceatonauthor.com
Facebook: https://www.facebook.com/JCEatonauthor/
Purchase Links – Amazon – B&N – Kobo – Google Play – IndieBound
Enter the giveaway
Broadcast 4 Murder Tour Participants
October 27
Sneaky the Library Cat's blog – CHARACTER INTERVIEW
Miss W Book Reviews – REVIEW
Baroness' Book Trove – REVIEW
October 28
I'm All About Books – SPOTLIGHT
Books a Plenty Book Reviews – REVIEW
October 29
Christy's Cozy Corners – AUTHOR INTERVIEW
My Reading Journeys – REVIEW
October 30
Jane Reads – GUEST POST
Moonlight Rendezvous – REVIEW  
October 31
I Read What You Write – GUEST POST
Literary Gold – CHARACTER GUEST POST
Sylv – SPOTLIGHT
November 1
Brooke Blogs – SPOTLIGHT
My Journey Back – CHARACTER GUEST POST
Christa Reads and Writes – SPOTLIGHT
November 2
Socrates Book Reviews – SPOTLIGHT
Ascroft, eh? – CHARACTER INTERVIEW
The Beachbum Bookworm  – REVIEW
November 3
Reading, Writing & Stitch-Metic – SPOTLIGHT
Gimme The Scoop Reviews – SPOTLIGHT
November 4
Celticlady's Reviews – SPOTLIGHT
Lisa Ks Book Reviews – AUTHOR INTERVIEW
November 5
Paranormal and Romantic Suspense Reviews – SPOTLIGHT
View from the Birdhouse – REVIEW
Have you signed up to be a Tour Host?
Click Here Find Details and Sign Up Today!