Welcome to my stop on the Great Escapes Virtual Book Tour for The Firefly Warriors Club (Texas Boys Adventures) by Susan Count. Stop by each blog on the tour for interviews, guest posts, spotlights, reviews and more!
They chase a light and then it chases them.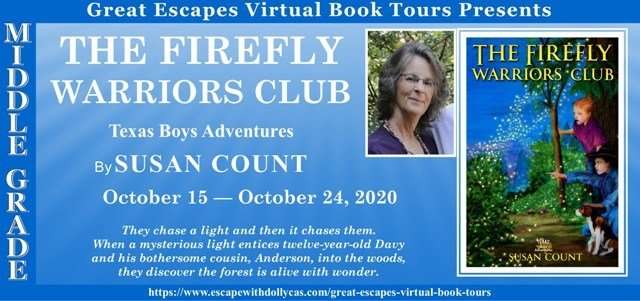 The Firefly Warriors Club (Texas Boys Adventures)
by Susan Count
The Firefly Warriors Club (Texas Boys Adventures)
Middle-Grade Story – Age Level: 9 – 12
1st in Series
Publisher: Hastings Creations Group (October 13, 2020)
Paperback: 200 pages
When a mysterious light entices twelve-year-old Davy and his bothersome cousin, Anderson, into the woods, they discover the forest is alive with wonder. Firefly magic dazzles the boys, and they vow to save the insects from destruction.
Then a fire rages in the forest. Despite the cousins' creative efforts to help the firefighters, the situation for the fireflies plummets from grim to dire. As the blaze consumes the fireflies' habitat, the young warriors despair.
They enlist the support of the neighboring farms to protect and save the habitat of the magical treasures. If only there was—even one left.
My review of The Firefly Warriors Club
If you've got young children who love to read about nature, you need to introduce them to The Firefly Warriors Club! Though the book's main characters are boys, I think your girls will enjoy it just as much as your boys will.
I always loved reading books that involved treks through the woods because that seemed exciting to me. My sisters and I played outside all of the time. We had a big pine tree (the kind with soft needles that you could sit under) and a rock garden on one side of our house. Playing there, we imagined we were "lost kids." We played lost kids a lot, and, no, we didn't have a bad home life LOL! It was just fun and adventurous. Back in the old days, we used our imaginations a lot! Getting back to the point…I think I'd have really liked reading this book when I was younger since I enjoyed it now. There are a couple of "boy humor" moments that I probably would have groaned at, but I didn't have brothers. Boy humor was lost on me!
Davy and Anderson's week long visit to their grandpa's house is another selling point for me since I loved staying at my grandma's house! Davy loves science and wants to find and save endangered fireflies. His grandpa tells him that they've long gone, but the boys' keen observation helps them find a swarm that no one was aware of!
I learned a lot about fireflies while reading The Firefly Warriors Club! We all need to be aware of how our everyday actions, like driving 65 mph on the highway at night, affects insects. Surely you've seen your car's front after a long trip…bugs right? I think your kids will enjoy the way the boys' actions and quick thinking help save at least one swarm of fireflies.
About Susan Count
Susan Count writes for the joy and entertainment of young readers. She is a best-selling, award-winning author of the Dream Horse Adventures Series. Susan confesses to being overly fond of brownies, and horseback riding on forest trails. The Firefly Warriors Club was written for her three grandboys who wanted an adventure of their own. What's a fairy grandmother to do, but wave her magic pen and create.
Author Links 
Website – http://www.susancount.com
Facebook – https://www.facebook.com/susancount/
Twitter – https://twitter.com/SusanCount
Instagram – https://www.instagram.com/susancountauthor/
Pinterest –  https://www.pinterest.com/susancount/
Purchase Link – Amazon 
Enter the giveaway Ended
Tour Participants
October 15
I'm All About Books -SPOTLIGHT
Author Elena Taylor's Blog – REVIEW, AUTHOR INTERVIEW
October 16
Brooke Blogs – SPOTLIGHT
October 17
Miss W Book Reviews – REVIEW  
Literary Gold – SPOTLIGHT
October 18
I Read Kid's Books – REVIEW
Sylv.net  – SPOTLIGHT
October 19
Reading, Writing & Stitch-Metic – SPOTLIGHT
Christy's Cozy Corners – REVIEW
October 20
Mysteries with Character – AUTHOR INTERVIEW
Ruff Drafts – SPOTLIGHT
October 21
Celticlady's Reviews – SPOTLIGHT
StoreyBook Reviews – SPOTLIGHT
October 22
Socrates Book Reviews – SPOTLIGHT
Here's How It Happened – REVIEW
October 23
View from the Birdhouse – SPOTLIGHT
October 24
Jemima Pett, Author – REVIEW
Have you signed up to be a Tour Host?
Click Here Find Details and Sign Up Today!