Welcome to the Prism Book Tours book tour for Jordan's Deliverance by Allen Steadham. Stop by each blog for excerpts, guest posts, and reviews from the book!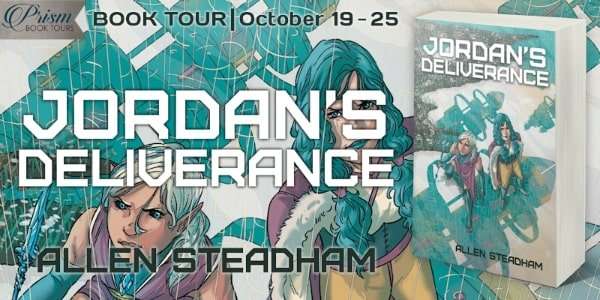 On Tour with Prism Book Tours
Jordan's Deliverance
(Jordan of Algoran #3)
This post contains affiliate links. If you make a purchase, I may receive compensation at no cost to you.
by Allen Steadham
Christian Science Fiction, Fantasy
Paperback & ebook, 330 Pages
October 13, 2020 by Ambassador International
The Onchei are back.
And trouble looms…
The Onchei want to learn what happened to their brethren on Algoran from the only survivor, Zeetra. Yet they learn instead she has broken the Onchei's highest law: never intermarry or have children with another race. For this, she now faces execution.
Jordan SnowFire fears the Onchei will blame the Mokta and seek retribution soon. Only an ancient heirloom, which contains the ultimate Onchei knowledge, can save the Mokta…except it's on Earth, a world she hasn't seen in decades.
Jordan sends her son, Arrow, and her friend's daughter, Maska, to rescue Zeetra while she travels back to Earth to seek the Onchei artifact. What tie is there between a thousand-year-old object and Jordan's ancestors? Could this explain why she and her mother were originally abducted and brought to Algoran?
In the skies of Algoran, a final confrontation looms between the Onchei and the Mokta. And on Earth, Jordan finds more than she could have possibly imagined…
(Affiliate links included.)
 Amazon | Barnes & Noble | Christianbook
Guest Post Behind The Scenes: Planning Earth's Future
Part of Jordan's Deliverance is set on Earth in the early 2070s. Before I wrote those scenes, I had to ask myself a few important questions:
How much could Earth change in fifty years?
What kind of technological advances might occur in that time?
Would Jordan even recognize her (fictional) hometown of Chase Creek, Colorado?
Would people speak any differently or use different jargon?
I wanted to be realistic. There would be some changes, both socially and technologically; that's inevitable as the passage of time. But I wanted to avoid anything radical or dystopian. Instead, I looked at what was on people's minds or the technological radar right now. People have environmental and clean energy concerns, so I researched methods that are only now being explored. We have hybrid and electric cars, but what about using magnetic fields for propulsion? That uses no fossil fuels and there has been at least one prototype constructed and tested. A demonstration video is available on YouTube. So I expanded on that idea and suggested that twenty-five years from now, this type of transportation became the new standard, eliminating fuel and wheels. It was fun and kind of fascinating.
I also incorporated Artificial Intelligence into households, the way it's currently incorporated into smart phones and devices. And as a final touch, holographic technology has become more prevalent in the 2070s. But not like Star Trek's holodecks. In Jordan's Deliverance, it has replaced smartphones. One can just wear a bracelet, necklace or ring and it could project a holographic screen within a certain distance at a certain size.
There is a bit of jargon change but again, nothing extreme. It's used in a few spots to differentiate the time period and that's it.
Lastly, Jordan will notice that her hometown has changed a lot. Some buildings she knew are gone or have been replaced. New neighborhoods exist that weren't there before and the city itself has expanded. Many businesses she knew are long gone, superseded by new ones. And people she once knew are either older or have passed away. It's an unusual and sometimes bittersweet homecoming, but this is a story with a positive message of hope. Things change, that's life, but change can also be good.
Other Books in the Series

(Linked to Amazon affiliate links.)
Jordan's World
Jordan Lewis and her mother have been abducted and marooned on an alien world.
Taken in by a friendly tribe of natives, Jordan tries her best to adapt to living on this strange planet called Algoran. Jordan becomes a respectable huntress, but she still longs for the life she once knew on Earth.
When she learns the beings who took her may be on the other side of Algoran, she sets out for answers. Joined by three of her fellow hunters, Jordan crosses dangerous terrain, facing perilous creatures and people.
Will Jordan risk death for a chance to return to Earth?
What is God's will for her life on Algoran?
Exploring the life of an ordinary young woman torn from all she's ever known, Jordan's World shows that God reigns over the whole universe, and that consequences can sometimes span solar systems.
Jordan's Arrow
"To every thing there is a season, and a time to every purpose under the heaven: A time to be born, and a time to die . . . A time to love, and a time to hate; a time of war, and a time of peace."
War has come to Algoran. The Gulstaa nation is determined to expand their territory with merciless resolve. Their end goal is revenge for a past defeat — they want to conquer the Mountain Mokta and anyone else in their way.
Jordan SnowFire is now the Mokta Chieftess. She has the daunting task of stopping a conflict she never asked for. Will she seek the wisdom of God or the wisdom of her tribe? What impact will the blood of SnowFire flowing through her veins have on the way she conducts this war? How far will she go to protect her family and the Mokta people?
Meanwhile, Erica Melendez finds herself trapped in the middle of the hostilities. Tragedy forces her away from the Ullvarr village and into circumstances she never imagined when she came to this world. Can she survive long enough to be reunited with Jordan?
Loyalties are tested. Decisions are made. And Algoran will never be the same after Jordan's Arrow finds its target.
About the Author
Allen Steadham created comic books and webcomics before he started writing novels. He has been married to his wife, Angel, since 1995 and they have two sons and a daughter. When not writing stories, Allen and his wife are singers, songwriters, and musicians. They have been in a Christian band together since 1997. They live in Central Texas.
Website | Goodreads | BookBub | Facebook | Twitter | Instagram
Jordan's Deliverance Tour Schedule
Check out the Bookstagram Tour here, which has its own giveaway!
Tour Giveaway ENDED
– One winner will receive signed print copies of the entire Jordan of Algoran series (US only)
– One winner will receive ebook copies of the entire Jordan of Algoran series (open internationally)
– Ends October 29, 2020