Saddled with Murder (A Doctor Kate Vet Mystery) by Eileen Brady is the first in a new vet books cozy mystery series!
Saddled with Murder
by Eileen Brady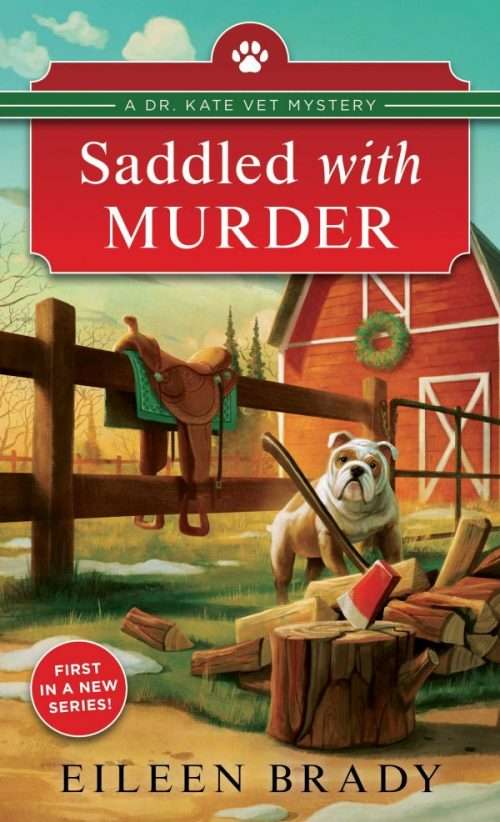 I received an ARC of this book free from NetGalley; however, all opinions are my own, and I was not required to give a review. This post contains affiliate links. If you make a purchase, I may receive compensation at no cost to you.
Mass Market Paperback: 406 pages
Publisher: Poisoned Pen Press (October 27, 2020)
It's the Christmas season and veterinarian Kate Turner is not feeling very jolly. She's overworked, unappreciated, and dealing with two dissatisfied clients. Throw in a very complicated personal life and Kate's definitely got a case of the holiday blues.
To make matters worse, Kate's ex-boyfriend, Jeremy, is mugged and robbed after they have a heated argument in the hospital parking lot. Then, two of her dissatisfied clients turn up dead (which really gets Kate's tinsel in a tangle). All of these events seem like coincidences, but they add up to something much more venomous.
Saddled with Murder is a cozy holiday mystery from beloved author Eileen Brady that explores the fragility and resiliency of animals and humans whose trust has been broken, and will keep animal-loving readers riveted until the last page.
My review of Saddled with Murder
If you're like I am,  you like reading holiday-themed cozy mystery books. Well, just in time for Christmas, Eileen Brady has a brand new Christmas-themed book that you will really enjoy: Saddled with Murder.
I adored the characters in Saddled with Murder. They're so much fun and easy to get to know. Kate has had a lot of sadness in her life. She lost her mom and brother in an accident when she was a teen. Kate's also been estranged from her father since shortly after the deaths. Her grandfather raised her after her dad got remarried since Kate was unable to understand how her dad could move on. This brings a lot of depth to the character, and those who have experienced this type of loss will "get it."
Mari, Kate's best friend and vet tech, seems like she'd be a great friend to help you keep things in perspective and keep you in a good mood…most of the time. I like Cindy's ability to keep everyone on schedule and to "delicately" handle irritating pet parents. I can't say too much about the side characters without giving any potential spoilers, but they fit into the story well and aren't just filler. The setting in northern New York made me appreciate the fact that I don't live there! It's bad enough in Ohio, but boy do they get a lot of snow in this book! No, really, I am sure it's beautiful there, but I'm done with cold weather!
The plot moves at a good pace, and you will have fun trying to figure out whodunit. I know that the author wrote another series with Dr. Kate in them, but I didn't read those. You'll be fine if you didn't either! Give this one a read this holiday season!
About Eileen Brady
Eileen Brady is a veterinarian living in Scottsdale, Arizona. She is a wife and mother of two daughters and often has to chase her six cats and two dogs away from her laptop keyboard. She is also the author of The Kate Turner, DVM Mysteries.