Welcome to my stop on the Great Escapes Virtual Book Tour for Crime in Cornwall (British Book tour Mysteries) by Emma Dakin. Stop by each blog on the tour for interviews, guest posts, spotlights, reviews and more!
Crime in Cornwall (British Book tour Mysteries)
by Emma Dakin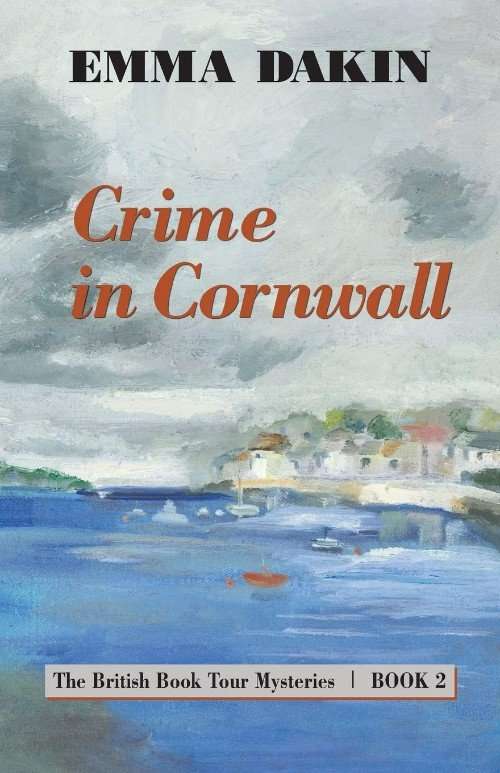 I received this book free to review; however, all opinions are my own. This post contains affiliate links. If you make a purchase, I may receive compensation at no cost to you.
Crime in Cornwall (British Book Tour Mysteries)
Cozy Mystery
2nd in Series
Publisher: Camel Press (October 13, 2020)
Paperback: 228 pages
Patrick and Rita Stonning, Claire's neighbors in Ashton-on-Tinch, dash down from London on weekends to host loud parties. They work in a publishing house and use their Ashton semi-detached home as a break from big city stress.
Patrick arrives at Claire's door distraught, reporting one of his partygoers, Olive Nott a best-selling author, dead. Claire discovers that not only is he dead, he's been murdered. Patrick is suspected of the murder and has enough motive to satisfy the police.
Nott wrote mysteries set in Cornwall and had planned to take his lucrative contracts to a competing company. His latest book dealt with smuggling in the caves of Cornwall. The police, including DI Mark Evans from the newly formed Major investigations Team wonder if he learned too much from his research.
Claire takes her six tourists, most from America, to the Cornwall coast in search of sites of mystery novels and hears the opinions of the Cornish people on smuggling. She asks Patrick to meet her in Penzance to give a guest lecture on the smuggling in Oliver Nott's novels. Claire finds Patrick self-aggrandizing and arrogant but doesn't agree he would murder and sets out to find the one responsible.
From Amazon
Claire Barclay is enthusiastic about her British Mystery Book Tour business. She enjoys taking her guests, usually from America, to the settings of mystery novels where bodies are long dead. Her neighbor's plea for help to deal with a recently murdered well-known author unsettles her. She leaves the body to the police and takes her guests to Cornwall, including a British tourist who far is too interested in the dead author.
My review of Crime in Cornwall
I absolutely loved this book and give it 5 stars! Due to illness, my full review will be up later today.
Crime in Cornwall is a delightful cozy mystery that any Anglophile, like I am, will be sure to love. Unlike many cozy mystery books, Crime in Cornwall doesn't revolve entirely around the main character trying to solve the crime. Claire only gets involved when her neighbor Paul comes rushing over telling her that he needs a reliable witness to a crime that has been committed at his home. And by reliable he means sober.
Paul and his wife Rita run a publishing house and spend most of their time in London. They only come to their house in Ashton-on-Tinch on rare weekends. And, when they are there they party. At this particular party, their most popular and highest selling author, Oliver Nott, is murdered in their back garden.
Claire does indeed witness that Oliver has certainly been murdered. Since Claire is seeing a detective, she becomes more involved than she would have otherwise. For one thing she is about to leave on one of her book tours that she leads, so she would not have been around while the investigation was going on. However, it just so happens that some of the areas Claire takes her tour on are areas that the author was researching for his latest novel.
As I was reading Crime in Cornwall, I was so envious of Claire's tour group. I want to visit Cornwall so badly. "Doc Martin" is one of my favorite television shows, and it is filmed in Port Isaac (Port Wenn in the series), which is in Cornwall. The people in Claire's tour group are more interested in where their favorite books take place and the landmarks that their favorite authors use in those books. I mean, obviously, right, since Claire's tour business is a book tour business!
The author does go into quite a bit of detail about the tour and the area. Since I am obsessed with Cornwall, I really loved that. I felt like I was living vicariously through the characters. I can see, though, that some readers may not appreciate the lengthy descriptions. But since we are stuck in our own countries right now, it sure was nice to go on a little excursion with Claire's group of tourists. Hopefully one of these days I will get to go on an actual tour of Cornwall, or at least see Port Isaac. That's on my bucket list.
I loved the characters in Crime in Cornwall. The members of Claire's tour group were a diverse and fun group, for the most part. You know there is always going to be a little bit of friction when you are together for hours on end. They are well described and very realistic. The characters in the towns they stop in are an eclectic bunch too.
Obviously, I loved the setting of Crime in Cornwall. As far as I'm concerned, this tour could have continued for several more days, and I would have been just as enthralled with the descriptions of the area and the landmarks that they visit. I'm not a big fan of caves, but I have read other books that are set in Cornwall and talk about the smuggling that was so prevalent in the area.
Though there are several red herrings meant to throw us off, the killer was on my list of suspects. I liked being able to gather the little clues that the author leaves along the way.
I am looking forward to reading more books in the series even if they are not set in Cornwall. I'm happy as long as they are set in England or Scotland or Ireland or Wales, and they are as descriptive as this book. I'll continue to live through Claire's imaginary book tours and pretend that I am on one of them. I definitely recommend this book to cozy mystery readers who enjoy descriptive settings along with their crime solving.
Character Guest Post from Constable David Pemberthy
My name is Constable David Pemberthy. I am a minor character in the Crime in Cornwall, but I'm important.
As a constable in the Hampshire Constabulary, I usually handle traffic problems, lost dogs, suspicious neighbours, drug seizures, stolen cars and the occasional knife fight. Not murder. We haven't had a murder here in years. So, when the call came that a man had been stabbed and died at a house party, no one at the station believed it. The woman who gave the information seemed competent, though, so the dispatcher sent me out. The caller, Claire Barclay, a neighbour of the man who held the party, was known to us. She was the girl friend of our Detective Inspector Evans. The rank of inspector was two pay levels above a constable; I had my eye on that rank. I admit that added a little speed to my response.
I didn't fit well with this constabulary. I'm from Cornwall which, if you hear a Cornishman talk, means I'm not a true Brit. I look different as well. The Spanish have been dropping in on Cornwall for several hundred years, leaving behind people like me with dark skin, light hair and dark eyes. My fellows here were more Anglo-Saxon looking. Not that they hassled me beyond fun, but it was a mite uncomfortable at times. The work was predictable and predictable was boring. I was at the point when I wanted to do something else. Me mum tells me to be satisfied, look bright and work hard.
I paid attention to Ms Barclay and to the dead man, Oliver Nott, an author, Ms Barclay said, a famous author. I'd read one of his books. He got the police procedures correct and his books sold throughout the world. That meant the press would be hovering soon. I called it in to my superintendent. A stickler was Superintendent Owen. Everything by the book. He'd notify the Major Crimes Investigations Team, at least I hoped he would, and they would take the case.
"They shouldn't be interfering in my case." He'd stormed around the office, bumbling like a puffin on land. He was efficient, was Owen, but he was often a bit teasy. He used the rules of police procedure to keep order and his temper to enforce them. That was part of his job, but he was out of his depth with murder. You need intelligence and intuition to solve murders.
I was lucky. They gave the case to Detective Inspector Evans. I met him when I brought Ms. Barclay's statement to be signed. He asked me for the statements I'd gathered so far. Superintendent Owen had told me not to give him anything and tell him to come to the station for what he wanted.
I listened to Owen's orders to keep everything away from Evans, but I made copies of the files. When I met Detective Evans (call me Mark) at Ms Barclay's home I had a decision to make. I had a quick mental flash: Did I give him the copies and risk my job? Or would I get ahead in the constabulary if I helped him? Then, I thought: Which serves justice?
I handed over the copies. I hoped I'd keep my badge. My mum would tear a strip off me if I crashed. "Bleddy foolish," she'd say and much more.
I was seconded to help Mark Evans with the case. It was clear to me that Ms Claire Barclay, the tour guide, was a good investigator, albeit an amateur. She noticed people and picked up conversations the way coppers can't. No want talks freely around us. She's a bit of a loose canon, though. I expect she'll lead Detective Inspector Evans a right dance.
This is my home area of Cornwall, a wild and independent country.
If you would like to know more about The British Book Tour series, go to Emma Dakin's website and click on the Join my Newsletter button. I send out information once a month. If everything is working properly, and the gremlins that haunt computers are latent, you should get a free chapter of a book when you join.
About Emma Dakin
Emma Dakin lives in Gibsons on the Sunshine Coast of British Columbia. She has over twenty-five trade published books of mystery and adventure for teens and middle-grade children and non-fiction for teens and adults. Her love of the British countryside and villages and her addiction to cozy mysteries now keep her writing about characters who live and work in those villages. She introduces readers to the problems that disturb that idyllic setting.
Author Links
Webpage/Blog  emmadakinauthor.com
Facebook http://tiny.cc/ilk3az
Goodreads http://tiny.cc/ttk3az
Purchase Link – Amazon  B&N IndieBound
Enter the giveaway Ended
Crime in Cornwall Tour Participants
November 9
I'm All About Books – SPOTLIGHT
Author Elena Taylor's Blog – GUEST POST
November 10
Maureen's Musings – SPOTLIGHT, RECIPE
November 11
My Reading Journeys – REVIEW
Sapphyria's Book Reviews – SPOTLIGHT
November 12
Ascroft, eh? – CHARACTER INTERVIEW
November 13
Book Club Librarian – REVIEW  
November 14 
Literary Gold – SPOTLIGHT, EXCERPT
November 15
Cozy Up With Kathy – CHARACTER GUEST POST
November 16
My Journey Back – SPOTLIGHT, RECIPE
Books a Plenty Book Reviews – REVIEW, GUEST POST  
November 17
Mysteries with Character -AUTHOR INTERVIEW
Christy's Cozy Corners – REVIEW, CHARACTER GUEST POST
November 18
Ruff Drafts – SPOTLIGHT
November 19
Reading, Writing & Stitch-Metic – SPOTLIGHT, EXCERPT
Here's How It Happened – SPOTLIGHT
November 20
StoreyBook Reviews – GUEST POST
November 21
Readeropolis – SPOTLIGHT  
Reading Is My SuperPower – SPOTLIGHT, EXCERPT
November 22
I Read What You Write– CHARACTER GUEST POST
eBook Addicts – REVIEW
Have you signed up to be a Tour Host?
Click Here Find Details and Sign Up Today!