Welcome to my stop on the Great Escapes Virtual Book Tour for Deadly Darkness: A World War II Mystery (Deadly Series) by Kate Parker. Stop by each blog on the tour for interviews, guest posts, spotlights, reviews and more!
As Britain prepares for an imminent invasion, the murder of a celebrated Arctic explorer leads to the discovery of a web of Nazi spies on the south coast.
Deadly Darkness: A World War II Mystery (Deadly Series)
by Kate Parker
I received this book free; however, all opinions are my own. This post contains affiliate links. If you make a purchase, I may receive compensation at no cost to you.
Deadly Darkness: A World War II Mystery (Deadly Series)
Historical Cozy Mystery
6th in Series
Publisher: JDP Press (February 26, 2021)
310 Pages
July, 1939. Newlywed Olivia Denis Redmond plans to spend a peaceful honeymoon in the country before war rips her soldier husband away. But when she finds a dead body in the midst of a blackout, Olivia is drawn into the investigation.
Since the police inspector isn't interested in clues pointing to espionage and blackmail, Olivia must unlock secrets hidden for years in this idyllic village and face the wrath of an unseen enemy.
As danger stalks her, can Olivia expose a cunning killer before she becomes the next victim?
Deadly Darkness, the sixth book in the Deadly Series, is for fans of World War II era spy thrillers and classic cozy mysteries, of intrepid lady sleuths with spunk and smarts. No explicit cursing, sex, or violence.
Start exploring this journey or mystery and intrigue today as Britain and Germany draw dangerously close to war.
Guest Post
Everyone knew war was inevitable before Germany and Britain declared war on each other on September 3, 1939. Talk about ruining a late summer Sunday.
Hitler was determined to keep expanding his control over Europe. So far, he'd taken over Austria and Czechoslovakia. His next target, and he made no secret of it, was Poland. Britain and her ally France couldn't allow Hitler to take over any more countries.
During the Great War, Germany had bombed London using early aircraft. Aviation had improved greatly in the twenty years since the last war, and Britain knew they had to take steps to protect itself from the dangers of aerial bombing.
On the night of July 8-9, 1939, the first air raid blackout drill was held. According to the Daily Mirror, 250 miles of coastline along Kent and Sussex would be completely dark. All over those two counties, starting at 10 P.M., street lights would be switched off, houses had to have blackout curtains in place to hide all interior lights. Cars could operate using side and tail lights only. Trains would have their windows covered.
Thirteen other nearby counties were also involved in the practice, including Gloucestershire, Wiltshire, Somerset, Dorset, Oxfordshire, Berkshire, Hampshire, Buckinghamshire, Bedfordshire, Essex, Suffolk, the Isle of Wight, and part of London.
"Invisible" policemen would direct traffic in the towns of Chichester, Hastings, Brighton, and Eastbourne. Their caps and uniforms were dipped in fluorescent paint and special ultra-violet lamps were installed at all crossings to make the police uniforms "shine" for oncoming motorists while not visible from airplanes flying overhead.
On the same night, the first practice run of all available defenses for the Port of London would be tried out. A second practice blackout covering more of England would be enacted on the night of August 9-10, 1939.
Besides targeting cities for bombing by the light they gave off, one of the dangers faced during the Great War (World War I) was poison gas. Now, nations had the ability to drop poison gases from planes in bombs to blow up and spray over the people below. In an effort to keep their citizens safe,
Britain began in late 1938 to fit and issue gas masks to each person. Once war began, everyone would be expected to carry their personal gas mask with them everywhere they went.
During the last ten to twelve months before World War II began, efforts were made in major cities, primarily London, to protect people. Entrances to buildings were surrounded by sandbags. Bomb shelters were fitted out in the basements of large buildings and inside houses and the back gardens of houses. Trenches were dug in public parks to give at least minimal shelter to those caught outside in a bombing.
One of the most interesting anti-bombing protections were the barrage balloons. It would take a crew of ten to inflate and launch each huge balloon. These would fly over schools, ports, and industrial facilities at a height of up to 5,000 feet. These forced attacking bombers to fly higher because they were tethered by steel cables. These cables would bring down any aircraft that touched them. Starting in late 1938, barrage balloons were built and crews trained for the coming war.
Just a few days before Livvy's wedding, a crew training with a barrage balloon in a high wind lost control when it was fully launched. It floated away and became a threat to aviation. Unfortunately, there was no war yet and the threat was to British aviation. Can you imagine looking up and seeing one of these huge balloons passing by overhead, lethal steel cables hanging down?
And in the midst of all these preparations, Livvy and Adam tried to have a normal wedding…
Thank you, Kate! This is very interesting. I knew that there had been balloons, but I had no idea what they were for. 
My review of Deadly Darkness Ended
Deadly Darkness is the second book I've read in the Deadly series, and I've loved them both. WWII is one of my favorite eras to read about in historical fiction. We learn so much about history by reading historical fiction! No, the actual plot of the books are usually all fiction, but the historical events that are included (usually) actually happened.
Deadly Darkness starts with a blackout. It's not a blackout caused by overloaded power grids. These were forced blackouts…practice runs for the real deal. Blackouts were nothing to take lightly. If the planes can't see any lights below, they don't know a building is there…and they won't drop a bomb.
A bomb isn't the problem in Deadly Darkness…murder is.
If you've not read any of the Deadly series, you can easily start with this one! Yes, you'll get a few spoilers for the prior books, but they won't take away from your enjoyment of the mysteries if you do go back and read them. The mystery in Deadly Darkness is well-plotted and suspenseful.
In the last book, I discovered how much I love Olivia, the main character. I really loved the secondary characters in this one. My favorites in the book are very strong women, yet they've got some definite flaws. In other words, they're just like us…not perfect!
I highly recommend this book to all lovers of historical cozy mystery books! It's an enjoyable, quick read, and you'll be captivated by it!
About Kate Parker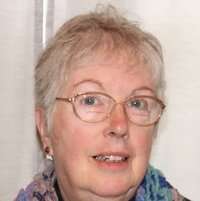 Kate Parker caught the reading bug early, and the writing bug soon followed. She's always lived in a house surrounded by books and dust bunnies. After spending a dozen years in North Carolina, she moved to Colorado. The Rocky Mountains are beautiful, but she'd developed a love of wide rivers, warmer and wetter weather, and fast-growing greenery that sent her hurrying back to North Carolina.
Deadly Travel is the fifth book in the Deadly Series, and Kate followed it quickly with Deadly Darkness, both set in 1939 in the days leading up to war. There are at least three more of the Deadly Series coming that will bring the beginning of the war to Olivia's doorstep. Kate reports that she is having fun creating new stories to entertain readers and chaos to challenge her characters.
Author Links
Website – www.KateParkerbooks.com
Facebook – www.Facebook.com/Author.Kate.Parker/
Twitter – https://www.bookbub.com/authors/kate-parker
GoodReads – www.goodreads.com/author/show/7123001.Kate_Parker
Purchase Links – Amazon – B&N – Kobo 
Enter the giveaway
Deadly Darkness Tour Participants
February 25
I'm All About Books – SPOTLIGHT
Cozy Up With Kathy – REVIEW
February 26
Baroness' Book Trove – SPOTLIGHT
Elizabeth McKenna – Author Blog – SPOTLIGHT
February 27
MJB Reviewers – SPOTLIGHT
Sapphyria's Book Reviews – SPOTLIGHT
February 28
I Read What You Write – CHARACTER GUEST POST
Maureen's Musings – SPOTLIGHT
March 1
Novels Alive – REVIEW
The Pulp and Mystery Shelf – SPOTLIGHT
March 2
Christy's Cozy Corners – REVIEW, CHARACTER GUEST POST
Escape With Dollycas Into A Good Book – SPOTLIGHT
March 3
Novels Alive – GUEST POST
Ascroft, eh? – AUTHOR INTERVIEW
March 4
Reading, Writing & Stitch-Metic – CHARACTER GUEST POST
Laura's Interests – REVIEW
March 5
Diane Reviews Books – GUEST POST
View from the Birdhouse – SPOTLIGHT
March 6
Literary Gold – SPOTLIGHT
Books a Plenty Book Reviews – REVIEW, CHARACTER INTERVIEW
Have you signed up to be a Tour Host?
Click Here Find Details and Sign Up Today!