Welcome to the Rosie Loves Jack Blog Tour! To celebrate the release of Rosie Loves Jack by Mel Darbon on March 1st, blogs across the web are featuring original content from Mel, as well as 10 chances to win the hardcover!
Fall in love with sixteen-year old Rosie, a girl with Down syndrome who's fighting for little freedoms, tolerance, and love. A stunning, beautifully insightful debut YA novel from Mel Darbon.
"An enthralling story of resolve and grit… a moving and uplifting novel." –The Guardian
Rosie Loves Jack

by Mel Darbon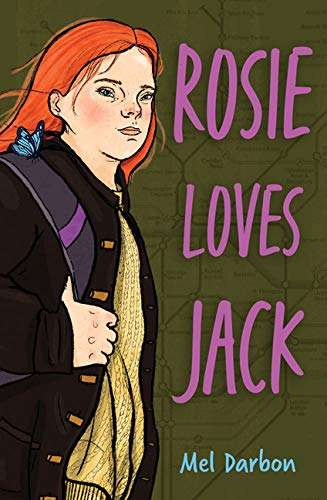 "They can't send you away. What will we do? We need us. I stop your angry, Jack. And you make me strong. You make me Rosie."
Rosie loves Jack. Jack loves Rosie. So when they're separated, Rosie will do anything to find the boy who makes the sun shine in her head. Even defy her parents' orders and run away from home. Even struggle across London and travel to Brighton on her own, though the trains are cancelled and the snow is falling. And even though people might think a girl like Rosie, who has Down syndrome, could never survive on her own.
Introducing a strong and determined protagonist with Down syndrome, debut author Mel Darbon gives readers an underrepresented but much-needed point of view with a voice-driven, heartfelt story of finding your place an often big and intimidating world.
"The author stays out of Rosie's way, successfully depicting her protagonist as a person, not a puppet or a platform. The other characters populating the book are realistic, with a striking range of personality traits. The plot is so engrossing that the book is almost impossible to put down. Yes, Rosie loves Jack, and readers are going to love Rosie." —Booklist, STARRED REVIEW
Guest Post: My Favourite Three Books as a Teenager
I'm showing my age here because when I was a teenager there weren't specifically any books written for that age group, like there are now. We jumped straight from stories such as Ballet Shoes by Noel Streatfield or The Lion, the Witch, and the Wardrobe by C. S. Lewis to Nineteen Eighty-Four by George Orwell or The Chrysalids by John Wyndham. But here are three books that helped shape my outlook on life and inspired me to write my own story.

1. The Inheritors by William Golding
When I was fourteen years old, I read a book called The Inheritors by William Golding. This book was Golding's favourite book for the whole of his life, and it's mine too. It's a very challenging book and when I first read it as a teenager, I wasn't completely sure what I'd read, but I knew it was something brilliant and quite important. I wasn't unique in this experience, as it's a book that many people say merits re-reading, as you discover something new every time.
The novel is about the transition of one world, the Neanderthal one, to that populated by Homo sapiens. By implication, if not actually stated, what we see is the dying out of an old order—a simpler, more intuitive people living in tune with nature and not quite understanding their place in the world. Homo sapiens represents a more technologically advanced version of mankind, though not necessarily a morally superior version.
Within this transition, there is mutual fear and misunderstanding on both sides, though the misunderstanding of the Neanderthals includes not being aware of the very real threat of the "new people."
What really stood out to me was the unique voice of the protagonist, Lok, one of the members of the Neanderthal group, who is fun-loving and very appealing, but also completely unaware of the dangers surrounding him until he is shocked into understanding this new order of things near the end of the book. The "people," as the Neanderthals call themselves, communicate through shared telepathic images. The reader views their world with them through their senses.
What astounded me was Golding's ability to transport me into the mind and body of Neanderthal man and see the world from a completely unique perspective. It made me realise that one day I too wanted to be able to write a novel that put the reader in someone else's shoes and helped them see the world in a way they never had before, especially since I had a brother, who is marginalised, as with the Neanderthals in The Inheritors.
2. Of Mice and Men by John Steinbeck
Of Mice and Men is justifiably considered a classic of American literature: a short, direct reflection on friendship, loneliness, and unfulfilled dreams during the Depression-era. Its plot and prose are stripped down, focusing on the friendship and hopes of the two central characters, Lennie and George, but the impact of the final chapters is not only unforgettable but also heart breaking.
Lennie and George are iconic characters and for me it was the first time that I had seen a person with a developmental disability (Lennie) in a book, which was a revelation. As a child I was very aware that there were never any books that represented my family situation with a brother with a severe developmental disability, which made me feel very isolated.
Steinbeck's novel examines many of the prejudices at the time towards those with disabilities, which sadly were still prevalent in the 1970s when I was a teenager.
The final scene where George understands that Lennie cannot live in the world now and wants to save him the horror of being lynched, so shoots him in the back of the head, stayed with me for a long time and particularly resonated with a situation my family found themselves in once, when we were abroad; that someone like Lennie is expendable.
A taxi driver told us as he was driving us to our apartment that, "we have a way of dealing with people like that over here." The horror of this statement made me decide that one day I would give my brother the voice he so deserved to help dispel the myths of disability. I would write my own book to show that every person has value.
I wanted to give an optimistic message, like Steinbeck, that what is important is love and friendship and that people can live alongside each other, and all have something to contribute.
3. To Kill a Mockingbird by Harper Lee
"You never really understand a person until you consider things from his point of view…until you climb inside of his skin and walk around in it." —Atticus Finch
This quote has stayed with me over the years and is exactly what I wanted my readers to understand when I wrote my novel, Rosie Loves Jack, that to truly know someone you need to put their shoes on and see through the world their eyes.
I first read this powerful book when I was thirteen years old. My English tutor handed a copy to me with the words, "This will make you think." And it did. It had a huge impact on me then and still does today. I have re-read it many times since. I love dark dramas and anything that examines the roots and consequences of prejudice, and this story explores the themes of racial prejudice and injustice, as well as love and the coming of age of Scout and Jem, Finch's children, and it has resonated with readers across cultural divides. And I have explored similar themes in Rosie Loves Jack.
The overall message of To Kill a Mockingbird, that every human being deserves to be treated with dignity, echoed exactly what I felt growing up with a brother with profound autism. I sensed the book was speaking to me personally. The story teaches the value of empathy and understanding differences. Harper Lee had a very clear directive when she referenced the mockingbird, a creature that only generates beauty, that we should protect anything that is innocent and beautiful. At thirteen years old this echoed what I felt about my brother, that he is an innocent and this made him very special because he loves freely and with no hidden agendas and that's a very important kind of love.
March Blog Tour Schedule:
1 – BookhoundsYA
2 – Book Briefs
3 – Frantic Mommy
4 – Randomly Reading
5 – A Dream Within a Dream
8 – I'm All Booked Up
9 – Multicultural Children's Book Day Blog
10 – Satisfaction for Insatiable Readers
11 – Christy's Cozy Corners
12 – Feed Your Fiction Addiction
About the author
Mel Darbon spent a large part of her childhood inventing stories to keep her autistic brother happy on car journeys. She won't mention the time spent with him standing by level crossings waiting for the InterCity 125 to go past, as she wouldn't want to be labelled a train spotter. Life took her in many different directions working as a theatre designer and freelance artist, as well as teaching young adults with learning disabilities and running creative workshops for teenage mums. She moved to Bath in 2014 with her husband and their dog, Alfie. Rosie Loves Jack is her debut book.
Follow Mel: Twitter | Instagram
Enter the giveaway
1 winner will receive a finished copy of Rosie Loves Jack

Check out the other tour stops for more chances to win!

US/Canada only

Ends 11:59pm ET on 3/21