Welcome to my stop on the Great Escapes Virtual Book Tour for Lady Rosamund And The Horned God – A Rosie and McBrae Mystery by Barbara Monajem. Stop by each blog on the tour for interviews, guest posts, spotlights, reviews and more! I'm sharing a recipe for Rosie's favorite plum cake which doesn't have plums! Check it out below.
Lady Rosamund And The Horned God – A Rosie and McBrae Mystery
by Barbara Monajem
This post contains affiliate links. If you make a purchase, I may receive compensation at no cost to you.
Lady Rosamund And The Horned God – A Rosie and McBrae Regency Mystery
Historical Cozy Mystery
2nd in Series
Publisher – Level Best Books
Number of Pages – ~300 Pages
Widowed Lady Rosamund spends the first months of her mourning in the Lake District, where it's safe and peaceful, and murders are exceedingly rare. Luckily, she is rescued from this tedium by a house party comprised of playwrights, poets, and actors—an immoral set of persons with whom no respectable lady should associate. Even so, she hardly expected to wake in the wee hours to find one of the guests lying dead.
As if that wasn't troublesome enough, Gilroy McBrae is at the same party, masquerading as a footman to investigate a series of thefts. Was the sudden death an accident—or murder? Almost everyone had reason to loathe their unpleasant fellow guest. Rosie must set aside her confused emotions about McBrae and work with him to find the culprit before an innocent person is accused of the crime.
Guest Post: Rosie's Favorite Plum Cake (which so far has no plums)
Lady Rosamund, the central character of the Rosie and McBrae Regency Mysteries, has a form of OCD. Since the stories take place starting in 1811, it's not described as OCD – in fact, it's just considered as an affliction that falls somewhere between odd and insane. Rosamund does her best to keep it a secret, but her family knows, and her mother, the Countess of Medway, fears that one day Rosie will become truly insane, which will reflect badly on the family. If she had her druthers, she would lock Rosie away starting now.
I don't like Rosie's mother at all—in fact, if anyone in the family is bordering on nuts, she's the one. She scares even me, despite the fact that she's a product of my imagination. Whenever she gets her clutches into Rosie (which fortunately isn't often), she puts her on an invalid diet in the hope of making her calm and obedient (but all it does is make Rosie exhausted and ravenous). I wonder if Rosie's sweet tooth showed up in the stories because of those periods of deprivation. Fortunately, Rosie's father, Lord Medway, loves Rosie just as she is and does what he can to curb his wife's ultra-controlling tendencies.
And also there's Rosie's friend Gilroy McBrae, who is determined to protect Rosie (once he figures out what's going on).
Here's a recipe for one of Rosie's favorite cakes. It's an adaption from a recipe in Mrs. Beeton's Cookbook, which was first published in the 1860's – but many of the recipes in it are taken from earlier cookbooks, and I'm sure something similar was around in 1811 or so.
Why is it called plum cake when there aren't any plums in it? Apparently plum cake (like plum pudding) may have had prunes (i.e. dried plums) in it at some time in the past, but probably not at the time this recipe was published. This one calls for currants, but raisins work well, too. However, next time I try it, I'll chop up prunes and use them instead.
Rosie's favorite plum cake recipe
3 cups flour
1 cup brown sugar
3 tsp. baking powder
½ tsp. soda
½ tsp. salt
1-1/2 cups currants
1/3 cup diced candied lemon peel
1 stick butter
1-1/4 cups milk
Bake in a greased loaf pan at 350 degrees F for 45-50 minutes, or until a toothpick comes out more or less clean. It's good! There was too much batter for one loaf pan, so I made six muffins with the rest, and they were fine, too.
About Barbara Monajem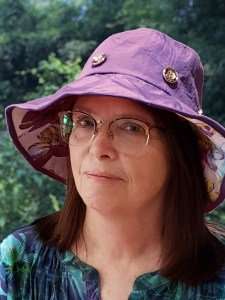 Winner of the Holt Medallion, Maggie, Daphne du Maurier, Reviewer's Choice and Epic awards, Barbara Monajem wrote her first story at eight years old about apple tree gnomes. She published a middle-grade fantasy when her children were young. When they grew up, she turned to writing for adults, first the Bayou Gavotte paranormal mysteries and then Regency romances with intrepid heroines and long-suffering heroes (or vice versa). Some of her Regencies have magic in them and some don't (except for the magic of love, which is in every story she writes).
Barbara loves to cook, especially soups, and is an avid reader. There are only two items on her bucket list: to make asparagus pudding and succeed at knitting socks. She'll manage the first but doubts she'll ever accomplish the second. This is not a bid for immortality but merely the dismal truth. She lives near Atlanta, Georgia with an ever-shifting population of relatives, friends, and feline strays.
Author Links 
Website: http://www.BarbaraMonajem.com
Facebook: http://www.facebook.com/barbara.monajem
Twitter: http://twitter.com/BarbaraMonajem
Goodreads: http://bit.ly/1chhzpf
** Sign up for her occasional newsletter here: http://www.barbaramonajem.com/contact.html
Purchase Link – Amazon 
Enter the giveaway
Lady Rosamund And The Horned God Tour PARTICIPANTS
April 20
I'm All About Books – SPOTLIGHT
Cozy Up With Kathy – REVIEW
April 21
Christy's Cozy Corners – GUEST POST
Literary Gold – SPOTLIGHT
April 22
Novels Alive – AUTHOR INTERVIEW
Thoughts in Progress – SPOTLIGHT
April 23
Celticlady's Reviews – SPOTLIGHT
Escape With Dollycas Into A Good Book – SPOTLIGHT
April 24
Baroness' Book Trove – SPOTLIGHT
April 25
Brooke Blogs – SPOTLIGHT
April 26
Bea's Book Nook – REVIEW
April 27
A Wytch's Book Review Blog – REVIEW, CHARACTER INTERVIEW
Sapphyria's Book Reviews – SPOTLIGHT
April 28
Maureen's Musings – SPOTLIGHT
Novels Alive – REVIEW
April 29
The Book's the Thing – SPOTLIGHT
BookishKelly2020 – SPOTLIGHT
Have you signed up to be a Tour Host?
Click Here to Find Details and Sign Up Today!