Welcome to my stop on the Great Escapes Virtual Book Tour for Shrimply Dead (A Seafood Caper Mystery) by Maggie Toussaint. Stop by each blog on the tour for interviews, guest posts, spotlights, reviews and more!
When veterinarian and amateur naturalist Jasmine Garr is shot in her yard, residents of Shell Island press caterer River Holloway into investigating the homicide. River dons her amateur sleuth cap and sets out to discover who killed her former catering customer.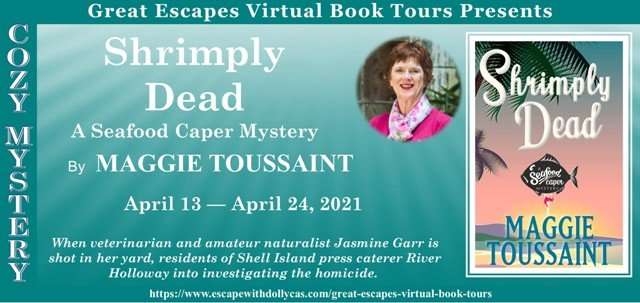 Shrimply Dead (A Seafood Caper Mystery)
by Maggie Toussaint
This post contains affiliate links. If you make a purchase, I may receive compensation at no cost to you.
Shrimply Dead (A Seafood Caper Mystery)
Cozy Mystery
3rd in Series
Publisher: Muddle House Publishing (April 12, 2021)
Number of Pages: 237
Between Jasmine's estranged cousin, a rival veterinarian, a wild animal trapper, the chicken lady, and a real estate broker, River has plenty of suspects to consider. As she peels back the layers of Jasmine's life, dangerous secrets come to light.
Jasmine's orphaned kitty, Iris, along with River's cat Major, and her husband Pete help River sift through the evidence. At the same time, River recently expanded her catering business. She must service her regular catering clients, plus provide fresh baked goods for Pete's ice cream shop.
The killer follows River's every move relishing the thought of another victim. Time is running out. Will River solve the murder before she becomes a cold dish?
Character Guest Post from River Holloway Merrick as interpreted through author Maggie Toussaint: Pets, Pets, Pets
After cat-sitting for Trouble, a friend's cat, I'd acquired a feral black cat named Major. I'd named him after it became clear he loved patrolling our yard. He made it clear that in exchange for food and shelter, he'd keep intruders away. Thus, he'd earned a military name.
It took a while to gentle Major, but he soon trusted me enough to purr in my lap. I felt like the best cat mama ever when that happened. For one reason or another, my family had never owned pets until Major came along. I greatly admired his survival tendencies, his love of car rides in the Buick, his help with sleuthing, and his devotion. I would never let him down.
But when it came to my attention that my murdered friend's cat, Ivy, needed a home, and when Ivy seemed to trust me and no one else at the clinic, I took her home with me. My reasoning that as long as Ivy and Major got along, two cats wouldn't be more work than one.
Ivy hid in the woods for a bit, but gradually she came to trust me, though she trusted Major first. I would often see them lying together or see her following him around the yard. So now I have two cats.
Silly me, I kept returning to the Happy Paws Clinic to learn more about the vet's relationship with my recently murdered friend. In exchange, the vet asked me help her with feeding the animals. This reinforced a new discovery. I had a way with animals. Something about my good energy, the vet said. In any event, she begged me to help with a German shepherd who'd quit eating. The poor, heartsick dog was starving to death.
I caved instantly, and so I did what she said, laying on a blanket just beyond Artie's dog run with a big bowl of dog food. It was a beautiful day, and once I lay down on the blanket to stare at the blue sky, I began singing softly, every now and then glancing over at Artie. He crept out and inhaled the food and then lay down beside me. When I petted his head, he snuggled closer.
The vet begged me to foster Artie until his owner recovered from emergency surgery. Artie was recovering from surgery himself. His big brown eyes implored me to take him home.
Being recently married, I'd pushed the bounds of our relationship by bringing Ivy home without discussing it first. I said I needed to talk it over with my husband first. The vet laughed. She said we could talk it over, but the dog needed me. She was right. He wouldn't go back in his run, and he stuck to me like glue.
Fostering a dog was different than adopting one, I reasoned. Surely Pete wouldn't object to a temporary dog. Then another voice in my head insisted that this was a decision to be made together. A dog was a lot more work than an outside cat or two.
I sat down to explain to Artie that I couldn't take him home today, and he put his head in my lap and gazed up at me with those mournful eyes. He needed me.
Oh, dear Gussie! What was I going to do?
About Maggie Toussaint
Southern author Maggie Toussaint writes cozy and paranormal mysteries, romantic suspense, and dystopian fiction, with more than twenty fiction novels published. A multi-year finalist for Georgia Author of the Year, she's won Silver Falchions, the Readers' Choice, and the EPIC Awards. She's past president of Mystery Writers of America-Southeast chapter and an officer of LowCountry Sisters In Crime. She lives in coastal Georgia, where secrets, heritage, and ancient oaks cast long shadows. Visit her at https://maggietoussaint.com/
Author Links
Website – https://maggietoussaint.com/
Facebook – https://www.facebook.com/MaggieToussaintAuthor
Twitter – https://www.twitter.com/MaggieToussaint
GoodReads – https://www.goodreads.com/MaggieToussaint
BookBub – https://www.bookbub.com/authors/maggie-toussaint
Blog – https://www.mudpiesandmagnolias.blogspot.com/
Linked In – https://www.linkedin.com/pub/maggie-toussaint/30/1a5/572/
Pinterest –  https://www.pinterest.com/maggietoussaint
Book Lovers Bench – https://bookloversbench.com/maggie-toussaint/
Purchase Links
Kindle  Nook  Kobo    IBooks
Enter the giveaway
Shrimply Dead TOUR PARTICIPANTS
April 13
I'm All About Books – SPOTLIGHT
Cinnamon, Sugar, and a Little Bit of Murder – REVIEW, RECIPE
Novels Alive – GUEST POST
April 14
Author Elena Taylor's Blog – AUTHOR INTERVIEW
FUONLYKNEW – SPOTLIGHT
Tea Book Blanket – SPOTLIGHT
April 15
Celticlady's Reviews – SPOTLIGHT
Maureen's Musings – SPOTLIGHT
April 16
Christa Reads and Writes – REVIEW
Literary Gold – REVIEW
April 17
Sneaky the Library Cat's Blog – CHARACTER INTERVIEW
Sapphyria's Book Reviews – SPOTLIGHT
MJB Reviewers – SPOTLIGHT
April 18
I Read What You Write – AUTHOR INTERVIEW
Cozy Up With Kathy – SPOTLIGHT
April 19
StoreyBook Reviews – CHARACTER GUEST POST
A Wytch's Book Review Blog – CHARACTER INTERVIEW
April 20
Baroness' Book Trove – REVIEW
My Reading Journeys – REVIEW
April 21
Cassidy's Bookshelves – GUEST POST
Escape With Dollycas Into A Good Book – REVIEW, AUTHOR INTERVIEW
My Journey Back The Journey Back – CHARACTER GUEST POST
April 22
Christy's Cozy Corners – CHARACTER GUEST POST
Mysteries with Character – REVIEW 
April 24
Brooke Blogs – SPOTLIGHT, RECIPE
Books a Plenty Book Reviews – REVIEW, CHARACTER INTERVIEW
Have you signed up to be a Tour Host?
Click Here to Find Details and Sign Up Today!