Welcome to my stop on the Great Escapes Virtual Book Tour for A Glimmer of a Clue (A Fairy Garden Mystery) by Daryl Wood Gerber. Stop by each blog on the tour for interviews, guest posts, spotlights, reviews and more!
Courtney Kelly has a shop full of delights, a cat named Pixie, a green thumb—and a magical touch when it comes to garden design. But in Carmel-by-the-Sea, things aren't all sweetness and fairy lights . . .
A Glimmer of a Clue (A Fairy Garden Mystery)
by Daryl Wood Gerber
I received this book free; however, all opinions are my own. This post contains affiliate links. If you make a purchase, I may receive compensation at no cost to you.
A Glimmer of a Clue (A Fairy Garden Mystery)
Cozy Mystery
2nd in Series
Publisher: Kensington (June 29, 2021)
Paperback: 336 pages
When Courtney's friend Wanda gets into a ponytail-pulling wrestling match in public with a nasty local art critic, Courtney stops the fight with the help of a garden hose. But Lana Lamar has a talent for escalating things and creating tension, which she succeeds in doing by threatening a lawsuit, getting into yet another scuffle—in the midst of an elegant fundraiser, no less—and lobbing insults around like pickleballs.
Next thing Courtney knows, Lana is on the floor, stabbed with a decorative letter opener from one of Courtney's fairy gardens, and Wanda is standing by asking "What have I done?" But the answer may not be as obvious as it seems, since Wanda is prone to sleepwalking and appears to be in a daze. Could she have risen from her nap and committed murder while unconscious? Or is the guilty party someone else Lana's ticked off, like her long-suffering husband? To find out, Courtney will have to dig up some dirt . . .
My Review of A Glimmer of a Clue
A Glimmer of a Clue is the delightful follow-up to A Sprinkling of Murder, the first book in A Fairy Garden Mystery Series. Once again, we get to visit the absolutely charming setting in Carmel, CA. And, yes, I'm still ready to move there! I could spend hours on Pinterest looking at photos taken by tourists (or locals!) of Carmel-By-The-Sea. The setting is just one of many reasons to love the Fairy Garden Mystery Series.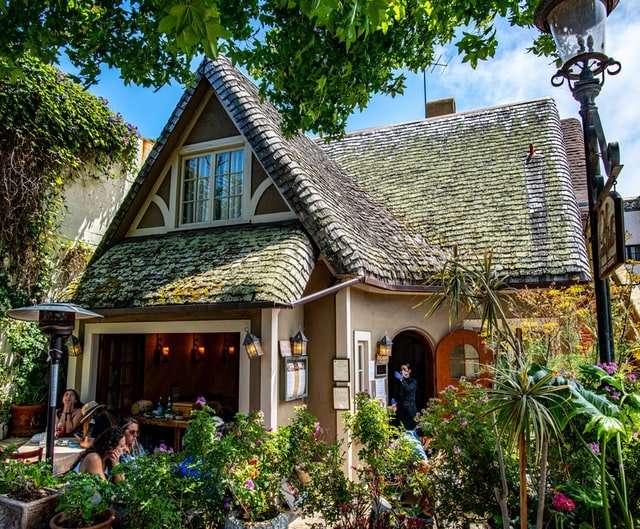 You'll also love Courtney's shop! Courtney Kelly is the proprietress of Open Your Imagination, a charming shop where she sells everything fairy. You can learn to make a fairy garden, attend book club, have tea, take your little ones to story hour, and possibly help Courtney solve a murder by sharing gossip you've heard around town. Take a look at this Pinterest board to see some fairy gardens. I need to visit Courtney's shop ASAP!
As amazing as the setting and shops are, the well-developed characters and their friendships are what make A Glimmer of  a Clue such a wonderful book.
I love Courtney's tenacity, though Detective Summers might wish she had a little less of it when it comes to solving the murder. Thank goodness he's got a girlfriend who's encouraging him to be patient with Courtney and to listen to Courtney since she's got awesome observational skills. She gets those skills from her dad who's also not too thrilled when Courtney starts lining up suspects since she knows her BFF's mom can't be guilty.
Courtney's old friends are back and new acquaintances are introduced in A Glimmer of a Clue. She develops a deepening friendship with one character, another gains the ability to see fairies,, new fairies are introduced, and those new acquaintances may or may not be involved in the murder!
A Glimmer of a Clue is a wonderful cozy mystery book full of charm and wit, friends and foes, murder and mayhem, clues and red herrings, and lots more! You're not going to be able to put this enchanting book down, so be prepared to lose some sleep!
I highly recommend A Glimmer of a Clue for all of you cozy mystery lovers who believe in fairies. All it takes is a little faith, trust and pixie dust! "I do believe in fairies, I do, I do."~ J.M. Barrie
About Daryl Wood Gerber
Agatha Award-winning author Daryl Wood Gerber writes the nationally bestselling Cookbook Nook Mysteries, the Fairy Garden Mysteries, and the French Bistro Mysteries. As Avery Aames, she pens the popular Cheese Shop Mysteries. In addition, Daryl writes the Aspen Adams novels of suspense as well as stand-alone suspense. Daryl loves to cook, fairy garden, and read, and she has a frisky Goldendoodle who keeps her in line!
Author Links
WEBSITE: http://darylwoodgerber.com
FACEBOOK: http://facebook.com/darylwoodgerber
TWITTER: http://twitter.com/darylwoodgerber
BOOKBUB: http://bookbub.com/authors/daryl-wood-gerber
YOUTUBE: http://youtube.com/woodgerb1
INSTAGRAM: http://instagram.com/darylwoodgerber
PINTEREST: http://pinterest.com/darylwoodgerber
GOODREADS: http://goodreads.com/darylwoodgerber
AMAZON:  http://bit.ly/Daryl_Wood_Gerber_page
Purchase Links 
Amazon   Barnes and Noble:    Kobo    Bookshop    Indiebound   Mysterious Galaxy   Murder by the Book    Target    Kensington Books
Enter the giveaway
A Glimmer of a Clue TOUR PARTICIPANTS
June 22
I'm All About Books – SPOTLIGHT
Novels Alive – GUEST POST
Diane Reviews Books – REVIEW
Literary Gold – SPOTLIGHT
June 23
Angel's Guilty Pleasures – SPOTLIGHT
Reading Is My SuperPower – REVIEW
This Is My Truth Now – REVIEW
Sapphyria's Book Reviews – REVIEW
June 24
Ascroft, eh? – AUTHOR INTERVIEW
Lisa Ks Book Reviews – REVIEW
The Book's the Thing – REVIEW
Escape With Dollycas Into A Good Book – SPOTLIGHT
June 25
Books to the Ceiling – GUEST POST
Celticlady's Reviews – SPOTLIGHT
Cozy Up With Kathy – REVIEW
June 26
Socrates Book Reviews – SPOTLIGHT
FUONLYKNEW – SPOTLIGHT
Laura's Interests – REVIEW
June 27
StoreyBook Reviews – SPOTLIGHT
Books a Plenty Book Reviews – REVIEW, CHARACTER INTERVIEW
I Read What You Write – SPOTLIGHT
June 28
Hearts & Scribbles – SPOTLIGHT
Christy's Cozy Corners – REVIEW
Literary Gold – SPOTLIGHT
June 29
The Avid Reader – REVIEW
Mysteries with Character – AUTHOR INTERVIEW
Melina's Book Blog – REVIEW
Have you signed up to be a Tour Host?
Click Here to Find Details and Sign Up Today!