Welcome to the Prism Book Tour for Love Blooms by Jennifer Faye. Stop by each blog for excerpts and reviews from the book!
On Tour with Prism Book Tours
Love Blooms
by Jennifer Faye
I received this book free; however, all opinions are my own. This post contains affiliate links. If you make a purchase, I may receive compensation at no cost to you.
Love Blooms
(Bluestar Island #1)
by Jennifer Faye
Contemporary Romance
Paperback & ebook, 284 Pages
April 13, 2021
"With the bloom of springtime flowers…
comes the opportunity for new beginnings."
He's an injured firefighter. She bakes the most delightful treats. When their worlds collide will the baker help heal the firefighter with a mix of blueberry muffins and her caring way?
The elegant baker, Hannah Bell, has always lived on Bluestar Island with her family. While still grieving for her father, who died in a fire, she focuses all of her energy on making her dream come true–opening her very own bakery. But when a broken water pipe washes away her carefully laid plans, she's on the verge of losing everything.
New York firefighter Ethan Walker's life is in a tailspin after he's injured on-the-job. When an urgent call detours him to Bluestar Island, he agrees to help his lovable but meddlesome great-aunt. But organizing the island's Spring Fling proves a lot harder than he originally imagined. He needs help…and fast.
Under the magic of Bluestar Island's sea breeze and warm sunshine, Hannah and Ethan must not only face their immediate obstacles but also their own turning points in life. Will they have to do that alone? With a leap of faith and a dash of romance, they might just find the perfect mix to make their dreams come true.
Includes a delicious recipe for The Elegant Baker's Blueberry Crumble Muffin!
(Affiliate links included.)
BookBub | Paperback | Kindle | B&N | Apple Books | Kobo | Google Play
My review of Love Blooms
I'm always so excited when I hear that Jennifer Faye has a new clean romance coming! Her books always lift my spirits when I'm down, and I know that I'll be smiling when I reach the end. I'm already excited for Love Blooms's follow-up, Harvest Dance! You will be too when you finish this charming romance book.
Love Blooms takes place on a fictional, small island close-ish to Boston called Bluestar Island. Hannah Bell knows all of the locals since she's always lived on the island, and it has been her dream to own a bakery there. I love the setting because living on an island where you know everyone seems like the ideal life for me. Since I've been reading for many years (I started chapter books when I was in 2nd or 3rd grade), I'm sure I've read thousands of books. MANY of them have had island settings. One of the first "island" books I read was Baby Island by Carol Ryrie Brink. I don't know how many times I checked that book out of the library, but it was many. So, yeah, Bluestar Island makes my heart happy.
In addition to the cozy, charming setting, Love Blooms has wonderful, well-written characters that come to life as you read. Hannah, though she wants to be strong and independent, is vulnerable and scared. In other words, she's very realistic. Ethan too has issues that he's got to work through and face. His time on Bluestar Island gives him time to reflect about who he really is and what he wants from life.
I love that Jennifer Faye makes secondary characters important to her stories.  Hannah's best friends, her family, Ethan, his great-aunt, his parents, and the Bluestar Island community as a whole play roles in the book that are relevant to the story. Love Blooms wouldn't be the same without them. There's one side character in particular that I'd love to see the author write a novella about. She's crabby and antagonistic, yet I think she's got a backstory that needs to be told. I'm totally making it up in my head!
Love Blooms moves at just the right pace. The romance isn't rushed, and we get time to really get to know the characters. Since this is only book one in the series, so I'm sure we'll get to know lots more about the residents of this lovely island. I can't wait!
Love Blooms is a book that lovers of sweet, clean romance will love, and I loved it! I think you will too.
Book 2 is Coming October 2021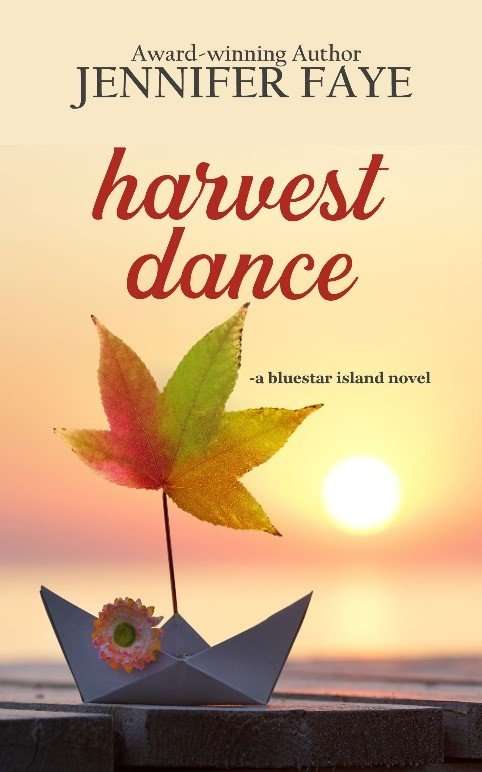 Pre-order Harvest Dance on Amazon
About Jennifer Faye
Award-winning author, Jennifer Faye pens fun, heartwarming contemporary romances with rugged cowboys, sexy billionaires and enchanting royalty. Internationally published with books translated into nine languages. She is a two-time winner of the RT Book Reviews Reviewers' Choice Award, the CataRomance Reviewers' Choice Award, named a TOP PICK author, and been nominated for numerous other awards.
Website | Goodreads | Facebook | Twitter | Pinterest | YouTube | BookBub | Newsletter
Enter the giveaway
One winner will receive a $25 Amazon gift card (open internationally)
Ends July 7, 2021