Welcome to the Prism Book Tour for Harvest Dance (Bluestar Island #2) by Jennifer Faye. Stop by each blog for excerpts and reviews from the book!
On Tour with Prism Book Tours
Harvest Dance (Bluestar Island #2)
by Jennifer Faye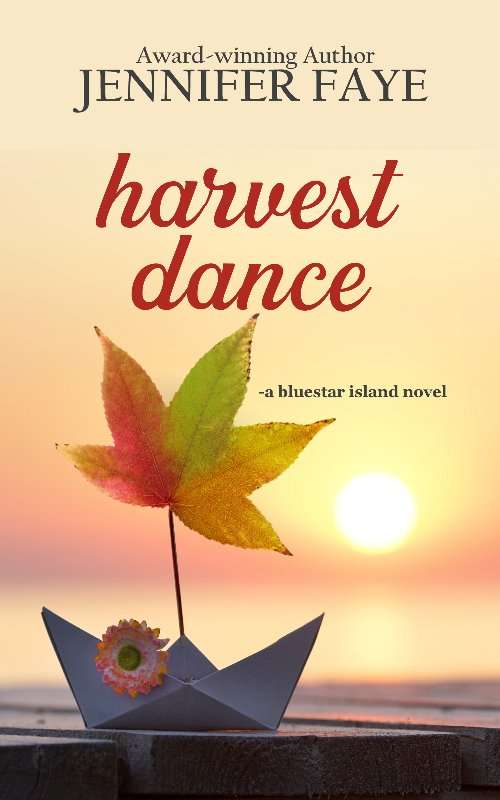 I received this book free; however, all opinions are my own. This post contains affiliate links. If you make a purchase, I may receive compensation at no cost to you.
Harvest Dance
(Bluestar Island #2)
By Jennifer Faye
Contemporary Romance
Paperback & ebook, 350 Pages
September 12, 2021 by Lazy Dazy Press
"Beneath the harvest moon…
true love can bloom."
A single dad, who's in over his head, and an event planner running from her past, are drawn together on charming Bluestar Island by a determined seven-year-old and her escape-artist goat.
Event planner, Charlotte "Aster" Smith, has fled the only life she has ever known. The situation has left her questioning her own judgment as she cautiously tries to create a new life for herself on Bluestar Island. Taking the job of event coordinator for the small town is a step in the right direction. The only problem is it's currently a part-time position, but the mayor suggests with additional funding the position could transform into a full-time job. In the meantime, she needs a second job in order to stay financially afloat.
Farmer and single father, Sam Bell, is struggling to keep his aging farm from going bankrupt while raising his young daughter. And now that his daughter's babysitter is heading off to college, he needs help. So when he finds Aster is in need of work, he thinks his problems are solved. But things aren't always what they seem. And he can't help wondering what Aster is keeping from him.
In the lingering rays of a Bluestar Island sunset, Sam and Aster find themselves dancing upon the sand. As they help each other heal, the possibility of a future together becomes tangible. But will the ghosts from their pasts extinguish this budding romance?
Includes a delicious recipe for Aster's Amazing Apple Cobbler!
Bluestar Island series:
Love Blooms (Hannah & Ethan)
Harvest Dance (Aster & Sam)
A Lighthouse Café Christmas (Darla & Will)
Rising Star (coming soon)
(Affiliate links included.)
Amazon | Barnes & Noble | Apple | Kobo | Google Play
My review of Harvest Dance
Jennifer Faye has written another sweet, charming romance in the Bluestar Island Novel series. Harvest Dance follows Love Blooms but it can be read as a stand-alone. Characters from the previous book appear, but you're not going to get spoilers!
Harvest Dance is wonderful! In my review of Love Blooms, I gushed about how much I love the setting, Bluestar Island. It's a fictional island located outside of Massachusetts where all the locals know each other and where tourists invade during "tourist season." If this were a real place, I'd pack up and move there. You'll love discovering the cute shops and restaurants located on the island.
Charlotte "Aster" Smith has come to Bluestar Island, fleeing from danger. She has no family, so she calls upon her college friend Darla. Darla happily takes Aster in, helps her get a job, and makes her feel like she's safe. But, her job is part-time, and when the opportunity arises for a second job, Aster happily starts her new position.
Single father, Sam Bell (you meet his sister in book one) needs help with his daughter Nikki since the current one is heading off to college. Though Sam and Aster's "meet-cute" was a bit of a disaster, they've since become more acquainted. Aster seems like the answer. But when he starts falling for her, he begins to wonder if he made the right decision. Sam's not looking for a relationship. Since his first wife died, he's closed off his heart and doesn't want to open it. Ever. Aster isn't looking for a relationship either, but sometimes you just can't ignore your feelings.
Sam and Aster are wonderfully written characters. They've got so much pain, and the author truly makes that evident in these characters. Nikki is another delightful character. She's a typical 7 year old. Nikki's sweet and well-behaved, but when she doesn't get her way, she still stomps and slams doors! The supporting characters play important roles in this story and are also well-written.
You'll love reading Harvest Dance. The romance develops slowly since neither Sam nor Aster have any intention of becoming romantically involved. Of course, the townspeople see romance before Sam and Aster do. They face some serious obstacles along the way but don't all relationships? We've all got baggage! Will Sam and Aster figure it out and share the baggage with each other? Find out in this page turning book! If you love clean romance books that you don't want to put down, I highly recommend that you read Harvest Dance!
Other books in the series
About the Author
Award-winning author, Jennifer Faye pens fun, heartwarming contemporary romances with rugged cowboys, sexy billionaires and enchanting royalty. Internationally published with books translated into nine languages. She is a two-time winner of the RT Book Reviews Reviewers' Choice Award, the CataRomance Reviewers' Choice Award, named a TOP PICK author, and been nominated for numerous other awards.
Website | Goodreads | Facebook | Twitter | Bookbub
Tour Schedule
Enter the giveaway
One winner will receive a digital copy of LOVE BLOOMS plus a $25 Amazon gift card
Ends November 3, 2021