Welcome to the Prism Book Tour for A Lighthouse Cafe Christmas by Jennifer Faye. Stop by each blog for excerpts and reviews from the book!
On Tour with Prism Book Tours
A Lighthouse Christmas Café (Bluestar Island #3)
By Jennifer Faye
I received this book free; however, all opinions are my own. This post contains affiliate links. If you make a purchase, I may receive compensation at no cost to you.
A Lighthouse Christmas Café
(Bluestar Island #3)
By Jennifer Faye
Contemporary Romance
Paperback & ebook, 182 Pages
November 16, 2021 by Lazy Dazy Press
As Bluestar Island prepares for a very special Christmas wedding, Santa's sleigh crashes into The Lighthouse Café, reuniting Bluestar's beloved waitress with her former fiancé.
In this holiday novella, Darla Evans has carved out a quiet life for herself as a waitress at The Lighthouse Café. Up until this point, she's conveniently avoided the one man who shattered her heart and her dreams. But when a wedding draws him back to the island, she knows their meetup is unavoidable.
Tech entrepreneur William "Will" Campbell has returned to his childhood home to be the best man in his father's wedding. But first his father has a very special task for him—to restore a sleigh in time for the wedding. However, there's not much time until Christmas. He just might need some help.
As snowflakes cover the small town of Bluestar, Will and Darla work together to make it a very special holiday wedding. With the past looming between them, will the magic of the season open their hearts and allow them to find love again?
Includes a holiday recipe for Darla's frosted sugar cookies!
The Bell Family of Bluestar Island Books in Order:
Linked to my reviews
Love Blooms (Hannah & Ethan)
Harvest Dance (Aster & Sam)
A Lighthouse Café Christmas (Darla & Will)
Rising Star (coming soon)
(Affiliate links included.)
Amazon | Barnes & Noble | Apple | Kobo
My review of A Lighthouse Cafe Christmas
If you're a regular reader of my blog, you know that I adore Jennifer Faye's books. She writes many romance books – some squeaky clean and others a little less squeaky. A Lighthouse Cafe Christmas, along with the other Bluestar Island books, is one of the squeaky clean books. I totally adored this novella about Darla and Will. I couldn't put it down and finished it in less than a couple of hours. In my earlier review of Love Blooms, I mentioned a side character who is always negative. Her glass is half empty all of the time! I thought that this character needed a novella about her backstory, and though this isn't it, we do learn a little more about her. If you pay attention, you'll notice what might just be a hint. I'm still waiting for her story!
A Lighthouse Christmas Cafe will melt your heart! It's one of those second chance stories that will have you cheering on main characters Darla and Will. You'll remember Darla from the previous books if you've read them. She works at The Lighthouse Cafe and loves her job and her friends. Her best friend from college, Aster, was the main character in Harvest Dance. Be sure to read that one if you haven't! The Bluestar Island books can totally be read as stand-alone books, but I love getting the big picture! I love that Darla gets her turn in this novella. Though she wants to avoid the man who broke her heart, she and Will can't seem to avoid each other. Of course, that's a good thing for us, or where would the story be?!
A Lighthouse Christmas Cafe is such a charming novella with wonderful characters that I've grown to love throughout this series. As I mentioned before, it's a book you won't want to put down. Jennifer Faye weaves Darla and Will's complete love story throughout the novella. You'll discover their past mistakes and observe how they mend what was broken.
I absolutely recommend this book to all romance lovers. It'll make your day a little bit brighter and leave a smile on your face!
Other books in the series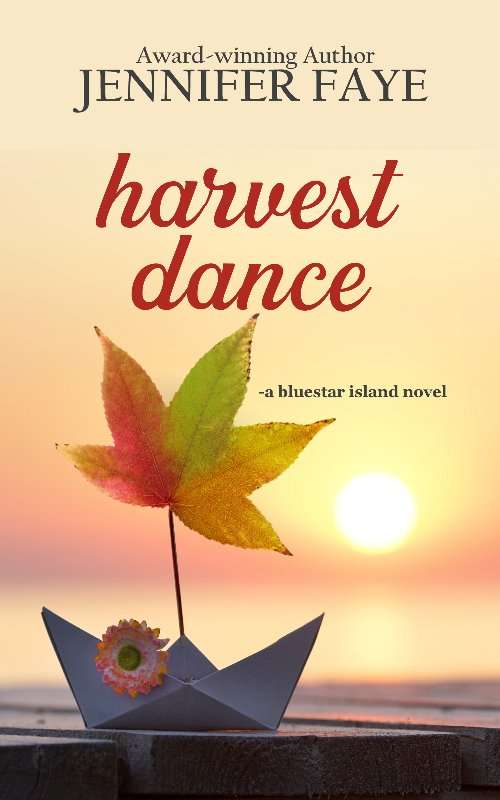 About Jennifer Faye
Award-winning author, Jennifer Faye pens fun, heartwarming contemporary romances with rugged cowboys, sexy billionaires and enchanting royalty. Internationally published with books translated into nine languages. She is a two-time winner of the RT Book Reviews Reviewers' Choice Award, the CataRomance Reviewers' Choice Award, named a TOP PICK author, and been nominated for numerous other awards.
Website | Goodreads | Facebook | Twitter | Pinterest | YouTube | BookBub | Newsletter
Follow the Tour
Enter the tour giveaway
One winner will receive a digital copy of LOVE BLOOMS and HARVEST DANCE by Jennifer Faye and a $25 Amazon gift card
Ends December 8, 2021