Welcome to the Blog + Review Tour for Good Gifts by Kyle Hunter, hosted by JustRead Publicity Tours!
Good Gifts
by Kyle Hunter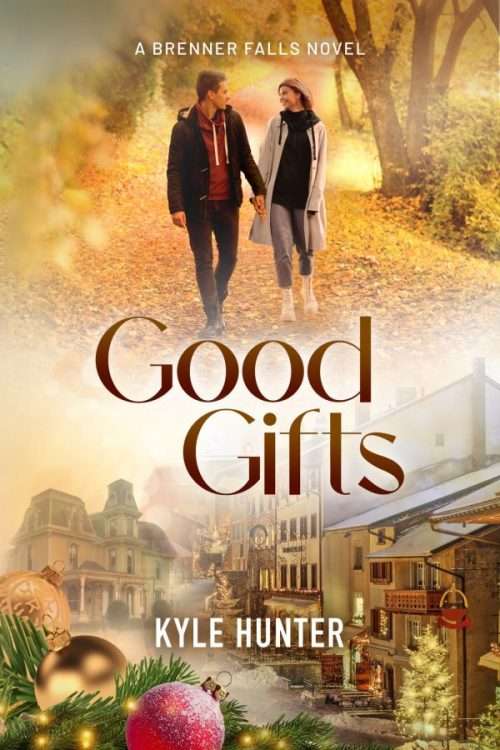 Title: Good Gifts
Series: Brenner Falls #1
Author: Kyle Hunter
Publisher: Monceau Publishing
Release Date: December 28, 2022
Genre: Christian Contemporary Romance

Nathan Chisholm's high-pressure job in the big city is interrupted by an inheritance he doesn't want, a struggling dinner theater. He returns to his hometown of Brenner Falls, Pennsylvania, so he can sell it fast and return to his normal life.
Leah Albright's plans for her life went up in smoke and she's forgotten how to dream. Instead, she spends her days at a dull job in Brenner Falls and her evenings with musical instruments and her cat. As holidays approach, she fakes cheer to stave off her disappointments.
Nathan and Leah rekindle the friendship they had in high school and attraction brews. But Nathan's leaving town once he sells the theater. And the residents of Brenner Falls, including Leah, don't want their beloved historic theater sold. And certainly not to the developer who's been lurking around.
Nathan finds himself trapped by well-meaning decisions and growing feelings for Leah. He may have gone too far to turn back from the risks to his future and his heart.
PURCHASE LINKS*:  Amazon | Barnes and Noble | BookDepository | IndieBound
Good Gifts Book Excerpt
From Chapter 5:
A late September breeze stroked Nathan's face as he left Leah on the corner of
Summit Street. As he headed across the intersection toward Seasons, her smile was what
he saw etched on his mind. Whatever else happened that day, he'd spent an hour or so
with Leah Albright, his high school pal, now an alluring adult woman. She'd looked
fresh and cute wearing a sheepskin jacket, unzipped over a red t-shirt. A knit beret
perched on her head at an angle and her flushed cheeks made him think of an Irish lass
out for a walk on the highlands. They'd slipped into conversation so easily that one
would never believe they hadn't seen each other in years. He'd had trouble taking his
eyes off her simple, pure beauty and eyes so blue he could swim in them forever. "Be
careful, Nathan," he muttered aloud. His heart pounded just remembering their magical
hour at Sophie's.
One aspect was less magical. Leah clearly had strong attachments to Seasons, which
would make his inevitable decision that much harder. His mom had advised him to do
what was best for him. He couldn't please everyone, she'd said. But Leah? Of all the
people he didn't want to disappoint, she topped the list.
Also Available
---
About the Author
Kyle Hunter is the author of nine novels of inspirational romance and women's fiction. Her relatable characters will become like close friends you'll cheer for and learn from as you join them on their journeys. Story settings range from Europe to small town America. As characters face challenges, the insights they gain will always be relevant. Kyle spent thirteen years in France, and she's intrigued by faraway places. Currently, she lives in North Carolina where she writes fiction, non-fiction (under the pen name K. B. Oliver) and the travel blog OliversFrance.com and teaches French to adults.
Connect with Kyle by visiting Kyle-Hunter.com to follow her on social media or subscribe to email newsletter updates.
---
Tour Giveaway
(2) winners will receive an ebook of Good Gifts, ebook of Prodigals in Provence, and $15 Amazon gift card!
Full tour schedule linked below. The giveaway begins at midnight April 3, 2023 and will last through 11:59 PM EST on April 10, 2023. Winner will be notified within 2 weeks of close of the giveaway and given 48 hours to respond or risk forfeiture of prize. Void where prohibited by law or logistics.
Giveaway is subject to JustRead Publicity Tours Giveaway Policies.
---
Follow along at JustRead Tours for a full list of stops!