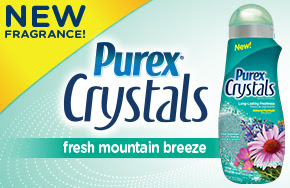 I absolutely love being a
Purex
Insider! I enjoy being able to share all of these wonderful Purex products with you after being one of the first to try them out! Last week I was sent this amazing new scent of Purex Crystals. This laundry freshener smells so clean and fresh.
I was so excited when I saw this box outside! Packages are the best!!
When I opened it up, the first thing I did was take out the bottle and smell the new scent….after taking this picture, of course 🙂 See that FREE coupon? Want to win it? Well, hold your horses, I'm not done telling you about the awesomeness of Purex Fresh Mountain Breeze!
Let's face it. Doing laundry is not a fun chore. It is a never ending pile of work, isn't it? Day in and day out, we are making more laundry for ourselves. But though it is a chore and not fun, it must be done. After all, we don't have disposable clothes. So when something like Purex Crystals comes along, it brings a little bit of happiness to an otherwise sad chore.
Purex Crystals Fresh Mountain Breeze helps your clothes smell …
Read more...