Teen Beach Movie
Yeah, I'm not a teen. In fact, I'm a mom to a 20 year old and a 17 year old. That's beside the point. I LOVE Teen Beach Movie. It is an adorable family movie that airs, I dunno, maybe 50 times a month? Okay, maybe not. But, regardless, if I see that it is on, I turn it on and watch at least half of it. I don't know how many times I've seen the entire Teen Beach Movie…probably ten, twenty…whatever. I've seen it a lot of times, and I just love it. Haven't seen it? Here's the summary: 
Two surfing lovers, whose doomed relationship is nearing to a close, find themselves swept into a time-traveling tidal wave that transports them to the 60s, where they find themselves during filming of a beach musical movie.
Why I watch Teen Beach Movie every time it is on
So why do I love this cheesy sounding movie? I'm glad you asked! Here are the "Reasons I Watch Teen Beach Movie (every time it's on)"….
The main characters are actually talented. Ross Lynch plays on Disney's Austin and Ally, another show that as a mom, I watch. It is a hilarious show with hilarious acting. Ross also plays many instruments and sings. He's in a band with his siblings! Maia Mitchell is an amazing singer/songwriter/actress. These two play their parts perfectly in the movie.

The premise is hilarious. Two surfers get sucked under the water and end up in a cheesy beach movie called Wet Side Story, which just happens to be one of Brady's favorite movies. And, it is a musical! 

Both of my kids love the movie, so we can watch together 🙂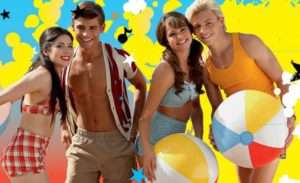 The supporting cast can act too! They have that 60's movie vibe down!

The Angry Birds reference…..
The awesome random dance numbers

Can't Stop Singing!
The "not wet" hair

Girl Power!

The villains

The very end, end with the phone
So there you have it! Some of the reasons I love Teen Beach Movie and MUST watch it when I see that it is on television. I just heard that there will be a Teen Beach Movie 2. Oh, I know sequels are never as good as the originals, but I have high hopes for this one. Kowabunga! 
*All photos from Google Images