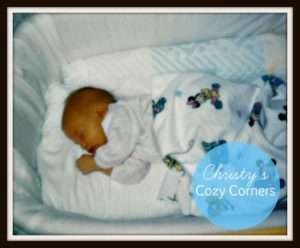 How did my baby go from this tiny little sleeping angel to a college graduate so quickly? When we become new parents, everyone tells us how quickly time will pass. Then our babies cry and keep us up all night, and we think these people must be nuts. Those sleepless nights make us believe that we will NEVER get a full night's sleep again and these baby days will surely last forever. Then we blink. And this happens.
That tiny little baby that kept us up all night with their crying graduates from college. This happened to my baby Sunday May 17, 2015. My daughter Molly graduated from Stark State College with an Associates Degree in English Composition. She graduated with a 4.0 GPA. Her gold sash indicates her membership in the Honor Society Phi Theta Kappa which is the honor society for community colleges around the world. The medal (hidden by her diploma) indicates that she is one of only two students in her college for 2015 chosen to be on the All-Ohio Academic Team. She received a $500 scholarship from Honda for her continuing education. In August, she will continue her education to get her BA in Secondary Education Integrated Language Arts. Yes, I am a proud mom!
I'm sure her dad in heaven is proud of her too. We were certainly both very proud of her when she graduated from high school. It is very hard thinking of all of the things he won't see, but life is full of the unexpected. Cherish each moment with your loved ones.
Molly is such a dedicated student, and her hard work paid off! Her professors enjoyed having her in their classrooms. She would go "bother" her favorite professor daily! This professor would bring Molly tea when Molly was working at her job at the college writing center. Molly would take this professor treats that she baked at home. Here is the picture they got together at the Stark State College graduation ceremony.
The graduation ceremony was very nice. The Ohio Speaker of the House was the speaker, and he was very encouraging. I am sure that all of the students were super excited to be either done with their school years, or at least done with the beginning of their higher education. Stark State College, being a community college, is an excellent place for students to start. It is so much more economical to start at a community college! High school students don't realize that college can be SO expensive! I'm glad my daughter chose wisely. She is coming out of these two years completely debt free.
I am so proud of both of my kids! They are kind and smart and not rebellious. I love being around them! They are such a blessing to me. Here they are in my parents' backyard.
And speaking of my parents, here they are with Molly! They are very proud of her too!
Remember to make the most of each moment with your family and friends. These moments pass so quickly. Congratulations, Molly and all of the 2015 graduates of Stark State College!