I don't know about you, but I think you are either horse crazy or you're not. It is not a halfway thing. And I'm pretty sure it isn't hereditary or anything like that. When I was growing up, I never thought about horses. Horses? Who cares?
Then there are those children who go nuts for horses! They've got to have everything horse related! Their bedding, clothes, toys, decorations and books all MUST revolve around horses. That was my daughter! So like I said…not hereditary! I was stunned by how horse-centric this child was. She LOVED horses. Well, she still does, but not to the extreme that she did when she was little.
I think maybe Barney had something to do with it because she loved pretending to ride a horse while singing "Home, home on d'range." She was a cowgirl for Halloween when she was 3 and loved her horsey hat. She had to have many many horses to play with and eventually had lots of Barbie horses as well as Breyer Horses. Then came movies about horses! She loved Black Beauty, and she and her cousin pretended to be the horses in that movie! Then we found Assateague Island one year on a trip to Ocean City, MD, and she was in heaven with seeing the wild ponies on the beach.
Books for Kids who Love Horses
Finally, when she was around 7 or 8, the love of horse books started. Here are some of my suggestions for your horse loving kids based on Molly's loves and some others I have found to be really enjoyable or highly rated. I'm also including suggestions from Facebook friends and followers.
Little Black, A Pony
A little boy is in love with horses. He takes Little Black, his very own pony, on rides all around his family's property. However, one day the boy decides to ride Big Red, a horse that can do practically everything–run fast, jump over obstacles, and even swim across rushing rivers! The boy begins spending more and more time with Big Red and less and less time with Little Black. However, when a ride on Big Red ends in a frightening accident, the boy must rely on Little Black to save him.
Billy and Blaze
I would say ALL of the Billy and Blaze books are great books for kids who love horses! Molly loved these. They're classics!
Billy was a little boy who "loved horses more than anything else in the world." Imagine how happy he was when he got his very own pony for his birthday! From that day on, Billy was seldom seen without his new friend, Blaze.
Riding through fields and woods, Billy and Blaze learned to trust and understand one another — and to jump over fences and fallen trees with ease. They were a great team, but were they good enough to win the gleaming silver cup at the Mason Horse Show?
This is the first book in the classic Billy and Blaze series. Sensitive drawings and easy-to-read words capture the warmth and gentle understanding between a boy and his horse.
Phantom Stallion
Molly loved this series! I am not sure that she read them all as she sort of outgrew them as more came out, but she couldn't get enough of The Phantom Stallion! These are great books for kids who love horses!
When 13-year-old Samantha returns home to her family′s cattle ranch in Nevada, she′s worried. She moved away two years ago to recover from a bad fall off her beloved mustang, Blackie, and she′s still not sure she can get back in the saddle. Her new colt doesn′t seem to like her, and the other ranchers treat her like the boss′s spoiled daughter, and Blackie has been missing since that fateful day.
But that′s just the beginning. When Sam suddenly finds the fate of a mysterious mustang – who may or may not be the missing Blackie – resting in her hands, she has to learn to be a real cowgirl, ready or not. The classic theme of a girl and her horse is set against a backdrop of mustangs, tumbleweeds, and a West that′s still Wild.
Phantom Stallion #1: The Wild One
On a moonlit night, a mustang comes to Sam. Is it Blackie grown up and gone wild? Is it the legendary phantom stallion? Or could it be both?
What list about horse books would be complete without Black Beauty? There was a version of this in a movie sometime in the 90's or early 2000's that Molly watched MANY times.
Black Beauty tells the story of the horse's own long and varied life, from a well-born colt in a pleasant meadow to an elegant carriage horse for a gentleman to a painfully overworked cab horse.
Throughout, Sewell rails – in a gentle, 19th-century way – against animal maltreatment. Young readers will follow Black Beauty's fortunes, good and bad, with gentle masters as well as cruel. Children can easily make the leap from horse-human relationships to human-human relationships, and begin to understand how their own consideration of others may be a benefit to all.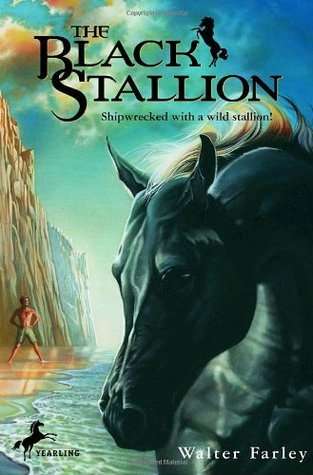 The Black Stallion
Alec Ramsay is the sole human survivor of a devastating shipwreck. Trapped on a deserted island, Alec finds his only companion is a horse, beautiful, unbroken, and savage . . . a horse whose beauty matches his wild spirit.
This first classic story of the Black Stallion, full of action, excitement, and suspense, has set the pace for horse stories for sixty years . . . and continues to leave its rivals in the dust.
Misty of Chincoteague
This was another of Molly's LOVES! I recommend all of the Marguerite Henry books for kids who love horses! They will love them.
Nobody could capture the Phantom. She was the wildest mare on Assateague Island. They said she was like the wind, that the white "map" on her shoulders was her mark of freedom.
Paul and Maureen Beebe had their hearts set on owning her. They were itching to buy and tame her; and worked hard to earn the money she would cost. But the roundup men had tried to capture her and for two years she had escaped them…
Pony Penning Day holds a surprise for everyone, for Paul not only brings in the Phantom, but her newborn colt as well. Can Paul and Maureen possibly earn enough to buy them both?
I have become Facebook friends with the author of Bronze. I adore this book! Molly has read it and loves it as well. It is a bit long for a middle grader, but I think an older junior high student could handle it. The author is actually editing it down a bit right now and may be giving it a new cover. Stay tuned for updates!
Allison Anderson knows she's a little different, but it hadn't bothered her too much-until now. Moving away from everything she's ever known to a new house, new neighborhood, and new school is bad enough, but it's her first year of high school too, making it even more intimidating. She's more aware of her social and physical limitations than ever before. And then there are the new people she meets: the tough-looking girl in her home room; the cute but dangerous-looking boy she first saw before school even started; the quiet, older girl who keeps to herself; the sullen-looking, seemingly isolated junior that doesn't seem to trust or like her at all.
Can she trust them? While the peaceful situation of her new home only amplifies the sound of her own doubts, she begins to learn that things are not always what they seem, and her world is turned upside-down by these new friends, two-legged and otherwise. Life soon becomes more complicated, and much more interesting!
Bronze is the first novel in The Glister Journals, a Young Adult series in four volumes. Set in California, it is first and foremost a story of friendship. Other themes include first love and romance, high school, family relationships, and horses. Supplementary pages include Vocabulary and Questions for Discussion suitable for book clubs or class use.
Are your kids horse lovers? What horse books do you have to add to this list?