We all know that time flies, but when we have little ones sometimes it feels like time is NOT flying. Those times when tantrums and crying and sleepless nights are ruling our lives, we may feel like this stage of our lives will last forever. It doesn't. My kids are now 20 and 17. Thank goodness they haven't flown the nest yet, but that time will be coming sooner than I want! I'm trying to pack lots of fun into our summer since summer always goes way too quickly.
Kyle, the 17 year old, has been all over the place this summer! It is sort of driving me nuts, but he's a boy. He's having fun with his friends. And at least he isn't out partying or on drugs. I did get to spend time with him at Cedar Point and the Cleveland Zoo! He and his friends drove to Lake Erie on their own one day…ACK! But they had fun. They've been long boarding, playing video games, and practicing their music.
Molly and I have been spending more time together. We've got a theater close to us that costs $1.75 on weekdays, $1 on Wednesdays, $2.25 in the evenings….so we've been going on Wednesdays when possible! These movies are ones that have been in the theater for awhile, but they are still recent releases. So far we have gone to see Insurgent, Cinderella (for the second time), and The Age of Adaline.
Image via Wikipedia
Insurgent is the second movie in the Divergent series. Have you seen these yet? They are very good! I read Divergent and Insurgent. I WISH that it would end here, but Allegiant is coming. I did not read Allegiant. I've heard that it ends terribly, so I will most likely just watch the movie and hope for the best. If you like dystopian fantasy, you will love Divergent and Insurgent. I actually liked Insurgent more than Divergent. But you do need to watch Divergent first! Divergent is already on DVD and Insurgent will be released August 4, 2015.
Image via Wikipedia
We've seen this Cinderella movie twice! The first time we saw it right after it released, and this time we saw it for $1. Cinderella was ALWAYS one of Molly's favorite movies. I can't tell you how many times I heard, "Watch Rella?" in my lifetime. But, like mother like daughter. I love the original Cinderella too! This version is SO cute! If you have not seen it yet, you must! The cinematography is amazing. The costumes are perfect. The acting is wonderful! It is one I will watch over and over.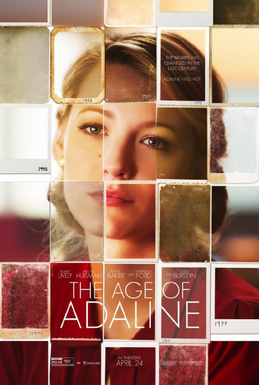 Image via Wikipedia
Molly was not impressed with this movie. She says it doesn't work as a film. IDK. I liked it. I think it is more of a movie for people my age though rather than a 20 year old girl. I think that the acting was very good, though the premise is definitely far-fetched. Molly didn't like the narrative parts of the movie. She thinks that it would have been better had the narration of what happened to Adaline been left out. Maybe. Either way, I liked it. I probably won't watch it again though. My advice would be to rent it at Redbox…maybe see if you can get a free code and then you won't be wasting your money if you end up with the opinion Molly has!
What have you done to make your summer special so far? Stay tuned for my next installment. Maybe next week…maybe not. The suspense is killing you right? 🙂