Disclosure: I received the following products free for an honest review which I've given.
As N.Y.C NEW YORK COLOR's ambassador since January 2015, Demi Lovato is celebrating her first anniversary by launching the highly anticipated "Lovatics Collection," as a thank you to her loyal fans, the Lovatics.
Demi says, "I am so excited to share my first makeup line with N.Y.C NEW YORK COLOR. The Lovatics collection is a true representation of my bold style and provides endless opportunities to rock your own individuality. One of my personal favorites, the Palette Eyeshadow, is a must-have that allows you to create your own unique look with 12 versatile nude shades!"
The new fashionable Lovatics by Demi Eyeshadow Palette ($4.99) features 12 nude shades and allows you to channel Demi's confidence all while showcasing your natural beauty. Your eyes will look naturally effortless with the Natural shades. And isn't that an amazing price? You can find this at Target and at Walmart.
I love all of the colors the Lovatics by Demi Eyeshadow Palette features. They are gorgeous and long-lasting. You can wear these colors with everything! I love the sparkle and shine of some of the shade and the muted tones from others.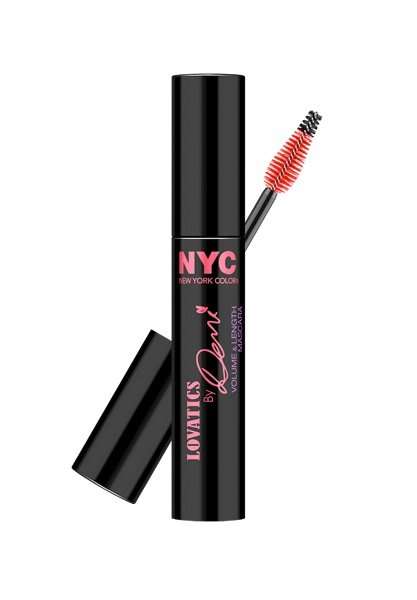 Mascara is a must have for me. You'll get up to 11X more volume and up to 64% more length with Lovatics by Demi Volume & Length Mascara. Get iconic length, extreme volume and Demi's seduction in one stroke with the exclusive shaped Dual-Fiber Brush. The brush's small and rigid black bristles catch and reveal even the smallest unnoticeable lashes, while long and flexible red bristles instantly pump up the volume lifting the curtain on your lashes. A high wax formula enriched with beeswax to build volume and carnauba wax further enhances your lashes for the stage. Lovatics by Demi Volume & Length Mascara ($4.99) is available in black and can be bought at Walmart and at Target.
Follow NYC New York Color on Instagram for a look at the entire Lovatics Collection and a video from Demi Lovato!