It's difficult enough to live in the neighborhood "freakazoid" house. It's even more difficult when you're autistic and neither your family nor best friend really understands you. So when Ryan November wakes up on his eleventh birthday with the unexpected ability to see the future, he braces himself for trouble.
But even his newfound power doesn't anticipate that the fair folk–undines, salamanders, gnomes, and sylphs–want him dead, dead, dead. Ryan races to defend himself and his family against unrelenting danger from the fairy realm so he can uncover the truth about his family history–and himself. Except as Ryan's power grows, the more enticing the fairy realm becomes, forcing him to choose between order and chaos, power and family. And for an autistic boy, such choices are never cut and dry.
Google Play | Chapters | Amazon | Kobo | TBD | iBooks
My Review of un/FAIR
I loved this book so much more than I thought I would. un/FAIR is a middle grade book, and sometimes middle grade books end up being some of my favorite books. The ones that are just magical and filled with great characters just stick with you. This is one of those!
Ryan is an autistic boy who lives with his dad, his mom, and his 2 aunts (they're his mom's triplet sisters). When Ryan wakes up on his birthday, he can see the future! His only friend happens to be a girl who shares his birthday. Since Ryan is autistic, he likes order, so when things get chaotic, he doesn't do well at all. Imagine waking up and being able to see the future…that's not too ordered is it?!



Things get really crazy when the fair folk get involved. I don't want to give away any of the surprises in this book, so I'll just tell you that if you love fantastical books, you will love this story. The characters are very well thought out, and the action is so exciting! The interaction among the characters is also very endearing. The descriptive language makes the story come to life.
un/FAIR is a heartwarming and exciting book that your middle grade reader will love! I highly recommend you read it with them. You'll get a lot of enjoyment out of it while spending some quality time with your child.
About the Author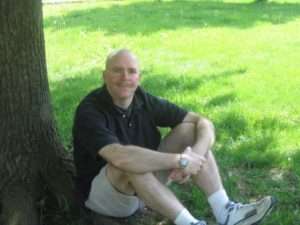 Steven Harper/Piziks is the author of multiple fantasy and science fiction novels written for adults, notably the Clockwork Empire and Silent Empire series for Roc as Steven Harper and movie novelizations and tie ins for Pocket Books as Steven Piziks (IDENTITY, THE EXORCIST: THE BEGINNING, GHOST WHISPERER: THE PLAGUE ROOM). He's also the father of an autistic son.
Website | Twitter | Facebook | Goodreads