There are many reasons why you should consider getting your child a pet. For one thing, it can teach them responsibility. After all, they can help you to take care of the pet. Also, it can be a great first friend for your child, and can help to boost their confidence. And there has been a lot of research which has found a pet is beneficial for your child's physical and mental health. But remember to tread carefully when choosing a pet. Here is some great advice you need to see when getting your child their first pet.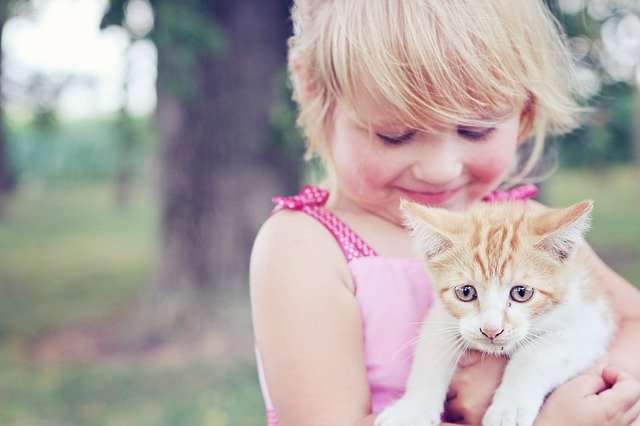 This post contains affiliate links.
Talk to them about it first
Before you get a new pet, it's important to sit down with your child and speak to them about it. Explain to them what will happen and how they should act with the pet. If you set some rules at the start, your child will hopefully follow them so that it's an enjoyable experience for them and the new pet. You should also talk to them about the kind of animals they might be interested in getting. You can research online about different pets and read in books about the different ones. Talking to them first will help them to prepare for the big arrival of the new family pet! 
Start small
Although you might want to go for a dog or a cat, it might be too much for your little one. After all, your child might find the pet overwhelming, and the animal might be frightened of them too. Therefore, you ought to start small when it comes to buying your little one their first pet. For example, you might want to consider going for a guinea pig or goldfish as the first pet for your child. That way, they can turn on the fish tank lighting and watch the fish swimming around.

And they can still feed and take care of them without needing to do too much work. If a small pet goes okay, you can then move on to cats and dogs.
Remember to think about the pet's well-being
Your primary concern when getting your child a first pet is their welfare. But it's also important to think about the pet's well-being. After all, some animals don't do well when they are around kids; therefore, they might end up being miserable if you do add them to your family. To ensure this doesn't happen, make sure you read up online about the animals and how they are around children. You can also call a professional for further advice before you add the pet to your family.
Let your child help pick out the animal's things
When you are getting your child their first pet, it's good to let them be as involved as possible. That way, they will take on some of the care and responsibility when you do get the animal home. Therefore, let your child help pick out the animal's things such as their new bed like this one Griffith Pet Bed – Small (22-inch X 18-inch) /Bronze from Brentwood Home and a food bowl. And let them help you choose where they should live in the house. That way, they will feel more connected to their first pet when it does arrive.
And you can read my previous blog post for help preparing your home for a new pet.