To a parent, their newborn child is the most beautiful thing in the world not for their looks but for what they represent. This new life is filled with potential. Your child's birth is a joyful event and your baby the focus of your world. We don't usually have the same rules for grooming a newborn than we do with a child even a couple of years older. We'll make sure they're clean and properly dressed, naturally. But their other grooming needs are different and special. When it comes down to it, the grooming that you do for your baby is more about health and hygiene than anything else. If you're a new parent you might need some baby grooming tips.

This post contains affiliate links.
Baby Grooming Tips
You have your hairbrush, your toothbrush, and a lot of other items for your grooming. For your baby, you need special grooming items, not just so that they have their own things, but because their grooming needs are different.
Hairbrushes: For Health And Safety
When a baby is born, their skin is incredibly soft. Ours is hardened by years of exposure to work, the elements and just from us being alive. Their hair, too, is downy and fluffy. Also, as all parents are told, their skull is not fully formed, so the top of their head is still soft. For all of these reasons, while we may use stiff bristled brushes on our own hair, a baby's brush like this one is best.
Toothbrushes: Not For Immediate Use
Until your baby's teeth start to come in, you won't need a toothbrush, but you will need to practice oral care. Use this baby grooming tip. Use a soft washcloth with a small amount of water and rub it over your baby's gums morning, night, and after meals. Only once their teeth start coming through do you move to brushing. Even then, don't use any more than a smear of toothpaste until they are three years old.
Just a wet, soft toothbrush with a small head and large handle will be the best tool for the job. No matter the age, our mouths need cleaning, but a baby's gums are soft. Keeping their gums from being pricked by rough toothbrushes is important for health as well as your peace of mind.
Nails: They'll Grow Fast And Need Attention
One of the things that makes most parents look in wonder at their newborn is just how quickly they stop being so tiny. The speed of their growth, even across a matter of weeks, is stunning. And as your baby grows, so do all their body parts including fingernails and toenails.
It's essential to practice good hygiene when it comes to a baby's nails. Part of the reason for this is how fast they grow. When your baby starts reaching and grabbing, long nails can get grit and grime trapped under them. As you know, babies like to put their hands in their mouths. So keeping nails short is essential.
It's important to pick specialized baby nail clippers because, as with everything else, those nails are soft. Using harder clippers will make it more likely that a nail can tear – which may hurt, and it makes infection more likely.
Your Baby's Nose: Special Attention Required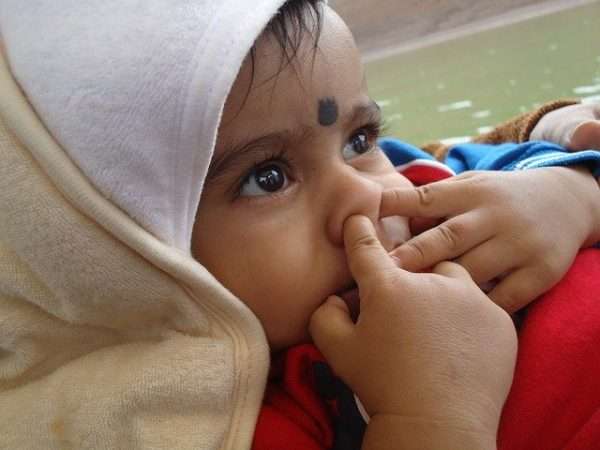 As you see, much of the baby grooming we need to practice is in many ways a smaller version of what we do for ourselves. In the case of their nose, though, it's a little different. If you have a slight cold or a blocked nose, you use a tissue to blow.
Your baby doesn't know how to blow their nose and couldn't do it even if they did. So to keep them booger-free, you need a nasal aspirator.
As you can tell, your baby's grooming needs differ from your grooming needs in several ways. Keep your baby healthy and safe by using these baby grooming tips.