I hope you've been keeping up with my Marietta, Ohio posts! I had such a fun time, and I've been enjoying sharing more about Marietta with you all. This time I'm sharing a couple of very unique places: Mound Cemetery and Peoples Mortuary Museum.
Mound Cemetery and Peoples Mortuary Museum
Mound Cemetery
Though a cemetery is not a unique place, Mound Cemetery is quite unique in a few different ways. The first, and most obvious way, is this conical  mound. The fact that it still exists tells us a lot about the early settlers in Marietta. They didn't level it the way that many mounds in NE Ohio were leveled, so they recognized it as having historical significance. When the settlers arrived, they actually made provisions for the preservation of the mounds in the area.
This mound was partially excavated in the 1900s. I remember visiting mounds when I was in school, though I'm not sure if it was this one or not. Our tour guide said that although it was at first believed that these mounds were burial places for chiefs of a Native American tribe, this isn't the case. That's what I'd always believed too.
Other mounds that have been excavated have been found to contain not only male bones, but also female bones and children's bones. Perhaps these were all members of important clans in the tribe. I think mounds like these are fascinating. If you want to learn more about them, there is a great amount of information available online just by searching. Hidden Marietta also offers an Ancient Earthworks tour of these mounds.
Another fact that makes this cemetery unique is the fact that it is the location of the largest number of Revolutionary War officers buried here. There are soldiers from almost every American war buried here. It really is a fascinating place to visit if you enjoy history and Native American culture.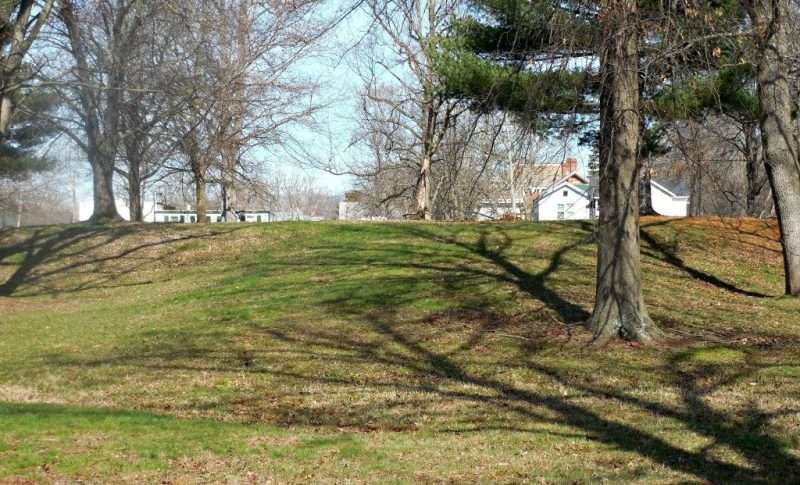 We visited one other mound in the area which was most likely a ceremonial mound. In fact, a path leading directly from the mound lines up exactly with the Winter Solstice. It is amazing how the Native Americans didn't need clocks or calendars or smartphones or Google to tell them things. I'm pretty sure they were much smarter than we are now!
Peoples Mortuary Museum
One of the first things you will see when you walk into The Peoples Mortuary Museum is a 1927 Henney Hearse. This Henney is a movie star and starred in the 2009 movie "Get Low" with Bill Murray, Robert Duvall and Sissy Spacek. Once you get the story about "Miss Henney" you'll see several other vehicles and other items associated with the history of mortuaries and death.
This is an 1895 Horse Drawn Hearse. Back in those days, a hearse also served as an ambulance. The signs were just changed accordingly! The basket underneath the hearse has an interesting story. When someone died and needed to be removed from the home, they were often put in a basket like this to be carried out of the home. I say, "needed to be removed" because most of the time, the funerals were held in the home.
Funerals were often held in the parlor of a home. It is said that children were often scared to go into the parlor because the name was associated with death (funeral parlor), so we no longer call our "living rooms" parlors. Notice the difference. One name is associated with death and the other with living. I thought that was a pretty cool fact.
More photos from Peoples Mortuary Museum
Thanks to Tonya Prater for sending me these photos since my camera died partway through the tour!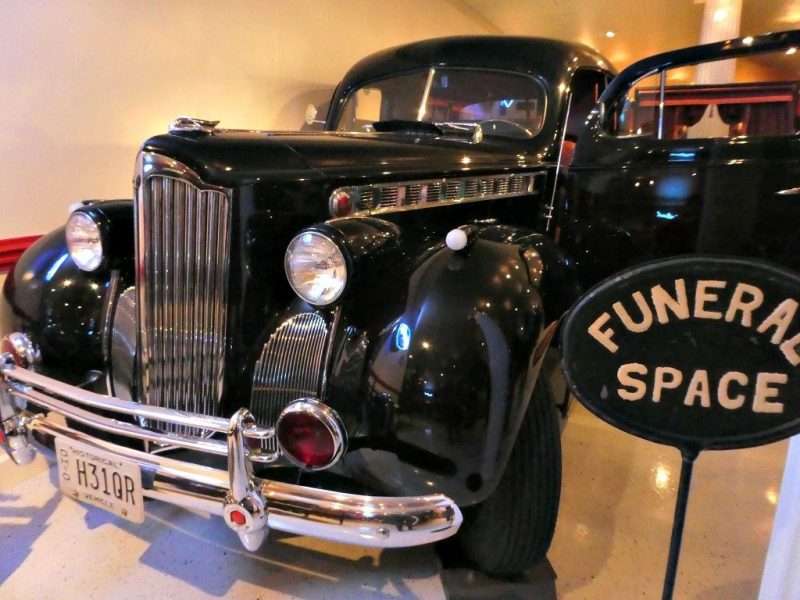 This really was a very interesting tour especially for people who love history and science. You learn a lot of really cool facts too. Be sure you call ahead for a tour to be sure that someone is available to guide you.
They can be reached at 740-373-1111.