Disclosure: Road Trip Musts when Traveling with Kids is a sponsored post which means I received products or monetary compensation. All opinions are my own and may differ from yours. All posts may contain affiliate links.
If you've got kids, you know that road trips can be rough, but they are also fun! I remember taking a road trip to Virginia Beach when I was about 12 or 13. We had a Mazda station wagon with no air conditioning. It wasn't so bad when the car was moving. But put 3 little girls and 2 parents in a 2 hour long traffic jam, and you've got problems! Isn't it funny how these memories stick with us? Of course, I know once we got to the beach we had fun, but that traffic jam sure made an impression.
Road Trip Musts for Traveling with Kids
Times are so different now with all of the technology available to kids for road trips, but they're still going to get bored. Plus,while some screen time is okay, you don't want them to have hours and hours of it time do you? I've made up a list of some must-haves when you're road tripping with your kids. Some of the items are for them, and some are for you! Check them out and let me know what you think.
mifold Booster Seat
If you've got kids that are out of the car seat stage, but they're still not big enough to sit without a booster, you've got to check out mifold. It is 10x smaller than a regular booster seat, but it is just as safe. It is portable, so your child can fit it in his backpack or you can carry it in your purse. I wish they had had this when my kids were little! It would have been so much easier to switch car seats out from car to car!
mifold is more than 10x smaller than a regular booster seat, and just as safe. It has been fully safety tested in testing facilities around the world. It is the most advanced, compact and portable booster seat ever invented. It is completely different to all other car seats. The lap belt is designed to be low on the hips and contacting the top of the thighs, which has been shown to be a very safe and effective positioning.
There are still at least 20% of journeys where children do not have a car seat; in carpools, with grandparents or other relatives, in taxis, in rental cars, and more. With mifold there is no more excuse since it is so compact and portable. A child can easily keep one with them all the time and drivers can keep a spare without cluttering their car. A child can be safe no matter whose car they are in.
Watch this video, and you'll see how handy it is for a road trip when you're traveling with the kids!

Little Monsters Car Organizer (Bouncing Bob)
This Car Wrap-to-Go Little Monsters Bouncing Bob is a no brainer for road trips when you're traveling with your kids. It straps right to the back of your car seat. It's handy for wipes, tissues, little toys, snacks and more. No matter what age your kids are, this organizer is a must for a road trip.
It even works for teenagers because we know they love taking things in the car! We put tissues, sunglasses, mp3 players, paper, pens, and more in it. I love that it keeps things organized!
TUMAMA Handbells Baby Rattles Strollers and Car Seats 
Aren't these cute?  I love how they can hook on to both cars seats and strollers. This makes them perfect for a road trip with kids. You can easily switch them between the car seat and the stroller.
All these rattles had passed the CPSIA, CPC and ASTM safety tests for babies of all ages (0+)
Imported
Material: This Plush Baby Rattle Toys are made from good quality plush with soft PP cotton filling, non-toxic, BPA free and comfortable hand feeling,easy to clean up and dry out, no mold, no deformation, no fading, and no damage
Stimulate Visual: Lovely plush animal rattle with vivid expression, every car seat hanging toys can attract baby's attention easily and stimulate their visual development
Improve Hearing: This colorful animal wind chime built-in rattle and crinkle, and this stroller toys will make a sound when shake or squeeze it, help to improve baby's good hearing and touch
Animals & Hanging Design: This infant toys designed with 4 cute Animals (Fawn, Lion, Elephant, Frog ); they're also designed with a hanging ring for easily hanging in the stroller and bed.
Playgro Toy Box Dingly Dangly Clip Clop
You can attach the PlayGro Dingly Dangly Clip Clop right to your baby's car seat! This way they won't throw it at anyone…you feel me right? This toy provides hours of fun with its vibrant colors and patterns. It attaches to car seats, so it won't get lost on the go. Soft and safe, this longtime favorite comes with a new squeaker and rattling feet to stimulate your baby's motor skills.
Purple Cow 
Magnetic Travel Magic Word Game
You will receive everything you will need to play Magic Words on the go, the magnetic game pieces, tin case that opens to become the game board and the game rules and instructions printed right on the back of the case so you will never lose them. This is a great game to take on road trips while you travel with your kids. I'd even play it if someone else were driving! You can buy this magnetic travel magic word game here. This is fun for readers of all ages!
Precidio Snack in the Box and Drink in the Box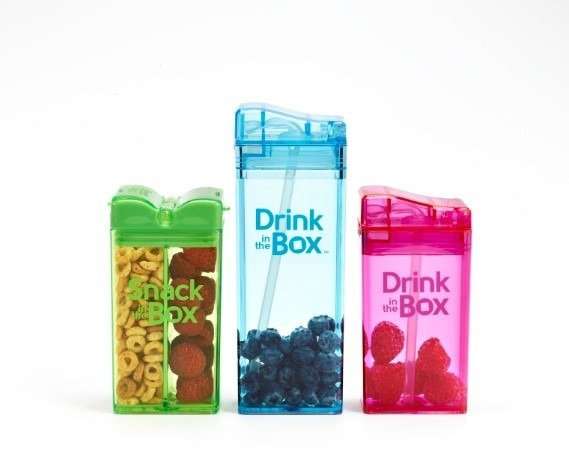 Snack in the Box and Drink in the Box are the coolest containers. You know kids need snacks while you're traveling on a road trip, and these are great because of their sturdy construction.
Snack in the Box features two separate chambers that each hold 6 ounces of your favorite dry snack. Using USA-made Tritan, the body lets you fill with 2 different types of snacks, and the Tritan pop-up lids let you easily pour out the snack from each chamber individually. It keeps your snacks from being crushed or mushed, and works as quantity control so you don't eat more than you planned.
Drink in the Box is the world's only reusable drink box. It won't squirt or leak, and helps to hydrate your kids without all the sugar and risk of mold, or impact to the environment of a disposable juice boxes.
Snack in the Box and Drink in the Box are BPA and Phthalate free.
These are so great for road trips. Can you even imagine having a leaky juice box in the car? You know how much of a mess they can make! Precidio Drink in the Box takes that mess away since it doesn't leak or squirt juice all over the place. The Snack in the Box makes it easy to take little crackers and fruit along for the ride.
After Bite and After Bite Kids
Summer is mosquito time. It is bee time! And it is biting bug time in general. My daughter is a mosquito magnet. They love her blood, so when she gets bites she gets BITES! I love that the kid formula is non-stinging with baking soda, aloe and tea tree oil. Those are all tried and true bite relievers. After Bite is a must have for travel involving camping, outdoor activities, beach trips and more. Be sure to take this on your road trips to keep you and your little ones comfortable after bites!
After Bite has provided instant itch relief from bug bites and stings for over 40 years for adults and kids. The pharmacist-preferred, proprietary mix of soothing ingredients acts fast when you need it most so that bites and stings don't ruin family fun. After Bite Kids is also available with a gentle, non-stinging sensitive cream that is gentle on kids, or perfect for anyone with sensitive skin. Both of these are available at Amazon, Walmart, CVS, Target, Rite Aid, Walgreens, Kroger, and at afterbite.com.
CUROXEN
Scrapes, cuts and burns are bound to happen to at least one of your family during a road trip. Be prepared with CUROXEN. The name CUROXEN (kyur-ox-in) is a blend of cure + oxygen. It is a first aid ointment that is all-natural, organic and over five times more effective at killing germs than any first aid ointment on the market. How do we know? CUROXEN is FDA registered and it has been tested and proven to be 5x more effective at killing bacteria than any natural or synthetic product available today.
Curoxen helps your cuts heal quickly. This is a gel rather than a cream and it comes out of the tube very quickly. Be careful not to get too much!
50 States from Time for Kids

Ready for a road trip? Get the scoop on the nifty fifty from North to South and coast to coast.
Through the pages of this book you can travel to all 50 states, from Alabama to Wyoming, to discover the history, geography, and culture that make each one great. With more than 100 kid-friendly maps by illustrator Aaron Meshon, full-color photographs, and fun facts galore, this state-by-state guide is perfect for exploring your own state, uncovering new places, and digging into the history of the United States of America.
A great resource for school reports and general curiosity, kids will learn the story of the people who lived on the land before European settlement; how each state joined the Union; the natural resources and people that make it unique; and the industry and agriculture that drive it today. 50 States supports cross-discipline learning in U.S. history, geography, natural history, and cultural studies.
Why you need this book for your road trip
Kids get bored easily! Back in the "old days" when I was a kid, I read all of the time. Well, I still read all of the time, but that's beside the point. With instant everything, our attention spans are literally shrinking every day. Google it. It is true! With kids who are used to concentrating on something for such a short period of time, 50 states contains just enough information for your child to be entertained and educated about the states you may be driving through. Make up a trivia game ahead of time with questions for your kids to answer along the way.
Happy Kids, Happy Vacation
I just thought I'd add this in to show you that all kids have a rough time traveling sometimes!
We all saw little Princess Charlotte's travel meltdown and how mommy Kate handled it. Hey, travel is rough on the little royal too!
Your favorite road trip items
What are your must haves when you take a road trip with your kids? I'd love to hear what you take and why you take it with you! What's your favorite from the list I shared?