Disclosure: Clean Air is Essential: Protect our Kids and Take Action #TakeActionForKids is a sponsored post. All opinions are mine and may differ from yours.
Clean Air
Clean air isn't a political issue though some would like to make it so. I'm here to ask you to look at two pieces of legislation, and then see what to do about it.
The

Regulatory Accountability Act (RAA)

would create hurdles to rulemaking similar to the one that kept America from banning asbestos.

The

REINS Act

would require Congressional approval of rules, effectively giving either branch of Congress, or powerful lobbying groups, a "pocket veto" on safeguards.
These two pieces of legislation are direct threats to public health and have broad, overreaching consequences. But why should you care? If you've got kids, this can directly affect their health in ways you're not even aware of.
School Safety
I care because my daughter is going to be a school teacher soon. She is in a middle school doing her student teaching this year. Not only would this affect her, but it would affect her students as well.
From asbestos in classrooms to lead in drinking water and even the safety of the school buses, the RAA and REINs Act would make it harder to keep our kids safe in school. Protections to safeguard our children from toxic chemicals would be difficult  if impossible to implement under these bills.
Asbestos: "Asbestos, an issue that many of us thought to be resolved, continues to plague schools and pose a health threat in classrooms throughout the country." If the school was built before 1980, it likely contains some. Do you know if your school has asbestos? http://www.momscleanairforce.org/asbestos-schools/
And what about those school lunches? The RAA would make it difficult or impossible to enforce standards and keep the food in our kids' lunch boxes safe. Efforts that have been put into place to label for allergens, reduce sodium, eliminate trans fats, remove arsenic and lead from baby food/juice, label GMOs, etc. are all on the chopping block.
I love this infographic since it gives you all the facts you need to share with other moms and dads. I'm sure you come into contact with parents several days of the week during things like sports activities or PTO meetings. These facts can and should be part of your discussions.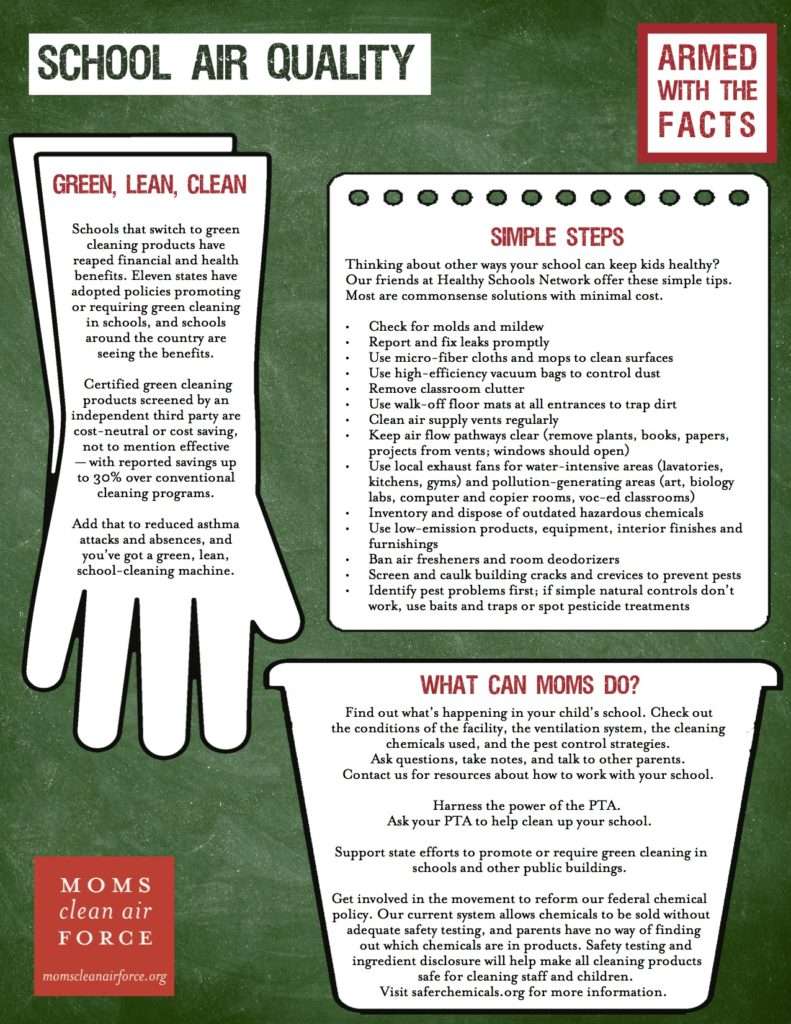 More areas the RAA and REINs Act would affect
Dirty air and water: The rise of asthma and other respiratory diseases are drastically increased by air pollution. These bills would make it harder to keep our air and water clean.
Asthma: One in 10 US children has asthma, the most common chronic disease of childhood. Have air pollutants triggered an asthma attack for you or your child?
Car safety: Would you know what to do if locked in the trunk of a car? Thanks to one survivor there is a glow in the dark safety pull inside trunks now, but this lifesaving consumer protection is now in jeopardy.
Watch this short video to learn more about this car safety device:
What can you do?
You and and I can take action against the RAA & REINS Act by emailing your members of Congress via the click-to-email tool on momscleanairforce.org.  We can get our friends and neighbors to do the same. I've listed the Clean Air Mom's Force website below, and there are lots of ways for you to get involved such as sharing why you're taking action & posting on social media. 
Remember, this isn't politics; it is our kids' lives. 
Learn more at these links and follow Clean Air Mom's Force on social media 
Website: http://cleanairmomsaction.org/
Facebook: https://www.facebook.com/cleanairmomsaction/
Twitter: https://twitter.com/MomsAction
Instagram: https://www.instagram.com/momsaction/
YouTube: https://www.youtube.com/channel/UCuWfUW4RVPJQt9BkkU2Nvow
#TakeActionForKids