Best Funeral Gifts to Give a Grieving Family
When Kevin died, our family was not only grieving, we were in shock. His death came without warning, and we were left feeling lost. The outpouring of love from our friends and family was a great comfort to us. The gifts we received were so thoughtful, that I want to share some funeral gifts ideas to give a grieving family.
Gift giving at a funeral is a tricky thing. Sympathy gifts should be handled with care and thought out accordingly. It's a sensitive time, and you don't want to bring up negative feelings during this time. Offering condolences in a meaningful way is important. Grief is incredibly difficult, so this might make it easier for you and for the grieving family.
Peaceful Tidings Gift Basket
This gift basket from Peaceful Tidings offers comforting treats that are both savory and sweet. With a gift basket full of an assortment of choices, you'll increase the chances of your loved one receiving something they like. With all of these brands to choose from, everyone in the family will find something to comfort them here.
This particular basket has Ghirardelli chocolate, Lindt Truffles, Gourmet White Cheddar Popcorn and Cocoa Mix. This basket is beautiful and thoughtfully made.
You can also look for discounts on the products you're looking to give. For example, you can buy this Peaceful Tidings basket with a GiftTree promo code.
Comfort Candle
This gift is from 1-800 Flowers, but it's not a floral arrangement. While flowers are beautiful, they are usually not practical since the family needs to find a way to transport them home.
This special candle is a loving way to show you care without offering a larger gift. This candle holder from Comfort Candles doesn't burn away like a candle would. The elegant terracotta tea light holder features a message of remembrance that holds a candle they can replace over and over. It comes with a copper top to use when not in use to avoid dust settling on the wax and sticking.
Personal Creations Wind Chime
This wind chime is a sentimental way to comfort a loved one who is experiencing the sorrow of losing someone. You can have this personalized with the deceased's name, birth year and the year in which they passed away. The beautiful poem is something the grieving family can read from time to time during the following days and years.
Whenever it chimes, it'll make them think of their loved one. It's a very touching and will invoke emotion, so give this funeral gift to someone who you're closer to.
Humorous Sympathy Card
For those who heal through humor, this card this card may be an ideal card to give with a gift. Not everyone grieves in the same way, so if you can help your loved one feel comforted with a dose of laughter, start with this. Obviously this card is for someone you know well, so if you have a loved one that responds to lightening the mood and remembering the positive things in life, this card could be good thing to give them with their funeral gift.
After reading the cover, they can read what you have to say inside. This is where you can take the chance to let them know how much you care about them in your own way. This card will let them know you're thinking of them.
Personalization Mall Photo Canvas
Help the grieving family remember their loved one with  A Wonderful Life Memorial Photo Canvas.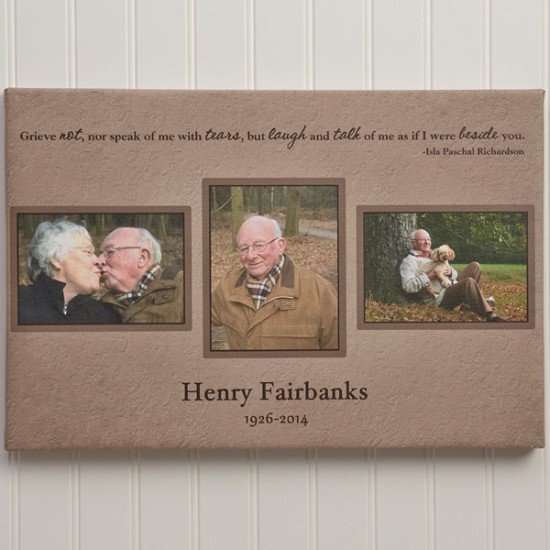 Funeral gifts like this one can help the grieving family remember their loved one who passed away through happy photos of them. This lasting tribute includes a quote option as well as their name and birth & death dates. You can choose 3-5 photos that will be displayed neatly in holders. The photos are held in museum-grade canvas, so it will look beautiful on their wall.
Mrs. Fields Cookie & Brownie Gift Basket
Sugar really does soothe grief, so this Cookie & Brownie basket from Mrs. Fields is a great way to give someone comfort food during their grief. It comes in a basket with a white ribbon that says "Sympathy" in silver.
This is the second gift basket on my list, and I know they're not cheap. Always be sure to look for gift basket deals when deciding what to buy.
Shutterfly Memorial Candle
Light a candle in remembrance of a loved one that is dearly missed. Check out the Memorial Candle from Shutterfly and personalize it for the family. You can add a photo and name to make the candle special. This thoughtful funeral gift comes in a gift box, so you can give it to them to open at the funeral or at a later date when they're ready.
The candle wax is made with all-natural soy and the scent is created using essential oils. Choose what scent you think the person receiving the gift would like. Choose from Evergreen Forest, Ocean Breeze, Garden Bouquet, and more.
Memory Box
Give a box where they can put photos and other keepsakes in that remind them of their loved one. At times during the grieving process, they can open this box and look through the memories.
On the box is a beautiful sympathy quote from Winnie the Pooh. This box is made from quality wood in the USA and is the perfect place to store anything they'd like to keep safe. The brand has other boxes to choose from that are sympathy related, including a Bible memory box.
Choose the Most Meaningful Gift
A time of grief is an unimaginable time of challenge. Be there for your friend or family by giving them one of these thoughtful funeral gifts. Any of these choices are appropriate, so choose what will mean the most to your grieving loved one.