You know the saying, "A dog is a man's best friend"? Well, though I'm not a man, my dog is one of my best friends, and his safety and health are very important to me! If you have a dog, you know what I mean. You want to know how to keep your dog healthy and happy, and if you're a first-time dog or puppy owner, you probably have lots of questions about keeping your dog safe and healthy.
I've created a guide that walks you through a few ways you can make your dog's safety a priority as well as how to keep your dog healthy and happy.
How to keep your dog healthy and happy
Keep your dog from getting lost
Dogs can sometimes break loose from their collars, so finding the right dog collar size is imperative. When I was a teenager, our dog Spicy (whom we had since I was really little) broke free from her collar often! If this happens and they wander, they can get lost. Plus, depending on the breed, some dogs just love to run, and when I say run, I mean run so fast that you can't catch them! Using the right dog collar size is very important.
Since your dog's safety is your top priority, you might want to consider an e collar for dogs to track your dog's location at all times. Some people might think e collar and think shock collar or training collar. No! I do not think either of those are okay at any time.
Tips for finding the right dog collar
The right dog collar size is crucial! Do your homework: one size and style does not fit all. For example, dogs with small heads and larger necks can easily slip out of standard collars. It's important to make sure that you put the collar on properly. A collar that is too tight will hurt your dog while a collar that is too loose could slip off. Tighten your dog's collar to the point that you can still slip your pointer and middle finger between the collar and your dog's skin.
Choose a collar that does not require a dog tag. Over time metal dog tags can tarnish and become indecipherable (not to mention the annoying jangle!). Look for a collar that can be engraved on the clasp or embroidered with your contact information and pet's name.
Consider reflective fabric or material. Not only will it help your dog be spotted if lost at night, but it also adds a layer of safety for every day, early morning or evening walks.
Check your collar regularly for signs of wear and tear. A collar is an accessory that is most likely worn 24/7, and thus is subject to daily wear and tear. Bath time is a great opportunity to inspect your pet's collar to ensure there are no rips, tears or other defects
Remember that your puppy will grow, so you'll need to find the right dog collar size when he's full grown too.
Don't overfeed your dog
If you just got a puppy, you may wonder how much and how often to feed a puppy. Many pet owners make the mistake of feeding their pet too much and too often. Overfeeding your dog can cause them to gain weight, and as a result, can shorten their lifespan.
The amount that a new puppy should be fed will often vary by breed. It's important to make sure that you find out how much and how often to feed a puppy. Ask your vet and check food bags for tips. It is also important that you feed your dog quality pet food. This goes for food from your plate too!
Our dog trainer always recommends that you buy the best quality that you can afford. Get that last part? Don't spend more on your pet's food than you can afford, but if you have a pet, you need to be able to fit their needs into your budget! Don't adopt a pet that you can't take care of.
I've used several brands over the years of having dogs, and the one I most recommend is Purina Pro Plan. Duke eats the Savor Adult Shredded Blend Chicken and Rice. He's been eating this since he was a puppy, but he ate the puppy formula of the same type.
After our dog Toby tragically died after eating a sample of a popular dog food brand, I asked our dog trainer what to feed our new puppy, and that is what she recommended. I won't ever change Duke's food now!
Another thing…just because a pet food brand has a famous spokesperson or is well advertised doesn't mean it's good for your dog!
Give your dog trusted supplements
I know that it is tempting to give your dog a bunch of supplements. There are so many out there! First, check with your vet to see if your dog actually needs a supplement. If they do, ask them for trusted sources and products. If you are using a quality dog food, it probably contains all the essentials that your dog needs. However, as dogs age, they may need supplements to help with ailments related to aging.
There are also supplements for stress and anxiety. If you want to know how to keep your dog healthy and happy and not stressed out, call your veterinarian's office. I'll bet they have some great tips.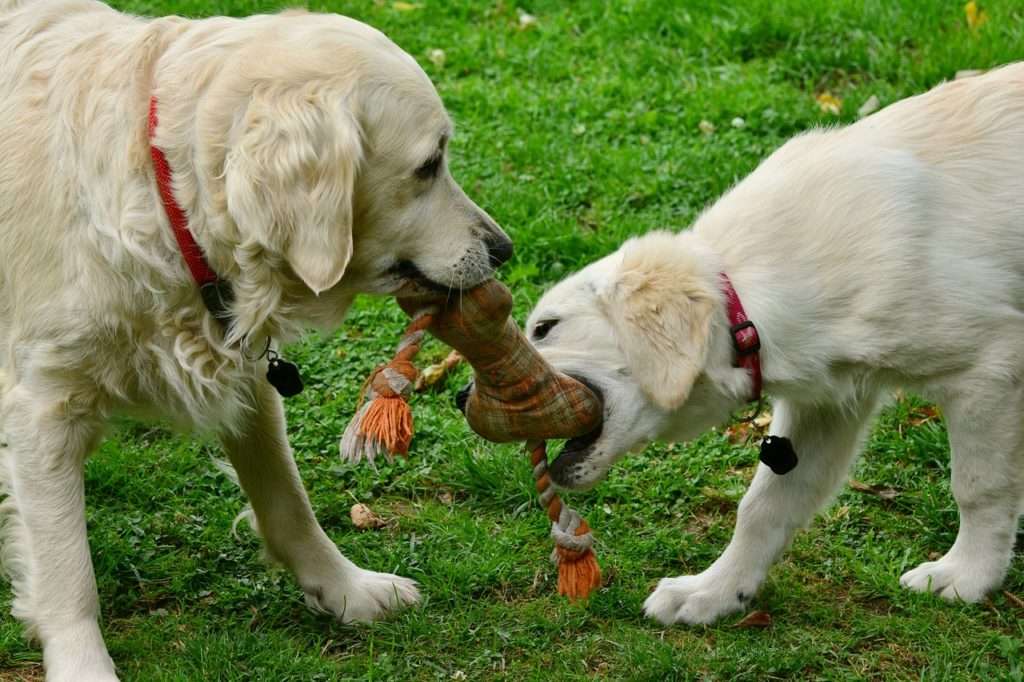 Take your new pet to dog training classes
It's important to make sure that you can control your dog at all times. By taking your new puppy or dog to dog training classes, you can be sure that he or she is able to follow commands. If you know your dog can follow commands, you'll feel more comfortable having him around other dogs and people.
It's best to take your dog to professional dog training classes taught by someone who knows what they are doing. The trainer will tell you that reinforcing what your dog has been taught in class by using training treats. A dog who listens to commands is much easier to live with than one who doesn't.
Take your dog for yearly examinations
It's so important that you take your dog for regular appointments at the vet. They might be able to spot something early that could potentially save your pet's life.
Also, your dog needs to be properly vaccinated to stop them from accidentally transmitting or catching a disease. Each vaccine needs to be given at a certain age or within a time frame. Your dog's veterinarian will be able to tell you exactly what point in your dog's life they need each vaccine. Mark the dates on your calendar so that you don't forget a vaccine your dog needs. Certain vaccines, such as a rabies vaccine, will need to be shown to a groomer or boarder to ensure that your dog is safe to have around other dogs.
Best flea treatment for dogs
At your dog's veterinarian appointment, your vet can also recommend the best flea treatment for dogs. Fleas and worms are one of the biggest issues for dogs. Both of these cause irritation to a dog's skin and can lead to scabs since they will lick and scratch excessively. If it's not treated, it can also cause an infestation in your house with your family getting bitten.
Sometimes the best flea treatment for dogs is an oral medication like Sentinel, which is what Duke takes, or its alternate Trifexis. Since many of the best flea treatments for dogs require a prescription, your vet will either sell the flea treatment at the office or give you a written prescription. Never use flea medicine and flea shampoo at the same time. Your dog will be getting an overdose!
Make sure your dog gets regular exercise
In order for your dog to be healthy and strong, they need to get plenty of exercise. If you live in an apartment or do not have a fenced in yard, you should take your dog for a walk on a leash every day. By the way, just by being outside puts your dog at risk for fleas which is another reason to get the best flea treatment for your dog.I know how hard it is to find time to walk your dog every day, but it's a must to make sure they stay active in their life.
Just like us, they need some form of exercise to stay healthy. Regular exercise keeps your dog healthy and strong, while also helping them to be able to work out some of their energy so that they are not so wound up at night. If you've taken your dog to dog training classes, and they've been vaccinated, a dog park is another great way for your dog to work off that energy.
Taking a walk with your dog provides bonding time, and helps you get your recommended daily exercise! If you are struggling to find the time, look into hiring a dog walker.
Each dog is unique. You need to take the time to get to know your dog in order to know what he or she needs. Once your dog is properly trained, you will be able to take them with you wherever you go without having to worry. The more time you spend with your dog, the stronger your bond will be.