When you think of Walt Disney, you probably immediately think of the theme parks. I've got a different type of Walt Disney experience for you to consider. The Walt Disney Family Museum is great for Disney lovers and history buffs alike.
Must-sees at The Walt Disney Family Museum
Since you could literally spend all day reading and exploring The Walt Disney Family Museum, I've got the must-sees for you if you don't have all day to explore.
Awards
Before you enter any of the galleries, you'll see cases filled with awards Walt Disney and the Disney company have won throughout the years. It truly is awe-inspiring when you look at them and think of all the genius, creativity and magic that earned these awards.
Young Walt Disney
Read about Walt Disney's childhood and young adult life. I loved seeing the pictures of his family, and I found one fascinating fact. His family's religious beliefs forbade music! (I can't remember if it was his parents or grandparents.) I don't know about you, but when I think of Disney movies, the first thing I think about is the music! This violin belonged to Walt's father, Elias. I can't imagine Disney movies without music.
I think Walt's early life gallery is a must-see because you get a sense of where Walt Disney came from. He came from humble beginnings, experienced many failures, and kept going. One of my favorite Disney films is MEET THE ROBINSONS. The theme that keeps replaying in that movie is "Keep Moving Forward." I think Walt would have approved. It's a great reminder that in spite of our failures and setbacks, we've got to keep trying.
"I think it's important to have a good hard failure when you're young. I learned a lot out of that. Because it makes you kind of aware of what can happen to you. Because of it I've never had any fear in my whole life when we've been near collapse and all of that. I've never been afraid. I've never had the feeling I couldn't walk out and get a job doing something."


Early Mickey Mouse
In Gallery 2, you see Walt's move to Hollywood. I didn't spend much time in this room, but there are a couple of must-sees in this room. If you're a film history buff, you'll want to read about the Alice Comedies here. If you are interested in Mickey's earliest history, you can find this in here as well.
Fun fact: I'm sure you Disney fans know that Walt wanted to call Mickey Mortimer at first. His wife is the one who came up with the name Mickey! Any Mickey Mouse fan will love the early Mickey toys and merchandise seen here.
Snow White and the Seven Dwarfs
Even if you're not a huge Snow White fan, you have to see the early drawings and figures. Snow White and the Seven Dwarfs was the first full-length animated feature in color and with sound. You can't be a REAL Disney fan without checking out the Snow White stuff!
This bracelet was made specifically for Lillian Disney by Cartier for her to wear to the Snow White and the Seven Dwarfs premier on December 21, 1937 at Carthay Circle Theater.
Disneyland Scale Model
I want this in my house! I'm not sure where I'd keep it, but it is so cool. Photos can't do it justice, so this is something you just have to see in person. It is amazing how much Disneyland has changed throughout the years, but I think it has always followed Walt Disney's original dream.

These next 4 photos of this scale model are from Allison Waken of All for the Boys. I love how she got this detail!
Miniatures
Like the Disneyland model, these miniatures are another thing I'd love to have. My favorite thing to play when I was a little girl was dollhouse. I loved decorating and imagining a tiny world. This room was fascinating to me!
Here is a quote of Walt Disney's from the text at the museum: "When I work with these small objects, the cares of the studio fade away." I can see what he means. Escaping into a world of fantasy is something that helped Walt destress. Me too! This is why I love movies so much. They allow me to escape to any place in the world without ever leaving my home or the theatre.
I feel so blessed to have these experiences. Seeing The Walt Disney Family Museum made me appreciate the man behind the magic even more. Though he died before I was born, I feel a connection to him. His creative genius led to so many of my favorite movies: Alice in Wonderland, Mary Poppins, Cinderella, Peter Pan….I could go on and on.
His love of family and children led to the creation of things like the Mickey Mouse Club which my mom loved as a girl. She wanted to be like Annette. It led to Disneyland and Disney World which eventually led to many Disney theme parks around the world.
Remembering Walt Disney
The final room of the museum is very moving and may lead you to tears. Walt Disney died only 10 days after his 65th birthday. If you only have a short time, be sure you read Walt's obituary and the editorial comics. And pack some tissues.
Special Exhibition
Now through September 3, 2018, the special exhibition at The Walt Disney Family Museum is Make Believe: The World of Glen Keane. This exhibit brought a lot of nostalgia as I remembered my kids watching these movies when they were little.
I learned a lot in the exhibit including the fact that Glen Keane is the son of Bill Keane who drew The Family Circus comics. I loved reading those!
You can check the website before you go to see current exhibits.
Make Believe: The World of Glen Keane
Here are a few of my favorite things from this exhibit.
Favorite line from Tarzan: "And, daddy, he took my boot!"
Look at how different this sketching is from what ended up in the movie! Crazy, huh? Favorite line from the movie: "Mother knows best." Okay, not really, but I DO know best! I've got lots of favorite parts and lines….
Especially those from Flynn. "Here comes the smolder."
Visit The Walt Disney Family Museum
When you're ready to visit (and you should be!), you can purchase tickets, get directions and hours, and find out more about the museum on their website. It is an experience you won't forget! I would love to visit again and soak in more of the man that will always hold a place in my heart.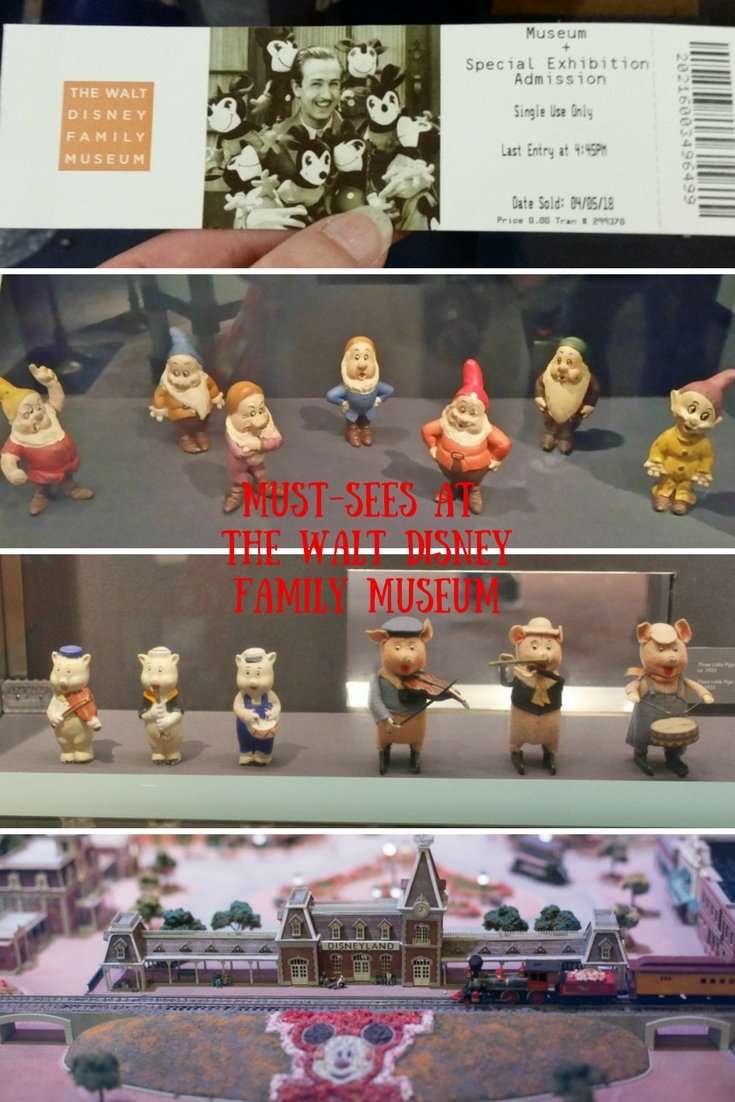 Follow
Website: http://waltdisney.com/
Facebook: https://www.facebook.com/wdfmuseum
Twitter: https://twitter.com/wdfmuseum
Instagram: https://www.instagram.com/wdfmuseum/
YouTube: https://www.youtube.com/user/WDFMuseum