SOLO: A STAR WARS STORY is now available on Digital and Blu-ray 4K Ultra HD™, Blu-ray™, DVD and On-Demand. If you haven't watched SOLO yet, you have to! Don't listen to the haters! We love this movie, and all of the STAR WARS movies!
Bonus Clip: New Falcon Design
We all know the beat up version of the Millennium Falcon, but check out this clip about designing the new Falcon.
Millennium Falcon Concept Art
If you've seen SOLO, you've seen the tricked out version of the Falcon! It is so cool! Poor Lando. Seeing where his baby started and knowing how it ends up…no wonder he hates Han! Check out this awesome Millennium Falcon concept art.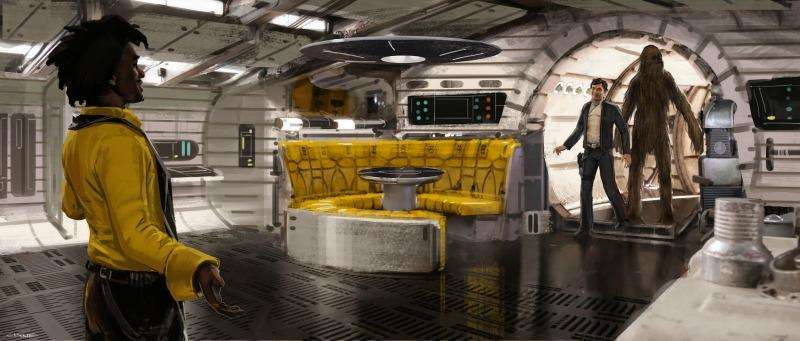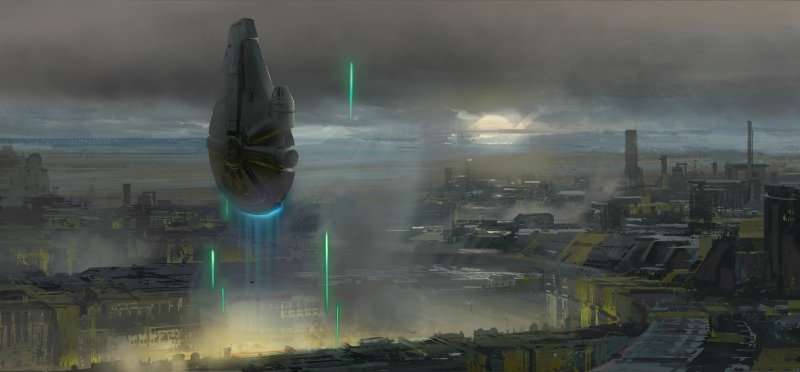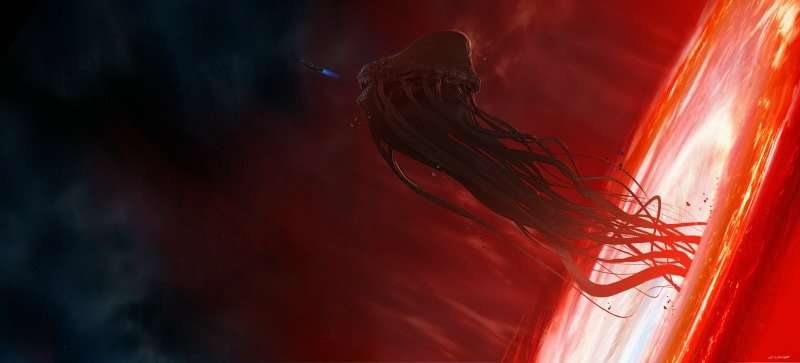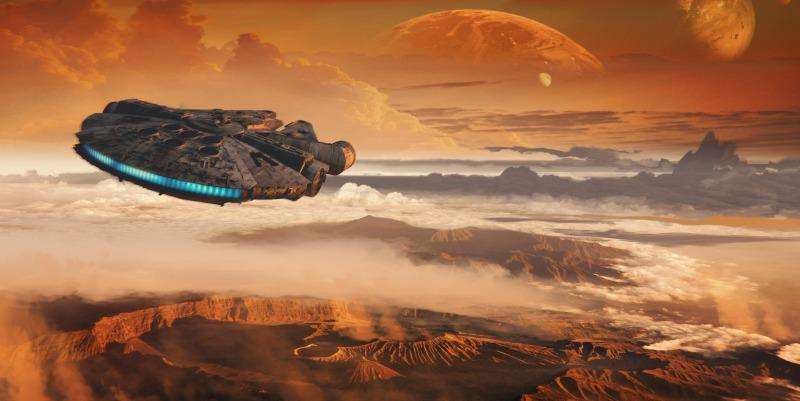 Solo Crafts
Make these Solo crafts with some printable card stock paper. You can pretend you're flying the Millennium Falcon while you watch the movie!
Get your SOLO Paper Foldables here
Number Crunch
Here are some fun facts about SOLO as we step behind the camera to bring you these number-crunching facts on the galactic adventures of the beloved space scoundrel, Han Solo.
SOLO: A STAR WARS STORY
IN NUMBERS
500
More than 500 creature designs were created for Solo: A Star Wars Story. "I feel like this movie has more creatures than any of the other Star Wars movies," explains Alden Ehrenreich, who plays the young Han Solo. "With this movie, you get the same feeling as when you saw the cantina in the original movie – although it feels like that whole universe just expanded ten–fold."
6
It was no easy task for Alden Ehrenreich to land the iconic role of Han Solo. "I had six months of auditions," admits the actor. "Every audition involved a different scene, which was helpful, but it was a long process."
2
Did you know that British actress Phoebe Waller-Bridge had two stunt doubles for her role as the droid, L3-37? "They couldn't find a single stunt woman who had my exact dimensions," reveals Waller-Bridge. "Instead, one stunt woman was the top half of L3-37 and another was the bottom half. They had to do shots of L3's legs with one person and then they had to again with the top person!"
1000
The costume design team, headed by David Crossman and Glyn Dillon, made more than 1,000 costumes for Solo: A Star Wars Story.
30
A total of 30 capes were created by the costume team for Lando Calrissian's slick closet in the Millennium Falcon. "I love Lando's style," enthuses Donald Glover. "I think I've been influenced a lot by Lando…You'd be surprised how hard it is to find a good cape."
135
The run-time of Solo: A Star Wars Story is approximately 135 minutes. That's more than two hours of galactic space-smuggling fun!
31
The exterior Millennium Falcon set built for The Force Awakens and The Last Jedi was repurposed for use on Solo: A Star Wars Story. It weighs a hefty 31 tons.
3
The interior Millennium Falcon set took three months to build. "It's very sleek and cool inside the new Falcon," enthuses Phoebe Waller-Bridge.
2
The filming of Solo: A Star Wars Story took place mostly at Pinewood Studios in England, as well as two foreign locations: the Dolomites of Italy and Fuerteventura, the second largest of Spain's Canary Islands.
525
The movie's creative team was thrilled at the inclusion of an iconic speeder chase in the story. "We've seen a lot of chases within the Star Wars franchise, but we have never seen a speeder chase," reveals special effects supervisor Dominic Tuohy. The team constructed Han's speeder as a four-wheel-drive vehicle with a 525 brake-horsepower engine. 
400
Do you know how old Wookiees live to be? "A Wookiee's life span is about 400 years," reveals Joonas Suotamo. "Relatively speaking, Chewbacca is quite youthful – but he's about to embark on a new set of adventures that are surely going to give him a few gray hairs."
24
The mud planet of Mimban is the iconic location where Han Solo first meets his Wookiee co-pilot, Chewbacca. The set for the bleak prison pit measured 24 feet square and 18 feet deep, and was filled with a sticky, sludgy mud.
30
A talented team of 30 artists controlled the complicated performance of the alien underworld boss Mother Proxima. During the dark scenes at the beginning of the movie, 20 performers were submerged in the water to move the character around the dank and dismal purpose-built environment.
Have you missed any of my Solo posts?
Being the STAR WARS fans we are, we've got lots of SOLO: A STAR WARS STORY posts for you to browse through!
Reasons to See SOLO and Printables
Bonus SOLO Content on digital and Blu-Ray
Follow
Website: http://www.starwars.com/solo
Facebook: http://www.facebook.com/StarWarsMovies
Twitter: https://twitter.com/StarWars
Instagram: http://instagram.com/StarWarsMovies