Have you ever wondered how the characters in a dystopian novel would dress? Here's how the author of the Stitch Trilogy imagines her characters style in dystopia. Take a look at 3 Ways to Style a Jumpsuit!
Style in Dystopia: 3 Ways to Style a Jumpsuit
Dystopian societies aren't often known for their embrace of individuality and free-thinking… which unfortunately means their fashion trends tend to lean towards the sterile and conformist, at best.
But don't let that post-apocalyptic thinking get you down! As the characters of the Stitch Trilogy show, there are lots of ways you can buck the trend and give that old standard-issue jumpsuit a fresh spin:
Ways to style a jumpsuit look
#
1: Accessorize, Accessorize, Accessorize
Resistance fighters have to work with whatever resources they can get, but just because your rebel commander says you have to wear it, doesn't mean you can't make it yours! Add some buckles to your combat boots, bedazzle your utility belt, and – as Alessa can attest – there are tons of cute options for tying your hair back with a bandanna!
Related Excerpt from Stuck (Stitch Trilogy, Book 3)
The walls were gray. The floors were gray. The bed frame was gray. The sheets, the blanket, the bedside table. The wardrobe door, and behind it, all her gear, and most of the utilitarian clothing hung inside. It was fifty shades of gray in this barracks – in this entire facility – in the most mind-numbingly literal sense possible. Alessa rolled over and sighed, her mood as gray as the rest of it.
She dressed quickly, grabbing a dark green bandanna to tie back her still-too-short-to-ponytail chocolate locks, and headed down the hall to freshen up in the communal bathroom.
Drying her face and glancing up at her bright emerald eyes in the mirror, she reflected that in some ways living in Raptor felt an awful lot like a subterranean, military version of her sorority house back on the drama set of the Eastern State University campus. Life imitates art? She laughed darkly to herself.
Ways to style a jumpsuit l
ook #2: Show Some Skin
Got a zipper on that jumpsuit? Then you've got a v-neck! No need to stay all buttoned up, especially after a long day building up the compound's walls to keep out mutant creatures and deadly viruses. The best part about this trend is that it works for both sexes. See how Alex put this look to work!
Related Excerpt from Stuck (Stitch Trilogy, Book 3)
"Seriously, Alex?"
Deion chuckled and shook his head at the sight of his best friend – shirtless, sweat gleaming off his abs – precisely positioned so that anyone passing by the construction site would get an eyeful of his chiseled physique.
"You do realize that any woman that might come by here is too busy floating along on 'happy pills' to notice anything you're doing, or wearing, or not wearing. Right?" Deion finished, raising a wry eyebrow. Alex had come a long way from the scrawny exchange student he befriended in the year leading up to the outbreak, but still.
Alex shrugged. "You never know. Besides, maybe this is just what the ladies need to wake 'em up." He flexed his pecs in Deion's direction with a smirk.
Ways to style a jumpsuit look #3:
Go Natural
Maybe you're the kind of person/mutant who just doesn't care about fashion. Maybe you're too busy thirsting for blood or plotting vengeance against those who've wronged you. That's ok! Just come as you are. As the Stuck would say (snarl), you do you.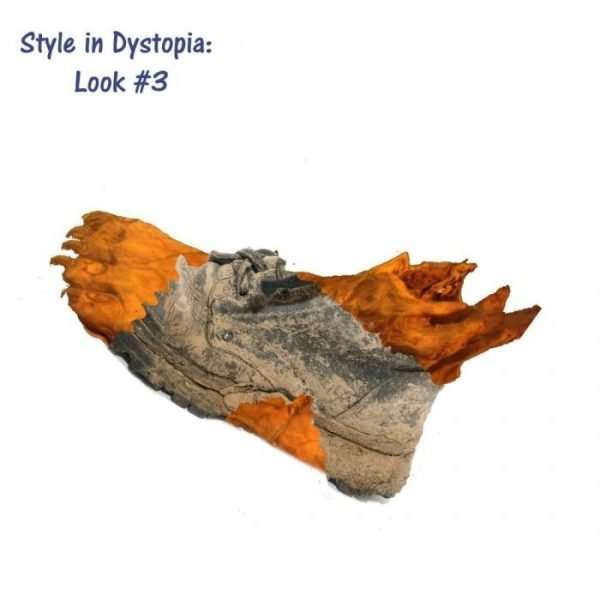 Related Excerpt from Stuck (Stitch Trilogy, Book 3)
Alessa watched as her sister hefted up one of the monster's filthy, twisted feet, its claw-like toenails having obliterated the front half of the shoe, which Alessa recognized immediately as one of Paragon's standard-issue boots. A flap of the heel-end of the boot clung perilously to the monster's limb, so caked in mud and Alessa didn't even want to think what else that it practically blended in with the grungy, blackened skin.
With a look of revulsion, Janie scraped away at the crusted grime lining the transition between the sole of the foot and the sole of the boot. Silence – and disgust – hung heavy over the group as everyone waited to see what exactly she was thinking.
As the crud fell away, Janie gingerly inserted her finger into the gap between the foot and the remains of the boot.
"Ew!" someone behind Alessa gasped. Alessa had to agree – what was Janie doing?
There you have it – three different looks, courtesy of characters of the Stitch Trilogy – to help you beat the dystopian style blues! Which are you most likely to try out? Share in the comments!
Stuck
(Stitch Trilogy #3)
By Samantha Durante
YA Dystopian, SciFi
Paperback & ebook, 306 Pages
December 15, 2018
3, 2, 1… BOOM.
Things are finally looking up for the Resistance. Sure, Alessa is still processing the revelation that the best friend she'd presumed dead is miraculously alive, though far from well… And her boyfriend is being manipulated under threat of blackmail. But her quest for justice against those behind the systematic extermination of the world population is so close to victory she can taste it.
And then in a matter of seconds, everything Alessa believes in is shaken to the core. Months of preparation are obliterated. The people she cares for most are lost.
But Alessa is still standing. And Paragon must pay.
The odds are grim, but unexpected allies surface in the most unlikely of places: A new pair of citizens still under the colony's rule who notice something amiss in the latest drama. An old adversary who realizes the error of her ways. And a veritable army of inhuman power and terrible strength, with an insatiable thirst for vengeance. The trustworthiness of each of these factions is yet to be proven, but without many other options, Alessa may have to take what she can get. Especially since the Engineers, never to be outdone, also have a few more tricks up their sleeves…
The long-awaited final installment in the riveting Stitch Trilogy, Stuck will have readers gripping their seats as Alessa and a handful of intrepid survivors usher their harrowing journey to a close, risking everything as they endeavor – once and for all – to set things right.
Goodreads│Amazon│Barnes & Noble│Kobo
Other Books in the Series
About Author Samantha Durante
Samantha lives in Westchester County, New York with four of the five loves of her life – her husband, son, younger daughter, and cat – and carries her fifth love, her stillborn daughter, in her heart. An avid reader herself, Samantha's dream is to bring the same delight to readers that other authors have brought to her life. In addition to penning novels and writing candidly about grief, she is also a sometimes freelance writer/consultant – though more often than not these days she's on full-time mom duty! A former software engineer, Samantha said goodbye to the corporate world in 2010 to pursue her entrepreneurial dreams and lifelong love of writing. Learn more at www.samanthadurante.com.
Website│Goodreads│Facebook│Twitter│Instagram