I'll bet if you had 3 wishes, one of them would be for an ALADDIN trailer! Your wish came true! I've also got a new poster for Disney's live-action adaptation of ALADDIN! I've got my trailer reaction to share with you too. It's all about my daughter's love for Jasmine! Okay, not really, but I do talk about her in the beginning.
Aladdin
A thrilling and vibrant live-action adaptation of Disney's animated classic, ALADDIN is the exciting tale of the charming street rat Aladdin, the courageous and self-determined Princess Jasmine and the Genie who may be the key to their future.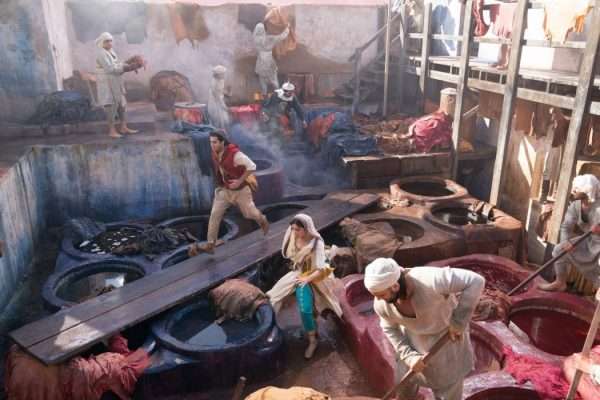 Official Aladdin trailer
Your wish for my Aladdin trailer reaction came true too!
If you couldn't tell from my ALADDIN trailer reaction, I'm so excited that the live-adaptation of ALADDIN seems like it is going to be so similar to the original! I love the music in ALADDIN. Big shock, right?
Speaking of music, Alan Menken, eight-time Academy Award®-winning composer,  is providing the ALADDIN score. This includes new recordings of the original songs written by Menken and Oscar®-winning lyricists Howard Ashman and Tim Rice. It also includes two new songs written by Menken and Oscar and Tony Award®-winning songwriters Benj Pasek and Justin Paul.
Abu is just adorable, and I want my own little monkey. Well, not really. I'll stick with cats and dogs. But he's still adorable.
I really think Will Smith is going to be a hilarious genie. I love the "gray area" part in this trailer. People just have to get past the fact that he's not Robin Williams and accept that he's got his own style. Will is a talented guy! Seriously. The Fresh Prince of Bel Air was such a funny show. I remember watching it when Molly was a baby, and she'd sit in front of the television bouncing on her little butt to the theme song.
This year is such a great year for Walt Disney Animation Studios. The movie line-up has me so excited. I mean CAPTAIN MARVEL blew me away, and I'm so ready for the rest of the movies to come out!
ALADDIN flies into theatres May 24! Be thinking about your remaining 2 wishes….
Follow ALADDIN
Like us on Facebook: https://www.facebook.com/DisneyAladdin
Follow us on Twitter: https://twitter.com/DisneyAladdin
Instagram: https://www.instagram.com/DisneyAladdin
YouTube: https://www.youtube.com/user/DisneyMovieTrailers
#Aladdin