The original cartoon version of Kim Possible came out in 2002, and it ran for 4 seasons. I had a 7 year old and a 4 year old in 2002, and Kim Possible was a hit at our house. Ask me to sing the theme song when I'm 80. I bet I'll still sing out "Call me, Beep me, If you wanna reach me." I was really excited to see that Disney was going to make a live-action version of Kim Possible. You are going to love the DIY pendant necklace craft I've got for you too! I received a free DVD to review this new KP movie.
Disney's Live-Action Kim Possible
Based on the global hit animated series, the live-action "Kim Possible" Disney Channel Original Movie follows everyday teen hero Kim Possible and best friend and sidekick Ron Stoppable as they embark on their freshman year of high school, all while saving the world from evil villains. By their side every step of the way is teen tech-genius Wade and new friend Athena, who also happens to be a Kim Possible super fan and is eager to join Team Possible.
While Kim and Ron have always been one step ahead of their opponents, navigating the social hierarchy of high school is more challenging than the action-hero ever imagined. With Drakken and Shego lurking in the wings, Kim must rely on her family and friends more than ever. Now it's up to Team Possible—Kim, Ron, tech-genius Wade, new friend Athena and Rufus, a naked mole-rat that Ron meets along the way—to stop these super villains.
My review of Disney's Live-Action Kim Possible
I'll admit it. When I started watching this live-action version of Kim Possible, I got a bit nostalgic. And a little bit sad. Kim Possible was one of those shows that you never wanted to end, and it had/has a huge fandom. Like you'll see one of the characters do in this live action version, people still dress as Kim Possible or other characters from the show at different Comic Cons. It's one of those shows that got it just right. This picture from 2014 is of my daughter (on the left) and her friend, as you can sort of see, is dressed as Kim Possible for passing out Halloween candy.
The fandom runs deep.
I think it's great that kids that weren't even born when Kim Possible ended now have the chance to be introduced to her through the live-action Kim Possible in an all new story that has both old friends and new. There are a couple of scary parts in this live action version that might be too frightening for little ones, so you may want to screen the DVD ahead of time. I love the themes that this portrays: friendship, jealousy, competition, and family. They're all things that everyone experiences, and it's good to see that even a girl as talented and self-assured as Kim Possible can get a little jealous when she's out of the spotlight.
Kim Possible cast
Sadie Stanley as Kim Possible
Sean Giambrone as Ron Stoppable
Ciara Wilson as Athena
Todd Stashwick as Drakken
Taylor Ortega as Shego
Alyson Hannigan as Dr. Ann Possible
Connie Ray as Nana Possible
Issac Ryan Brown as Wade Load
Erika Tham as Bonnie Rockwaller
Nancy Cartwright as Rufus
Special appearances by Christy Carlson Romano and Patton Oswalt.
Bonus features
Blooper Reel (DVD exclusive)
Q&A with Sadie Stanley and Sean Giambrone (DVD exclusive)
Cast Auditions (DVD exclusive)

Sadie Stanley
Sean Giambrone
Issac Ryan Brown

Music Video
Trailer


Kim Possible Pendant Necklace DIY Craft
Share your Kim Possible fandom pride by making this really cute Kim Possible pendant necklace! It's trendy, fashionable, and it's so you!
Click on the box below to download the DIY instructions!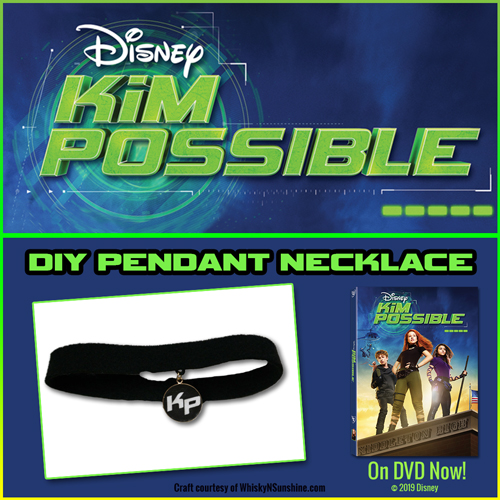 Pin for later
Related Posts