Welcome to the book tour for As the Light Fades by Catherine West. I'm sharing a guest post from the author about island life. She lives in Bermuda! Come read more about island life and her latest book.
On Tour with Prism Book Tours
As the Light Fades

By Catherine West
Women's Fiction
Paperback & ebook, 362 Pages
September 10th 2019 by KDP
Sometimes we're placed in the strangest of circumstances for the most important reasons.
After her carefully constructed life crumbles, Liz Carlisle finds herself back on Nantucket, picking up the pieces. With the family estate under renovations, the solitude she craves seems out of reach.
Matthew Stone intends to steer clear of his new tenant. She's carrying a load of baggage, but as long as she pays the rent, he'll let her be. He's got enough to deal with caring for his wayward niece, Mia.
Liz doesn't have time for teenagers and her track record with men is abysmal, but an unlikely friendship forms between the three.
When her former boyfriend is charged with assault, Liz is called to testify against him. But he knows the darkest secrets of her life—secrets she'd hoped to keep buried forever, and he's ready to reveal them. Telling the truth is the right thing to do, but it may cost her everything she's worked so hard for, and all she's come to love.
(Affiliate links included.)
Goodreads│Amazon│Book Depository
FREE on KindleUnlimited
Guest post from the author of As the Light Fades: Island Life
What's it like to live on an Island?
This is a question I'm asked a lot. When people hear that I'm from Bermuda, that I was actually born and raised here, and still make it my home, their eyes widen, and they blink a little, and then usually the question comes, "So what's that like?"
To which I answer, probably pretty similar to living in a small town, the difference being that we can't just hop in a car and drive to the nearest city when we want to get away. We have to fly.
Bermuda is small. Twenty-four square miles long, six across, with a population of around 65,000. We sit in the middle of the Atlantic, about 700 nautical miles off the coast of South Carolina. Our climate is temperate, with our warmest temps happening from July through end of September, where we'll get up to around 90, but add in the humidity and it feels a lot warmer. Our 'winter' is mild, the coldest we'll ever get is in the low 50's, anything below that is rare, and of course, no snow!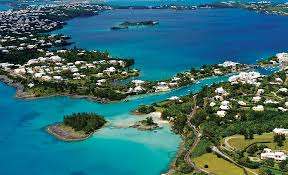 What do people do there?
Well, regular stuff. We have banks and post offices, one hospital, and plenty of schools and churches. Big business is our real source of income, and we have many re-insurance companies on the island. Tourism is another source of income, with direct flights from most of the major hubs along the east coast, Toronto and London, we're easy to get to, but expensive. If you do come to visit, you'll find plenty to do – golf, tennis, water sports, deep sea fishing, scuba diving, or simply lounging on the beach with a good book, if that's your jam.
Is the sand really pink?
Yes! And that is because Bermuda is surrounded by coral reef, and tiny red organisms grow on the reef, and when they die and fall off, they mingle with the coral and sand and this is what causes our pretty pink hue. That's a non-scientific explanation, but if you want more in-depth explanations, there are plenty online.
What's the best time to visit Bermuda?
That really depends on what you want to do. If you enjoy heat and plenty of sun, then come during the summer months. Even September and October would still be ideal for beach days and swimming. From December through the end of March, the weather can be iffy. This is winter, and you'll experience our milder temps, along with some windy and rainy days. Oh, and I should mention hurricane season runs from June through November. We've been lucky in recent years, without any major storms to contend with, but it's always something to keep in mind when booking a holiday!
What do you like most about living there?
This is difficult to answer in a short sentence, because there are so many things to love! For me, it's the unhurried way of life, the beauty of the turquoise waters and pink sands, and the colorful flowers that are always in bloom. We don't experience the bleakness of winter, it's always green here!
Come visit soon!
About the Author
Catherine West is an award-winning author of contemporary women's fiction. When she's not at the computer working on her next story, you can find her taking her Border Collie for long walks or reading books by her favorite authors. She and her husband reside in Bermuda, and have two adult children and one beautiful granddaughter. Catherine is the winner of the 2015 Grace Award (Bridge of Faith) and the Romance Writers of America's Faith, Hope & Love Reader's Choice Award (The Things We Knew). Where Hope Begins released May 2018, and her latest novel, As the Light Fades, releases September 2019.
Website│Goodreads│Amazon│Facebook│Twitter│Pinterest│Instagram
As the Light Fades tour schedule
Tour Giveaway (Ended)
One winner will receive a $75 Amazon Gift Card and a copy of The Things We Knew by Catherine West (print to US/CAN, ebook to INT)
Ends October 23, 2019