Welcome to the book tour for The Cowboy's Christmas Baby by Cathy McDavid.
On Tour with Prism Book Tours
The Cowboy's Christmas Baby

(The Sweetheart Ranch #3)
By Cathy McDavid
Contemporary Romance
Paperback & ebook, 384 Pages
November 1st 2019 by Harlequin Heartwarming
She gifted him with a daughter
He stunned her with the truth
When Tanner Bridwell discovers he's a father, he gains some much needed hope. A year ago, Tanner lost his livelihood as a champion bull rider, and—more important—Jewel Saunders, the love of his life. Now this cowboy wants to do right by his family. But first he must reveal a stunning secret that will send Jewel and his beloved daughter either packing…or into his arms forever!
(Affiliate links included.)
Goodreads | Amazon | Barnes & Noble | Harlequin | iBooks
My review of The Cowboy's Christmas Baby
The Cowboy's Christmas Baby is a very cute book, and it's a perfect read for the holidays. I read the first book in this series, A Cowboy's Christmas Proposal, last year around this time. Somehow, I missed the second book, so I'll be going back to read that soon. If you haven't read the others, no worries! You can absolutely read this as a stand alone.
If you love sweet, cute cowboys, you'll fall in love with Tanner. He is the epitome of the perfect guy. Tanner is kind and understanding, and he makes sacrifices for the people he loves. One thing that really stood out to me about Tanner is the fact that he is very patient with Jewel who could be really immature at times. Of course, she would be anxious about having Tanner babysit since she doesn't know his experience with babies. However, when it came to issues with his family, it seemed like she wanted her own way more than she wanted to be patient and understanding herself. I think things like that come with age and maturity, and I may have been that way too when I was younger.
Of course, being a sweet clean Christmas romance book, The Cowboy's Christmas Baby has a happily ever after. I think you'll love Tanner and Jewel's story. Read it this Christmas!
Other Books in the Series
About the Author
As a sophomore in high school, NY Times, USA Today, and Amazon bestselling author Cathy McDavid won a local writing competition with her self-illustrated children's book. Who knew that small triumph would eventually lead to a career writing contemporary romances with over 1.3 million books sold? With forty-seven titles to date, Cathy is also a member of the prestigious Romance Writers of America's Honor Roll.
This "almost" Arizona native and mother of grown twins recently married her own real-life sweetheart. After leaving the corporate world four years ago, she now spends her days penning stories about good looking men who ride the range or fight fires or hunt creatures all while sweeping the girl off her feet. It's a tough job but she's willing to make the sacrifice.
Website | Goodreads | Facebook | Twitter | Instagram | BookBub | Amazon
Tour Schedule
Tour Giveaway ENDED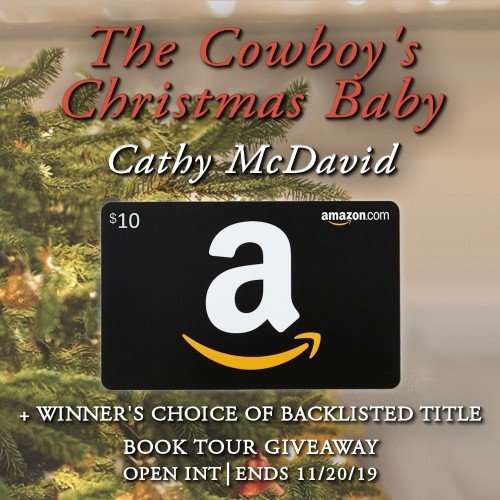 – One winner will receive a $10 Amazon gift card and one of Cathy's backlisted titles, winner's choice of print (US only) or ebook
– Three winners will each receive one of Cathy's backlisted titles, winner's choice of print (US only) or ebook
– Open internationally
– Ends November 20, 2019