This holiday season, cozy up with everyone's favorite Yeti in the #1 original animated movie of the year. ABOMINABLE is brimming with magic, music, and laugh out loud family fun. Speaking of family fun, I've got an awesome ABOMINABLE movie night party kit and some bao recipes for you to download! The film is now available on Digital, and it's coming to Blu-ray December 17!
I received this movie free to review; however, all opinions are my own. This post contains affiliate links. If you make a purchase, I may receive compensation at no cost to you.
DreamWorks Animation and Pearl Studio's co-production ABOMINABLE is a magical action-packed adventure for the whole family. I'm so excited to share this movie night party kit with you! Keep reading for my review and the download link.
ABOMINABLE
ABOMINABLE follows teenage Yi as she encounters a young Yeti on the roof of her apartment building in China.  She and her mischievous friends, Jin and Peng, name him "Everest." The friends embark on an epic quest to reunite the magical creature with his family at the highest point on Earth. But the trio of friends will have to stay one-step ahead of Burnish., a wealthy man intent on capturing a Yeti, and zoologist Dr. Zara to help Everest get home.
Praise for the film
Critics call this new animated classic "pure magic" (Dave Morales, Fox TV Houston).
ABOMINABLE is "an epic, colorful journey home. Beautiful and exhilarating to behold" (Glenn Kenny, The New York Times).
ABOMINABLE is a movie for all ages with laughter and life lessons and a little bit of wonder thrown in" (Allison Rose, Flick Direct).
Movie Night Party Kit
Make your night an ABOMINABLE Movie Night with this awesome party kit filled with tons of downloadable activities, coloring sheets, and more!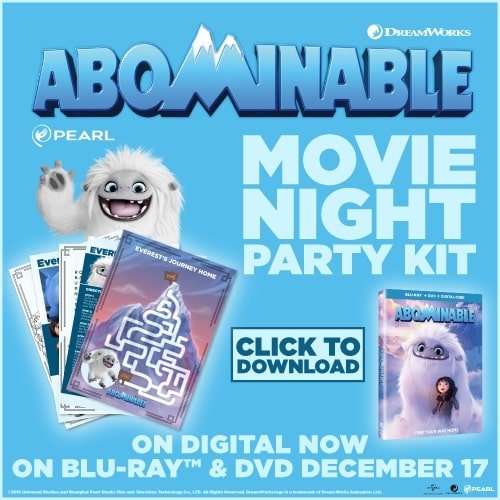 Bao recipes from Chef Shirley
These Bao recipes were created by Top Chef 's Chef Shirley Chung. If you're feeling adventurous, make some to share with your family and friends this holiday season!
If you missed my prior post, go to it now to find out all about the fun bonus features in the film.
Film clips
Check out these clips from the movie!
My review
Spoilers ahead. If you've not watched this yet, you may want to skip this!
ABOMINABLE is such a cute movie. It is very family friendly, but I recommend that you watch it first to see if the scary and intense scenes are too much for your little ones. Dealing with loss is a theme throughout the movie. If your child has lost a parent, I think this may be hard for them to handle. My kids lost their dad as teens, and I don't think any of us could have handled watching this within the first couple of years. Grief is hard. The movie deals with it wonderfully though.
I loved how Yi was working so hard to save money to make the trip that she and her father had planned. Teenagers need to learn that it takes hard work to reach your goals (and to pay bills!). I love how her nǎi nai dresses and acts in ABOMINABLE. If you remember, I got to meet the makers of the Pixar short Bao, and those ladies could have written this grandma's part!
The bond between Yi, Peng, and Jin develops as they journey to take Everest home. Before their trip, they were friends but not really close. Peng and Jin are cousins, and by the end of the film, Yi finds that they have always considered her to be a part of their family too.
You'll be amazed at the animation in this beautiful movie. The colors are so vibrant. It really is a joy to watch. ABOMINABLE is heartwarming and filled with deep, meaningful moments that make this film enjoyable for all ages. This would make a great Christmas gift for the entire family!
Follow the film
Website: http://uni.pictures/Abominable
Facebook: https://www.facebook.com/AbominableTheMovie/
Twitter: https://twitter.com/dreamworks
Instagram: https://www.instagram.com/abominablemovie/
 #AbominableMovie