Welcome to the virtual book tour for Bonbon with the Wind by Dorothy St. James. Read my review of this cozy mystery that will leave you with a craving for chocolate!
Bonbon with the Wind (Southern Chocolate Shop Mystery)
by Dorothy St. James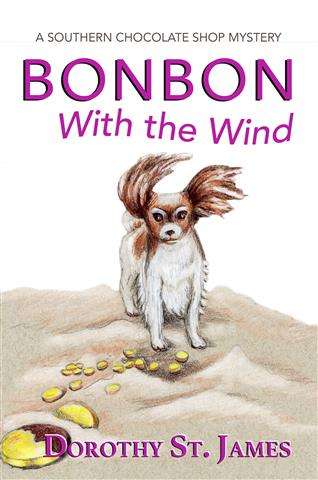 I received this book free to review; however, all opinions are my own. This post contains affiliate links. If you make a purchase, I may receive compensation at no cost to you.
Bonbon with the Wind (Southern Chocolate Shop Mystery)
Cozy Mystery
4th in Series
Publisher: Barking Dog Press (December 9, 2019)
Print Length: 251 pages
Join Penn and Stella on their latest adventure!
There's a legend in the Sea Islands that before a hurricane hits the Gray Lady can be seen walking down the beach warning of doom. Penn doesn't believe in such silly stories, but she does believe weather forecasters. A powerful hurricane is heading their way. Everyone on the island of Camellia Beach is busy boarding up windows and securing valuables to upper levels of buildings. Joe Davies, a local treasure hunter with an unquenchable sweet tooth, claims to have seen the Gray Lady walking toward him just that morning and is terrified for his life.
After the storm passes everyone returns to survey the damage. As Penn walks her little dog Stella on the beach, she finds Joe Davies' body washed up onshore. Not only that, it looks as if an exploding transformer caused Joe's seaside shack to burn to the ground. Did the Gray Lady claim another victim? Many on the island believe that is exactly what happened.
Penn is sure there's another explanation. She follows the clues and hints of lost gold to discover that the truth behind the treasure hunter's death is as much of a maze as the boating channels winding their way through the local marshes.
My review of Bonbon with the Wind
Bonbon with the Wind has lots of my favorite things: the beach, pets, a storm, chocolate, a ghost story, and a couple of quirky, elderly sisters named Trixie and Barbie.
Since this is the first book I've read in the Southern Chocolate Shop Mystery, I was unfamiliar with Penn and her friends, but thankfully the author weaves the story in a way that not only familiarizes you with the characters but also the backstory. I like how she doesn't just throw all of that at you at once. She puts it in subtly, so it feels natural. I quickly became attached to the characters and enchanted with Camellia Beach. Needless to say, this won't be the last book I read in this series!
Penn and other business owners are battening down the hatches as they prepare for the hurricane to hit. True story… When I was growing up in the 70s and 80s, my sisters and I loved to play "Fisher Price people." (That's what we called it.) We'd always have some scenario going on, and a lot of the time the scenario included a blizzard or tornado for which our people would have to prepare. They'd go to the store, put all of the stuff in one room, get extra blankets…stuff like that. So, naturally, I like it when books have some big natural disaster going on in them. Weird? Maybe. But I've read enough books to know that natural disasters are central to many of them! Anyway, back to the book…
In the  aftermath of the storm, Penn's dog finds a body. Naturally. And, of course, Penn gets involved much to the dismay of local law enforcement. Does danger await Penn? Will Trixie and Barbie ever lose at Wheel of Fortune? Do Penn and her male friend, Harley, become more than friends? Are ghosts real?! Find out in this delightful cozy mystery, Bonbon with the Wind.
About the author
Dorothy St. James is the author of the White House Gardener mysteries. For the past twenty years she made her home on Folly Beach, an artsy island community in South Carolina with her sculptor husband. Dorothy is a member of Mystery Writers of America (MWA), Sisters in Crime (SiNC), and the International Thriller Writers (ITW). This is her fourth Southern Chocolate Shop mystery.
Author Links
Website – http://www.dorothystjames.com
Facebook – http://www.facebook.com/dorothystjames
Twitter – http://www.twitter.com/dorothywrites
BookBub – https://www.bookbub.com/profile/dorothy-st-james
Purchase Link – Amazon 
Enter the giveaway ENDED
Enter to win a chocolate gift basket!
US only; ends 2/10
TOUR PARTICIPANTS
February 3
Nadaness In Motion – SPOTLIGHT
The Power of Words – REVIEW
Literary Gold – SPOTLIGHT
February 4
Sneaky the Library Cat's Blog – CHARACTER INTERVIEW
Laura`s Interests – REVIEW
I'm All About Books – CHARACTER GUEST POST
February 5
Celticladys Reviews – SPOTLIGHT
Hearts & Scribbles – SPOTLIGHT
Jane Reads – GUEST POST
Reading Is My SuperPower – SPOTLIGHT
February 6
Escape With Dollycas Into A Good Book – REVIEW  
Books a Plenty Book Reviews – REVIEW
A Blue Million Books – AUTHOR INTERVIEW
February 7
Baroness' Book Trove – REVIEW
View from the Birdhouse – REVIEW
Brooke Blogs – SPOTLIGHT, RECIPE
eBook Addicts – SPOTLIGHT
February 8
Christy's Cozy Corners – REVIEW
I Read What You Write – REVIEW, GUEST POST
My Reading Journeys – REVIEW
February 9
Paranormal and Romantic Suspense Reviews – SPOTLIGHT
A Wytch's Book Review Blog – REVIEW, CHARACTER GUEST POST
My Journey Back – AUTHOR INTERVIEW
Have you signed up to be a Tour Host?
Click Here Find Details and Sign Up Today!