Murder at the Marlowe Club (The Milliner Mysteries)
by Kate Parker
I received this book free to review; however, all opinions are my own. This post contains affiliate links. If you make a purchase, I may receive compensation at no cost to you.
Murder at the Marlowe Club (The Milliner Mysteries)
Historical Cozy Mystery
2nd in Series
Publisher: JDP Press (February 24, 2020)
Print Length: 209 pages
A corpse in a corset. A dangerous gambling den. A perilous path between safety and peril.
London, 1905. Leading milliner Emily Gates' illegal shortcut through a private park in the rain brought her straight to a scantily clothed corpse. Then her route took her straight into the hands of the indefatigable Lady Kaldaire, who recognized the body as a relative of her longtime friend, the Duchess of Wallingford. Lady Kaldaire blackmailed Emily before to find Lord Kaldaire's killer. Why not this murderer, too?
Emily has plenty of reasons why not, but finding links between her father's nefarious family of crooks and con men and the debauchery of the secretive Marlowe Club involves her in the investigation led by the handsome Inspector Russell of Scotland Yard. Emily discovers more than she expects about the licentious world of the corpse through her aristocratic customers, including Georgia, heroine of the Victorian Bookshop Mysteries, now the Duchess of Blackford.
Are the scandal rags correct, or has the victim been maligned by a mastermind who'll stop at nothing to gain everything?
This is a historical cozy mystery with no graphic violence, sex, or foul language. Just exciting action, mysterious events, and surprising endings.
My review of Murder at the Marlowe Club
I absolutely love reading cozy mystery books set in the time period in which Murder at the Marlowe Club takes place. I was very excited to read this book because of the synopsis. Plus, it is only the second book in the series which meant I wasn't too far behind. This can easily be read as a stand alone though there are definitely hints about what happened in book one, so start with that one if you don't like spoilers.
Murder at the Marlowe Club starts out strong and just keeps going. I love that Emily, the main character, owns a millinery shop because the author describes the hats (as well as the fashion) in a lot of detail. Emily comes from a sketchy family. And, in the story, we find out that Lady Kaldaire uses that fact to "blackmail" Emily into helping her solve the murders. She's the only one in "proper" circles who knows about Emily's family. Emily, thinking her shop will fail if people find out about her family, agrees to help Lady Kaldaire.
I know what you're thinking…this Lady Kaldaire must not be a very nice person. Au contraire. I think she just likes solving crimes, and she doesn't want to do it alone! Even though Emily's family may be criminals, they're a very tight knit family who love each other and love Emily. They also come in handy when things get hairy, or when Emily needs certain information that she knows they'll have. If you know anything about London during this time period, you can't really blame her family for their activities.
Speaking of the time period, you can definitely tell that the author knows what she's talking about. You can see in her bio that she grew up reading her father's history books. This knowledge really brings life to the book. It's the little details about fashion, society, debauchery, locations, etc. that make this feel like you're reading a factual account rather than a fictional cozy mystery book.
Though this is a clean cozy mystery (and it really is), someone in the story discusses what two characters do to another character at the Marlowe Club. Though no specific details are given, that discussion is on the PG13 side. It completely fits the story, and it's not used for shock value. It's used so we can see the complete immorality and evil intentions those characters have.
I highly recommend Murder at the Marlowe Club for you historical cozy mystery lovers. I'll be going back to read the first book, The Killing at Kaldaire House, soon, and I can't wait for the next book in this series.
About the author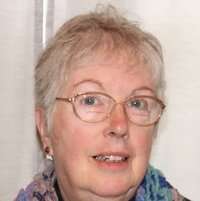 Kate Parker grew up reading her mother's collection of mystery books and her father's library of history and biography books. Now she can't write a story that isn't set in the past with a few decent corpses littered about.
Author Links
Website – www.KateParkerbooks.com,
Facebook – www.facebook.com/Author.Kate.Parker
BookBub – www.bookbub.com/authors/kate-parker
Purchase Links    – Amazon  – B&N – Apple –Kobo
Enter the giveaway ENDED
Murder at the Marlowe Club Tour Participants
February 24
My Journey Back – REVIEW, CHARACTER INTERVIEW
Here's How It Happened – SPOTLIGHT
February 25
Jane Reads – GUEST POST
Baroness' Book Trove – SPOTLIGHT
February 26
The Book Diva's Reads – CHARACTER GUEST POST
Readeropolis – SPOTLIGHT
February 27
Ascroft, eh? – CHARACTER INTERVIEW
February 28
MJB Reviewers – AUTHOR INTERVIEW
February 29
Elizabeth McKenna – Author – SPOTLIGHT
March 1
The Editing Pen – GUEST POST
March 2
I'm All About Books – SPOTLIGHT
March 3
Mysteries with Character – AUTHOR INTERVIEW
Literary Gold – SPOTLIGHT
March 4
StoreyBook Reviews – CHARACTER GUEST POST
March 5
Celticlady's Reviews – SPOTLIGHT
Christy's Cozy Corners – REVIEW
March 6
Cozy Up WIth Kathy – REVIEW
eBook Addicts – SPOTLIGHT
March 7
Brooke Blogs – SPOTLIGHT
Lisa Ks Book Reviews – REVIEW, AUTHOR INTERVIEW
March 8
I Read What You Write – CHARACTER INTERVIEW
Gimme The Scoop Reviews – REVIEW
Have you signed up to be a Tour Host?
Click Here Find Details and Sign Up Today!