Nicole C. Kear's Foreverland is a bighearted coming-of-age story about being lost, and finding your way back home again.
Foreverland
by Nicole C. Kear
"Endless rides, endless junk food, and endless adventure? Who wouldn't want to live in an amusement park Foreverland is sure to be a big hit with young readers."
—Suzanne Selfors, national bestselling author of Wish Upon a Sleepover and Fortune's Magic Farm
I received this book free to review; however, all opinions are my own. This post contains affiliate links. If you make a purchase, I may receive compensation at no cost to you.
by Nicole C. Kear
Age Range: 8 – 12 years
Grade Level: 3 – 7
Hardcover: 256 pages
Publisher: Imprint (April 21, 2020)
Margaret is tired of everything always changing. Middle school has gone from bad to worse. Her best friend is becoming a stranger. And her family—well, it's not even a family anymore.
So Margaret is running away to Foreverland, her favorite amusement park. Hiding out there is trickier than she expects–until she meets Jaime, a thrill-seeking, fast-thinking runaway who teaches Margaret how to stay one step ahead of the captain of security.
At first, this after-hours, all-access pass to the park is a dream come true: sleepovers in the Haunted House, nonstop junk food, and an unlimited ticket to ride. But as the runaways learn each other's secrets, they must face the reasons they left their normal lives behind. With the Captain closing in and Jaime's future on the line, can Margaret finally take control?
Foreverland is an exhilarating story about riding life's rollercoaster—figuring out how to hang on and learning when to let go.
My review
I have said this before, but it bears repeating: middle grade books are some of the best books. Think back to the books you read when you were in that age range (8-12). I was fortunate enough to live close to my elementary school, and their library was open year round. I've been a book lover for as long as I can remember, but I remember the books that I read during that time period the most fondly. If I were that age now, I would want someone to share this book with me.
Foreverland captivated me. Part of the reason it did was that it's the type of book I loved to read as a child. I had a very happy childhood. Those of us born in the 70s were lucky enough to grow up in the pre tech days. Yes, we watched television, but we didn't have 100s of channels from which to choose. If our shows weren't on, we were playing and using our imaginations. And if I'd read Foreverland then, I'd have imagined running away to Foreverland just like Margaret. My sister's and I loved to pretend that we were running away! The Boxcar Children (and other books where kids were on their own) had a big impact on our play.
Up until the point Margaret decides to run away to Foreverland, she's had a happy childhood. But things have been and are continuing to change. Like most of us, Margaret doesn't like change. Instead of accepting the changes, she runs away from them. I don't blame her! Life can be tough when you're a kid, and you don't have control over these changes that are "ruining" your life.
Margaret thinks she'll be fine on her own in the park. She's wrong. Thankfully she finds Jamie, a boy who's run away too. He knows the ins and outs of things and helps Margaret blend in at the park.
The themes of friendship, family, and more are explored in Foreverland, and your child won't want to put it down!
Acrostics
Margaret loves doing acrostics! Create some fun acrostics with your child and share them with us!
About the author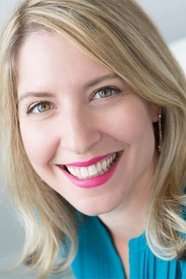 Nicole C. Kear grew up in New York City, where she still lives, with her husband, three firecracker kids and a ridiculously fluffy hamster. She's written lots of essays and a memoir, Now I See You, for grownups; and The Fix-It Friends series and Foreverland for kids. She also co-wrote The Startup Squad series with Brian Weisfeld. She has a bunch of fancy, boring diplomas, and one red clown nose from circus school. Seriously.
Follow Nicole C. Kear: Website | Facebook | Twitter | Goodreads