Welcome to the Great Escapes Virtual Book Tour for This Magick Marmot (An Abracadabra Mystery) by Sharon Pape. Stop by each blog on the tour for interviews, spotlights, reviews and more! 
This Magick Marmot (An Abracadabra Mystery)
by Sharon Pape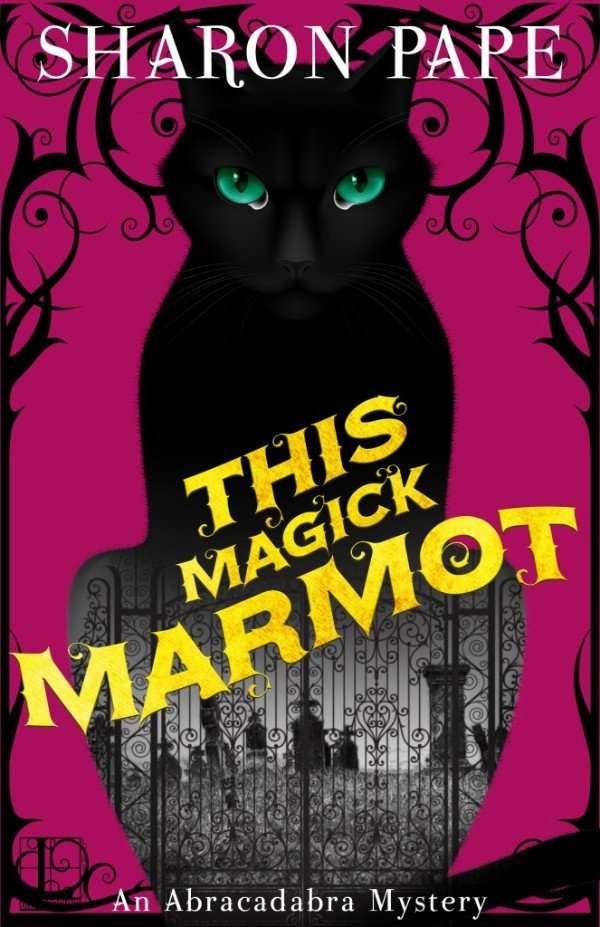 This post contains affiliate links. If you make a purchase, I may receive compensation at no cost to you.
This Magick Marmot (An Abracadabra Mystery)
Cozy Mystery
5th in Series
Publisher: Lyrical Press (April 7, 2020)
Pages: 200
A fatal case of school spirit . . .
Kailyn Wilde, owner of the Abracadabra potion shop, feels some dread anticipating her ten-year high school reunion at the new hotel in New Camel—but it turns out even worse than she feared. Running into her very first boyfriend is pleasant enough. Chatting with Ashley—who still can't let go of a tragedy that happened on prom night—is a bit more uncomfortable. But the worst part comes when one of Kailyn's oldest friends is found dead in the ladies' room.
Soon this upstate New York town is in an uproar. And with some help from time-traveling wizard Merlin—who has adopted an unusual and alluring creature as his familiar—it's up to Kailyn to identify the alumnus most likely to commit murder . . .
Guest post from the author: Writing Cozies
Writing cozies has been a blessing to me in a way I never could have anticipated. It's been my "therapy dog." Not long after I was offered a contract to write my first series, A Portrait of Crime, my mother was diagnosed with lung cancer. She'd reached the ripe age of eighty-nine in relatively good health and had retired from the accounting department of a law firm only five years earlier. She still drove all over and led an independent life. I had no idea about was coming next.
The bad news – she had to undergo surgery to remove a third of one lung. The good news – she didn't require any other treatment. It was a rough surgery to endure at her age, and I hated watching her go through the post-op pain and recovery. I kept telling myself that once she was healed, she'd have more good years of life. It was my mantra when I visited her in the hospital every day for a solid three weeks that felt more like three months.
As her only child I had to take care of her finances during that time. What an eye-opener! My mother was a world class actress. She never gave me a hint of the problems she was facing or the creeping dementia that fueled it. Before her diagnosis we'd kept our traditional Saturday – shopping and lunch. It was a custom. My grandmother, aunt, and she had adopted even before there was a "me" to join them. I don't think they ever missed a beat. I was born and went along in my baby carriage. It was always fun as well as a great female bonding experience. We'd critique the clothes and how we looked in them and laugh until our sides aches.
Nothing lasts forever. When my aunt developed multiple sclerosis, she moved to Florida where she could pursue water therapies. My grandmother followed a few years later. Saturday shopping and lunch had dwindled down to my mom and me, but we knew how to have fun on our own. We vowed to get right back in that groove once she was cleared for takeoff. But that was before I discovered the hole she'd quietly dug beneath herself – the one she was about to fall into.
Apparently anything she liked or wanted had morphed into a necessity. She lost her earrings, so she bought new ones, over and over again. She became a fan of the shopping networks. Every time I asked her if she was okay financially, she assured me she was. I believed her, because she'd worked in accounting all her life and numbers were her "thing." Suffice it to say that some drastic measures were required to straighten out her financial predicament. She wasn't happy about the solution, but it was the only one. We had to sell her condo and move her into a rental closer to me. I arranged for aides to come in, because she didn't remember to eat or take her medications. Hours of anesthesia during the surgery had exacerbated her dementia.
Throughout this traumatic, stressful period, I still had books to write. I would come home from a day of tearing my hair out and sit down at the computer. The only reason I was a able to focus and write was because I was working on a cozy. The mystery required my strict attention to detail and timeline, the twists and turns of the plot. The characters welcomed me back each day like old friends. They made me laugh at the things they wanted me to write about them. They made it easy to lose myself in their world. I don't know how I would have made it through that difficult time without my cozy "therapy dog."
About the Author
Sharon Pape describes her writing career as having two stages. Back in the dark ages, before computers were in every household, she had three paranormal books published. The first one was condensed by Redbook Magazine, the first paperback original they had ever condensed. Around the same time, Redbook published her first short story.
Then life brought her an unexpected challenge that went by the name of breast cancer. When her treatment was over, she became a volunteer for the American Cancer Society's Reach to Recovery Program and went on to be the program's coordinator for Nassau and Suffolk Counties on Long Island. Several years later, with the help of her surgical oncologist and two other survivors, she started her own not-for-profit organization to provide information and peer support to newly diagnosed breast cancer patients.
Once the organization was running smoothly and didn't require as much of her time, she returned to her first love – writing. During this second stage of her career, she's been writing cozy mysteries with a paranormal twist and a splash of humor.
Author Links
Website – http://sharonpape.com/
Facebook: https://www.facebook.com/sharon.pape.94
Twitter: https://twitter.com/sbpape
Goodreads: https://www.goodreads.com/author/show/641079.Sharon_Pape
Purchase Links – Amazon  –  B & N
Enter the giveaway ENDED
TOUR PARTICIPANTS
April 6
Elizabeth McKenna – Author – SPOTLIGHT
Books a Plenty Book Reviews – REVIEW
April 7
The Pulp and Mystery Shelf – SPOTLIGHT
Laura's Interests – REVIEW
April 8
Christy's Cozy Corners – GUEST POST
Brooke Blogs – SPOTLIGHT
April 9
MJB Reviewers – REVIEW
Baroness' Book Trove – REVIEW
April 10
Literary Gold – CHARACTER GUEST POST
 I'm All About Books – SPOTLIGHT
April 11
Nadaness In Motion – SPOTLIGHT
Ruff Drafts – SPOTLIGHT
April 12
Cozy Up With Kathy – REVIEW
StoreyBook Reviews – REVIEW
April 13
ebook addicts – REVIEW
Paranormal and Romantic Suspense Reviews – SPOTLIGHT
April 14
Ascroft, eh? – AUTHOR INTERVIEW
I Read What You Write – REVIEW
Escape With Dollycas Into A Good Book – REVIEW
April 15
A Wytch's Book Review Blog – CHARACTER INTERVIEW
Rosepoint Publishing – REVIEW
Dee-Scoveries – SPOTLIGHT
Have you signed up to be a Tour Host?
Click Here Find Details and Sign Up Today!