Welcome to the Great Escapes Virtual Book Tour for Tea & Treachery (Tea by the Sea Mysteries) by Vicki Delany.  Stop by each blog on the tour for interviews, spotlights, reviews and more!
In this charming new cozy mystery series from nationally bestselling author, Vicki Delany, a New York City expat-turned-Cape Cod tea shop owner must solve the murder of a local real estate developer to help her feisty grandmother out of a jam . . .
Tea & Treachery (Tea by the Sea Mysteries)
by Vicki Delany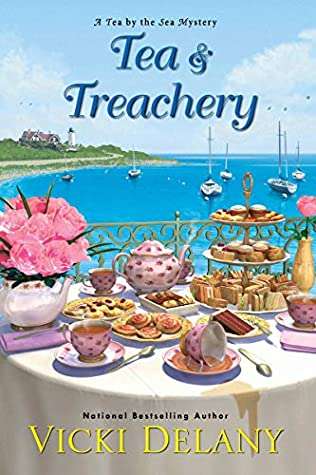 I received this book free to review; however, all opinions are my own. This post contains affiliate links. If you make a purchase, I may receive compensation at no cost to you.
Tea & Treachery (Tea by the Sea Mysteries)
Cozy Mystery
1st in Series
Publisher: Kensington (July 28, 2020)
Hardcover: 304 pages
As the proud proprietor and head pastry chef of Tea by the Sea, a traditional English tearoom on the picturesque bluffs of Cape Cod, Roberts has her hands full, often literally. But nothing keeps her busier than steering her sassy grandmother, Rose, away from trouble. Rose operates the grand old Victorian B & B adjacent to Lily's tea shop . . . for now. An aggressive real estate developer, Jack Ford, is pushing hard to rezone nearby land, with an eye toward building a sprawling golf resort, which would drive Rose and Lily out of business.
Tempers are already steaming, but things really get sticky when Ford is found dead at the foot of Rose's property and the police think she had something to do with his dramatic demise. Lily can't let her grandmother get burned by a false murder charge. So she starts her own investigation and discovers Ford's been brewing bad blood all over town, from his jilted lover to his trophy wife to his shady business partners. Now, it's down to Lily to stir up some clues, sift through the suspects, and uncover the real killer before Rose is left holding the tea bag.
Tea & Treachery Book Review
Tea by the sea. That's the life for me. Seriously. I want to live in this book! Come to think of it, I want to live in the Lighthouse Library books that the author writes as Eva Gates too. I need books, tea, pastries, and the beach. Who's with me?
If you're anything like I am (and I know a lot of you cozy readers are), you are going to absolutely love Tea & Treachery. It's got all of the things I love about cozy mystery books: quirky characters, an idyllic setting, animals, food, family, friends, and an engrossing mystery. The only negative aspect about the book…I read it too quickly! Now I have to wait! Ah. It's a good problem to have I guess.
Vicki Delaney has such talent for making her characters unique. I don't read one of her series and then another and think, "Oh, these characters remind me of so and so in her Sherlock Holmes Bookstore series" or whatever series. They've got their own personality traits which make them memorable. Rose, Lily's grandmother, is my role model. I want to be her when I grow up though one cat is certainly not enough. I'll allow it though as she does own a B&B where even one cat is probably pushing it if the health department pops in to the kitchen… Tea & Treachery has so many colorful characters, and I could go on and on about them. But, you really need to experience them first hand to appreciate their quirks and foibles.
Living by the ocean (or any large body of water) has always been my dream. Since I'm stuck in Ohio, I live vicariously through the characters who do. Delaney's descriptive language really made me feel as if I were in Cape Cod…at the tea room, the B&B, or just strolling along the bluffs.
Figuring out who the killer is is always fun. I love putting my detecting skills to work. Having grown up reading Nancy Drew and watching Murder She Wrote gives me such an advantage…okay, not really. But, as I'm sure you can tell, I've loved solving mysteries since I knew there was such a thing as a mystery! If you love mysteries, you know you never outgrow that feeling you get when you have that aha moment! The Tea by the Sea series is sure to give us many of those moments.
I highly recommend this entertaining book! Tea & Treachery will keep you turning the pages and have you laughing out loud! Enjoy!
The Perfect Afternoon Tea
Be sure to read this guest post if you're a tea drinker! I was craving tea and scones the entire time I was reading!
Guest post by Vicki Delany
"Do you make all the food served here yourself?" [Detective Redmond asked]

That was an abrupt change of topic. Had she even heard me? Might as well answer the question. "I do, and everything's made completely from scratch. Nothing purchased and nothing out of a package. More than once, people have complained when they saw the prices. We never apologize. Good food, well prepared with excellent ingredients, much of it sourced locally, costs money. Not to mention fresh flowers on the table and real china and silver and linen at every place. Afternoon tea isn't an everyday thing, not even in the UK and certainly not in America. It's a treat, an indulgence, and I believe it needs to be presented accordingly."

Scone finished, Detective Redmond helped herself to a macaron and sipped her tea.
Tea and Treachery

By

Vicki Delany
Tea by the Sea, the main location in my new Tea by the Sea mysteries from Kensington, is a traditional afternoon tea room located near the Outer Cape town North Augusta, on Cape Cod. I love afternoon tea, and like Lily Roberts, my protagonist, I believe it's a treat, and indulgence.
The fine china, the perfect table settings, the delicious food. Plus the time taken to enjoy it. Afternoon tea is not something to be rushed through. It is the perfect occasion for relaxing with friends.
Afternoon tea is not the same as high tea, although the two are often confused. Afternoon tea was sometimes called low tea at one time, as it was served on a low, drawing room table, as opposed to high tea, served on a high kitchen table. High tea, now usually just called tea in the UK, is a working family's evening meal.
Afternoon tea was invented by Anna Duchess of Bedford, a friend of Queen Victoria, around 1840. Anna began feeling a mite peckish around four in the afternoon and she wanted a small, light meal to tide her through. She began inviting friends to join her, and the idea spread, and here we are.
Almost anywhere in the world, from England where it was invented, to North America, Africa, and Asia, afternoon tea is served and it is much the same everywhere. A pot (or pots) of perfectly prepared tea served in fine china. The food is always some variation of scones (with jam, butter, and clotted cream) small finger sandwiches, and a selection of delicate pastries. Afternoon tea can be a heck of a big meal; a lesser meal called a cream tea, tea with just the scones and accompaniments, is often available for those with smaller appetites.
For a true celebration, a glass of champagne or sparkling wine is sometimes served as well.
Although the food aspect of afternoon tea is set – scones, sandwiches, desserts – Lily Roberts bakes a great variety of those things from one day to the next, depending on what she feels like making, what's in season, and what's in the stores. She also prepares a children's tea – juice or iced tea, ham and cheese or jam sandwiches, chocolate chip cookies and small cupcakes. Even the children's tea is served on the best china and in fine glassware.
If you're not able to get out yourself to a tea room and enjoy the delights of afternoon tea, or prepare it at home for your friends, I hope you'll enjoy afternoon tea at Tea by the Sea between the pages of Tea and Treachery.
About Vicki Delany
Vicki Delany is one of Canada's most prolific and varied crime writers and a national bestseller in the U.S. She has written more than thirty-five books: clever cozies to Gothic thrillers to gritty police procedurals, to historical fiction and novellas for adult literacy. She is currently writing four cozy mystery series: the Tea by the Sea mysteries for Kensington, the Sherlock Holmes Bookshop series for Crooked Lane Books, the Year Round Christmas mysteries for Penguin Random House, and the Lighthouse Library series (as Eva Gates) for Crooked Lane.
Vicki is a past president of the Crime Writers of Canada and co-founder and organizer of the Women Killing It Crime Writing Festival. She is the 2019 recipient of the Derrick Murdoch award for contributions to Canadian crime writing. Vicki lives in Prince Edward County, Ontario.
Author Links
Website –  www.vickidelany.com
Facebook – www.facebook.com/evagatesauthor
Twitter:  @vickidelany  @evagatesauthor
Instagram: vickidelany
Purchase links
 Amazon – B&N – Kobo – Google Play – IndieBound
Enter the giveaway ENDED
Tour Participants
July 27
The Pulp and Mystery Shelf – CHARACTER GUEST POST
This Is My Truth Now – REVIEW, AUTHOR INTERVIEW
The Bookwyrm's Hoard – REVIEW, GUEST POST
July 28
The Avid Reader – REVIEW
The Book Decoder – REVIEW  
July 29
I'm All About Books – SPOTLIGHT
Reading Is My SuperPower – REVIEW
Moonlight Rendezvous – REVIEW, GUEST POST
July 30
Mysteries with Character – REVIEW
Hearts & Scribbles – SPOTLIGHT
My Reading Journeys – SPOTLIGHT
July 31
Cozy Up With Kathy – REVIEW, CHARACTER GUEST POST
Mystery Thrillers and Romantic Suspense Reviews – SPOTLIGHT
Here's How It Happened – SPOTLIGHT, RECIPE
August 1
Socrates Book Reviews – SPOTLIGHT
Christy's Cozy Corners – REVIEW, GUEST POST
August 2
Ruff Drafts – GUEST POST
Baroness' Book Trove – REVIEW
August 3
Diane Reviews Books – REVIEW
The Book Diva's Reads – GUEST POST
Literary Gold – CHARACTER GUEST POST
August 4
Book Club Librarian – REVIEW  
Brooke Blogs – SPOTLIGHT
Ascroft, eh? – AUTHOR INTERVIEW
August 5
FUONLYKNEW – SPOTLIGHT
Jane Reads – GUEST POST
StoreyBook Reviews – REVIEW
August 6
MJB Reviewers – SPOTLIGHT
eBook Addicts – REVIEW
August 7
Reading, Writing & Stitch-Metic – SPOTLIGHT
Thoughts in Progress – CHARACTER GUEST POST
August 8
Books a Plenty Book Reviews – REVIEW
August 9
Melina's Book Blog – REVIEW
Author Elena Taylor's blog – CHARACTER INTERVIEW
Have you signed up to be a Tour Host?
Click Here Find Details and Sign Up Today!