Welcome to the Prism Book Tour for Holidays, Inc. by Rachelle Paige Campbell. Stop by each blog for excerpts and reviews from the book!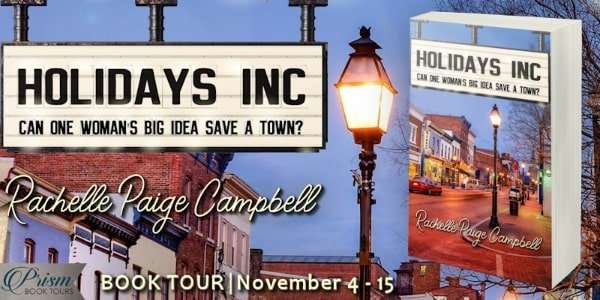 On Tour with Prism Book Tours
Holidays, Inc. by Rachelle Paige Campbell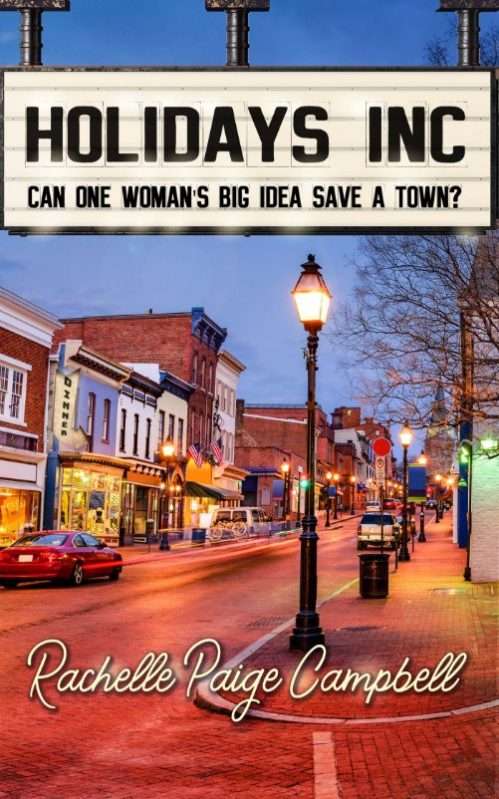 Contemporary Romance
Paperback & ebook, 260 Pages
November 4, 2020 by The Wild Rose Press, Inc
Former child actress, Danielle "Dani" Winter, left Hollywood to transform an old cinema into a dinner theater, seeing the project as her chance to take control of her future. The middle-of-nowhere location in Wisconsin is a perfect escape from backstabbing celebrity friends. The small town welcomes her help with open arms, but one man questions her plan.
After unsuccessful writing stints on both coasts, Paul Howell returns home to New Hope. He's shocked to discover that his sister has sold the family business to a beautiful woman. With the encouragement of his neighbors, he reluctantly agrees to write Dani's next musical.
Working together, they discover more similarities than differences and grow close. When Dani's former best friend and America's sweetheart, Kara Kensington arrives, their blossoming relationship is threatened in more ways than one.
(Affiliate links included.)
Amazon | Barnes & Noble | Book Depository
Holidays, Inc. Book Excerpt
"The kitchen is located in the building next door. It used to be a p—"
"The pizzeria?" Nora widened her gaze.
"Long gone before I arrived." Dani shrugged and continued to the employee entrance to the auditorium. With a hand on the knob, she swung open the door. "And this is the theater."
Nora stepped through and gasped. "Wow." She turned in a slow circle. "I never imagined Howell Cinemas could be transformed into something so grand. What you've done here is miraculous."
Entering, Dani lifted her chin and studied the room like it was her first time. She swept her gaze over the neatly arranged tables, sloping toward the stage. The closed, red velvet curtains shone under the house lights. She clasped hands behind her back and stood tall. "Thank you. I couldn't do any of the work alone. New Hope has supported me every step along the way, as I'm sure you can appreciate."
Nora nibbled her bottom lip and smiled.
The expression was tight and uninviting. Dani drew in a deep breath. After she learned her lesson with Paul, she wouldn't again interfere or overstep in someone's personal business. Crossing toward the exit leading to the main entrance, Dani unlocked the door and glanced over her shoulder. "If you want to stop in at the diner, you can chat with the owners about their schedule for tonight's show. You know Shirley and Ted?"
"Of course." Nora chuckled and followed. "Everyone for a thirty-mile radius knows them."
Entering the lobby, Dani laughed alongside the newcomer, and a weight lifted off her shoulders. Nora wasn't exactly the Christmas miracle Dani wanted, but she was glad to have the kitchen under control. She shut the door to the theater and turned to her statue-still companion. Following Nora's gaze, she jumped.
Across the room, Jill and Rob stood near the front doors.
Their wide-eyed expressions mirrored Nora's.
"Ellie?" Rob asked, a muscle twitching in his jaw.
About Rachelle Paige Campbell
Rachelle Paige Campbell writes contemporary romance filled with heart and hope. No matter the location—big city, small town, or European kingdom—her feel-good stories always end with a happily ever after. She's grateful for the support of her family, her robot floor cleaner, and her reluctant writing partner (her dog).
Website | Goodreads | Facebook | Twitter | Pinterest | Instagram
Tour Schedule
Follow the Holidays, Inc. tour by clicking the button below.
Enter the tour Giveaway Ended
One winner will receive a $10 Amazon eGift Card (open internationally)
Ends November 19, 2020