Welcome to the Gobble Till Ya Wobble Giveaway Hop! Thanks to the sponsor, one of my US readers can win this silly book your kids will love: The Rescue Rabbits!
"Readers will see in these pages a gentle spoof of cartoons and blockbusters that include endless product tie-ins, but the story also offers an amusing tribute to competency-themed pretend play." —Publishers Weekly
Hosted by Review Wire Media & Chatty Patty's Place
The Rescue Rabbits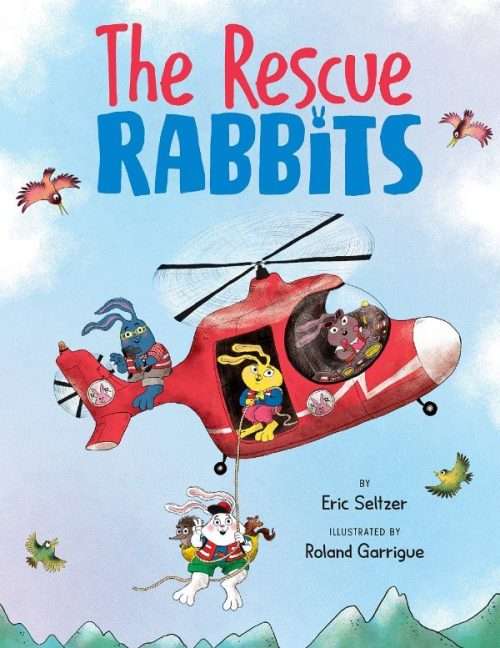 I received this book free to review; however, all opinions are my own. This post contains affiliate links. If you make a purchase, I may receive compensation at no cost to you.
THE RESCUE RABBITS
Eric Seltzer, illus. By Roland Garrigue
Grade Level : Preschool – 2
Hardcover : 32 pages
Publisher : Two Lions (November 10, 2020)
Reading level : 4 – 8 years
The four zany Rescue Rabbits invite you to race along with them as they save their fellow animal friends both big and small. From limping elephants to seasick kangaroos, it seems there is no problem they can't handle. But when the Rescue Rabbits meet a rhino prince with a very unique problem, they will have to put their heads together (in a Rescue Rabbits huddle, of course!) and find a special solution in order to save the day. And that's just what they will do, because they are…THE RESCUE RABBITS!
My review
The Rescue Rabbits is a charming children's book filled with lots of silly situations. Your kids will get a kick out of how Ace, Chip, Dot, and Spot rescue animals in sticky situations. Grown-ups will appreciate the humor in the "product endorsements."
The illustrations are colorful, and the illustrator totally captures how a grumpy mama looks when her little one gets into mischief.
I think this is one your animal loving little ones will enjoy!
About the author
Eric Seltzer received his BFA from the College for Creative Studies in Detroit, Michigan. He worked as a TV graphics designer and an advertising art director before writing and illustrating children's books. His book Four Pups and a Worm was an IRA/CBC Children's Book Choice, and The Long Dog was named a Gryphon Award Honor Book. He recently published the board book Arf! Buzz! Cluck! illustrated by David Creighton-Pester. Eric lives with his family in Michigan.
About the illustrator
Roland Garrigue is a prolific children's book illustrator from Paris who attended art school in Strasbourg, France. His recent books include Cavekid Birthday, written by Cathy Breisacher, and Mother Ghost: Nursery Rhymes for Little Monsters, written by Rachel Kolar. Follow him on Instagram and Twitter @rolandgarrigue.
Enter the giveaway Ended
Check out this super Rescue Rabbits giveaway!
One lucky winner will receive a copy of The Rescue Rabbits, courtesy of Two Lions (U.S. addresses).
You are invited to the Inlinkz link party!