Write Now Literary is pleased to be organizing a two-month book tour for The Little Girl in the Pink Dress & Steam Adventures with Freedom Speakz & Friend with Co-authors Chizelle' T Archie & Freedom Speakz.
The book tour will run December 1-January 29, 2021.
Genre: Children, nonfiction
Meet the Authors: Freedom Speakz and Chizelle' T. Archie
Freedom Speakz, born Freedom Jah'an Archie, is the petite but larger than life, multi-talented artist and Atlanta, Georgia native. She is a seventh grader currently attending Coretta Scott King Young Women's leadership Academy. As her name suggests, Freedom Speakz is a free-spirited young lady, who never misses an opportunity to fascinate audiences both big and small. Freedom's love for the arts parallels her love of STEAM (Science, Technology, Engineering, Arts and Math)
At just twelve years old, she is young yet fierce and confident. Chizelle' T. Archie, is a native of Mobile, Alabama. She bursts on the literary scene in 2010 when she penned her debut novel, "The Fearfully and Wonderfully Made Diamond, in which the sequel shortly followed. "His Grace, His Blood, His Mercy! "Chizelle' is a mother to the joy of her life Freedom Jah'an A.K.A. Freedom Speakz, as well as a Registered Nurse. She currently resides in Atlanta, Georgia.
About The Books
This post contains affiliate links. If you make a purchase, I may receive compensation at no cost to you.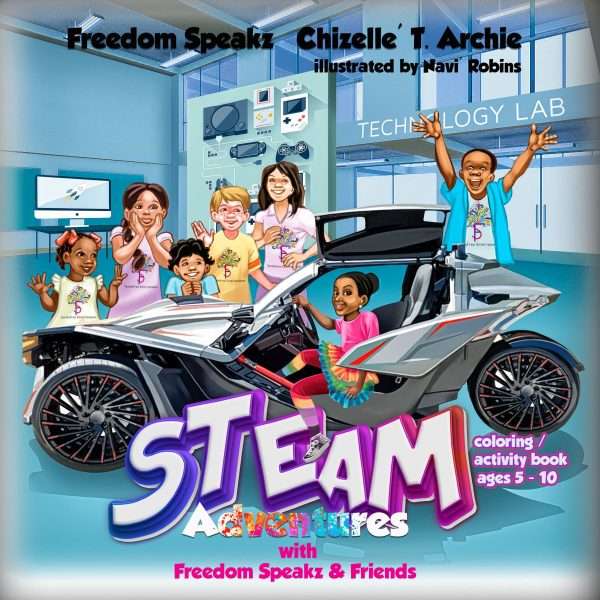 STEAM Adventures with Freedom Speakz and Friends
The fearless STEAM adventurer Freedom Speakz takes a journey to several fun places where she meets new friends along the way. While riding in her super powered yet magical Freedom Cycle, Freedom Speakz, her friends, and yes you too, will help each other complete the wonderful activities that spell all things Science, Technology, Engineering, Arts, and Math!
The Little Girl In The Pink Dress
Freedom Speakz and her friends have a fun filled day in the park, as she recounts the story of how her infamous "Generations" speech came to be. In this true tale, she relives the moments from where it all began. As a tribute to Mrs. Coretta Scott King it was on that day she stood, and proclaimed FREEDOM for all to see. No one could have ever imagined that the voice of this little girl in a pink dress would forever change the world!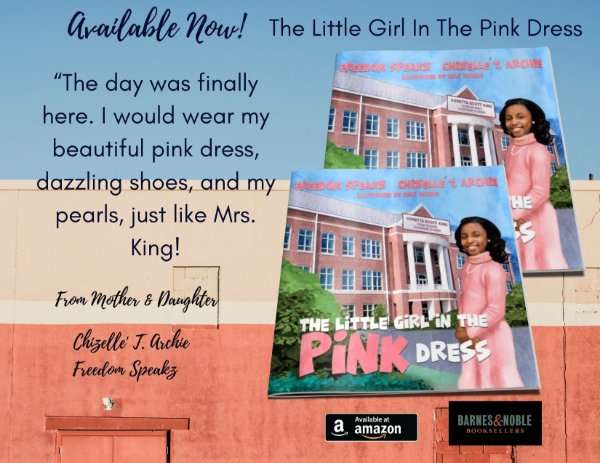 Guest post: What Advice Can You Give First Time Authors?
Freedom Speakz
My advice to a first time author whether you are a child or an adult, would be to first know what you plan to write about. It can be anything that you feel means something to you. People may not always like your story but it is yours.
I would also say do not be afraid to let your feelings out, be yourself. Do what makes you happy. Make sure you find someone to read to so they can help you along the way. A person that you trust, because not everyone will give you good advice.
Finally no matter how it turns out, be proud of what you accomplished, because if you never write again, that will always be your name on your book!
Chizellé T. Archie
For a first time author, I would definitely tell them to first pray and ask God to give you a vision, then I would say just write! Everyone has their own ways of doing things. There are people that find it easier to first write down their thoughts and ideas on paper first before transferring it to digital. I would say if that works for you go with it.
Write from your heart. Do not stress so much over the grammatical part of it, (that is what editors are for). Whether you are writing non-fiction or fiction the same applies.
I would also advise to always research before you begin writing. Your topic, your base. Know as much as you can about all of it. Utilize the computer at your discretion. Google can be your very best friend.
If you have in mind a team such as an editor, illustrator, publisher, if you are not the publisher, do your research on them as well. It is always good to get advice from others, but don't get advice from everywhere, because it will cloud everything you are wanting to accomplish.
Finally I would advise if you are an avid reader, read some of your favorite authors works prior, to get an idea of how that particular type of book flows not- as- you- are writing, because their voice can somehow become yours while you are in the midst of writing, and you will find yourself comparing your voice to theirs.
In closing, I would advise after the manuscript is completed to seek God again, and ask that he cover the entire project to make it what He would have it to be, and sit back and prepare to see your words in print!
Purchase Links