Welcome to my stop on the Great Escapes Virtual Book Tour for Death by Intermission (An Abby McCree Mystery) by Alexis Morgan. Stop by each blog on the tour for interviews, guest posts, spotlights, reviews and more!
Abby McCree spends a summer showing family films under the stars—only to end the season with an unexpected slasher flick . . .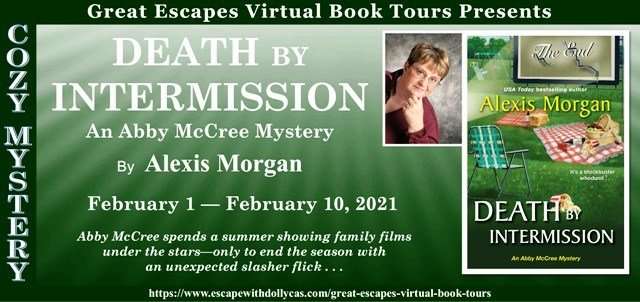 Death by Intermission (An Abby McCree Mystery)
by Alexis Morgan
Death by Intermission (An Abby McCree Mystery)
Cozy Mystery
4th in Series
Publisher: Kensington (January 26, 2021)
Mass Market Paperback: 336 pages
Ushered once again onto another committee by the mayor of Snowberry Creek, Washington, Abby is tasked with keeping the box office receipts of the town's Movies in the Park nights. Cut to the director's chair from where she's suddenly organizing the summer's last feature. From the opening scene through the final credits, Abby feels she's earned nominations for best volunteer, best movie date with her tenant Tripp Blackston—and best daughter for ignoring her mother Phoebe's own movie date with Owen Quinn.
Unfortunately, Abby and the others are treated to a post-credits scene: the body of local insurance agent Mitchell Anders. This discovery is followed by a plot twist revealing that the murder weapon comes from Owen's food truck. With her mother's boyfriend suspected of murder, Abby starts her own investigation determined to shine a spotlight on the real killer . . .
CHARACTER Guest Post: TRIPP BLACKSTON
Hi, everyone! First, I want to thank Christy for inviting me to stop by today to talk about my adventures with Abby McCree.
My name is Tripp Blackston, and I recently left the army after serving for twenty years in the Special Forces. I'm attending a local college to finish my degree as I transition from life in the military back into civilian life.
I met Abby McCree right after she moved to Snowberry Creek from nearby Seattle. When she moved into a house that had belonged to her late aunt, I was already living in the small mother-in-law cottage on the back edge of the property, and you might say Abby inherited me along with the house as well as a ninety-five pound mastiff mix named Zeke. She had recently gone through a divorce and, like me, was starting a new phase in her life.
We've since become good friends and could be slowly moving toward something more. For sure, the three of us—Abby, Zeke, and me—spend a lot of time together. When things are going well, we enjoy long walks, hanging out with friends in town, and movies with pizza nights at her house.
But here's the thing–I swear that woman can get into more trouble than any other ten people I know combined! There is no doubt that her intentions are good, but she'll do anything to help a friend even if it puts her at risk. I shouldn't really complain. I'm one of those friends she's helped along the way.
Having said that, I've told her repeatedly that poking her nose into murder investigations has taken years off my life. I never expected to have to use my army training to keep my lovely landlady safe, but those skills have come in handy on more than one occasion. In fact, I was afraid I'd find civilian life a bit boring. Thanks to Abby and the skirmishes she's pulled me into since I've met her, that hasn't happened. I'd never admit it to her for fear that would only encourage her to keep diving headfirst into trouble.
Our latest adventures take place in DEATH BY INTERMISSION, the fourth installment in The Abby McCree Mysteries. Did you know a cast iron skillet is an effective weapon, especially when wielded by an overprotective mother? Seriously, if I ever went back into the army, I'd start carrying one just in case. Regardless, I can't wait to see what kind of adventures lay ahead for Abby, Zeke, and me.
About Alexis Morgan
Alexis Morgan is the USA Today bestselling author of over forty-five novels, novellas, and short stories that span a variety of genres: American West historicals (as Pat Pritchard); paranormal and fantasy romances; contemporary romances; and cozy mysteries. A RITA® Award-finalist, Alexis Morgan is a member of RWA and Sisters in Crime. She lives in Washington State and can be found online at AlexisMorgan.com.
Author Links 
Website – http://www.alexismorgan.com/
Facebook – https://www.facebook.com/AMorganAuthor
Twitter – https://twitter.com/Alexis_Morgan    
Blog –  http://www.alexismorgan.com/snowberry/index.html 
Purchase Links – Amazon – B&N –  Kobo – GooglePlay  –  IndieBound
Enter the giveaway
Death by Intermission TOUR PARTICIPANTS
February 1
I'm All About Books – SPOTLIGHT
Sapphyria's Book Reviews – SPOTLIGHT
February 2
Christy's Cozy Corners – CHARACTER GUEST POST
Christa Reads and Writes – REVIEW
The Pulp and Mystery Shelf – AUTHOR INTERVIEW
February 3
Maureen's Musings – SPOTLIGHT
Reading, Writing & Stitch-Metic – GUEST POST
February 4
Mysteries with Character – REVIEW
Baroness' Book Trove – SPOTLIGHT
February 5
Cozy Up WIth Kathy – REVIEW
View from the Birdhouse – REVIEW
MJB Reviewers – SPOTLIGHT, EXCERPT
February 6
Ascroft, eh? – CHARACTER INTERVIEW
February 7
Literary Gold – SPOTLIGHT, EXCERPT
February 8
Mystery Thrillers and Romantic Suspense Reviews – SPOTLIGHT, EXCERPT
I Read What You Write – SPOTLIGHT
February 9
Cassidy's Bookshelves – GUEST POST
StoreyBook Reviews – SPOTLIGHT
February 10
Celticlady's Reviews – SPOTLIGHT, EXCERPT
Escape With Dollycas Into A Good Book – REVIEW, AUTHOR INTERVIEW
Have you signed up to be a Tour Host?
Click Here Find Details and Sign Up Today!