Welcome to my stop on the Great Escapes Virtual Book Tour for Death Gone A-Rye (A Bread Shop Mystery) by Winnie Archer.  Stop by each blog on the tour for interviews, guest posts, spotlights, reviews and more!
In the Northern California seaside town of Santa Sofia, a killer is trying to get a rise out of baker's apprentice Ivy Culpepper . . .
Death Gone A-Rye (A Bread Shop Mystery)
by Winnie Archer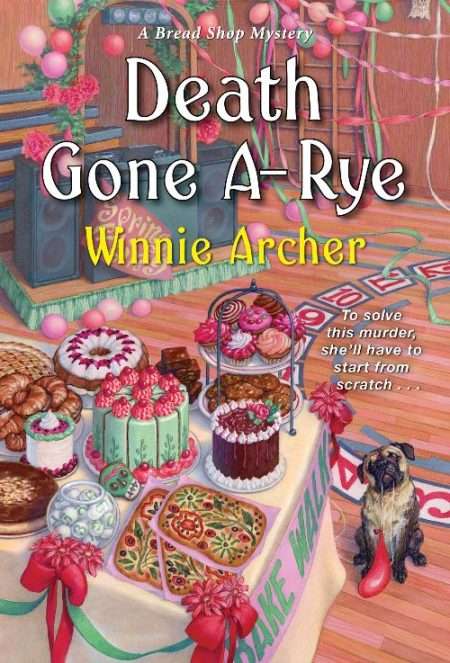 This post contains affiliate links. If you make a purchase, I may receive compensation at no cost to you.
Death Gone A-Rye (A Bread Shop Mystery)
Cozy Mystery
6th in Series
Publisher: Kensington (April 27, 2021)
Mass Market Paperback: 272 pages
Vincent van Dough focaccia is being touted on Instagram as the best thing since sliced bread. By strategically placing chives, olives, and yellow peppers to look like poppies and sunflowers, bakers create a mouthwatering masterpiece in the style of the great postimpressionist painter. At Yeast of Eden, where bread making has always been an art, they're baking their own version for the school district's Spring Fling.
But one person won't be tasting the Mexican bakery's latest specialty. Ambitious school board president Nessa Renchrik has been murdered. Like the rest of this close-knit community, Ivy is shocked. But she's just as surprised to discover her beau—restaurateur Miguel Baptista—had his own fling with Nessa back in the day and now the police have this half-baked notion he might have killed her. It's up to Ivy, her boss Olaya Solis, and eighty-six-years-young Penelope Branford to separate the wheat from the chaff to determine who the real culprit is . . .
INCLUDES RECIPES!
Guest Post
You don't know me (or maybe you do… that would be awesome!), but I'm a mystery writer. I'm the author of the Lola Cruz Mystery Series and A Magical Dressmaking mystery series, the Book Magic Mysteries, two darker mystery suspense books, and the Bread Shop Mysteries, which is what I'm chatting about today.
When you aren't a regular on a blog, it can be hard to know what to write, and how to present it to a brand new audience. Should I be funny, like I am in some of my books? Serious, because murder is serious business? Or some combination of the two, perhaps? The truth is, like any fleshed out character, I'm a combination of things. I love a good mystery (cutting my teeth on Nancy Drew, graduating to Agatha Christie, and branching out from there), read the occasional romance (Julia Quinn makes me laugh), but stick mostly with women's and/or literary fiction (The Help is a favorite).
How, then, did I come to write mysteries, and why are some of my mysteries sexy and sassy (Lola Cruz) and some very down home (Harlow Cassidy's A Magical Dressmaking mystery series and Ivy Culpepper's Bread Shop mystery series)?
The short answer is, I like the mystery device. What better way to propel a plot forward than to have a crime to solve?
The little-bit-longer answer is that crafting a puzzle that the sleuth and readers need to piece together is challenging–and fun; watching characters you love to spend time with grow and discover themselves–and each other–is rewarding. Having humor, wit, a little fun banter in a book is icing on the cake.
For me, though, the mystery is only half the story. My books are character driven more than anything else. Ivy Culpepper is someone I would call a friend in real life. So are Lola Cruz, Harlow Cassidy, and Pippin Lane Hawthorne. My plots are often 'ripped from the headlines', twisted, redefined, and made original. The mysteries shape, form, and/or enlighten my sleuth in her personal life or with her decision-making. But the characters—that's where the soul in all of my series comes from. My sleuths have backstories, flaws, interests, curiosities, loves, and so much more. The mystery may drive the plot forward, but my characters are the heart.
I hope you'll check out my books on my website (melissabourbon.com).
Happy reading!
Melissa
About Winnie Archer
The indefatigable Winnie Archer is a middle school teacher by day and a writer by night. Born in a beach town in California, she now lives in Colorado. She fantasizes about spending summers writing in quaint, cozy locales, has a love/hate relationship with both yoga and chocolate, adores pumpkin spice lattes, is devoted to her five kids and husband, and can't believe she's lucky enough to be living the life of her dreams. Visit her online at WinnieArcher.com.
Author Links 
Kensington: https://www.kensingtonbooks.com/9781496724410/dough-or-die/
Website:   https://melissabourbon.com/
Facebook: https://www.facebook.com/MelissaBourbonWinnieArcherBooks/
Purchase Links – Amazon – B&N – Kobo 
Enter the giveaway
Death Gone A-Rye TOUR PARTICIPANTS
May 3
Socrates Book Reviews – SPOTLIGHT
May 4
I'm All About Books – SPOTLIGHT
Cozy Up With Kathy – REVIEW, CHARACTER GUEST POST
May 5
Celticlady's Reviews – SPOTLIGHT, EXCERPT
Reading, Writing & Stitch-Metic – SPOTLIGHT, RECIPE
May 6
Novels Alive – GUEST POST
The Avid Reader – REVIEW, EXCERPT
Baroness' Book Trove – REVIEW
May 7
My Journey Back the Journey Back – SPOTLIGHT, RECIPE
My Reading Journeys – REVIEW
May 8
Literary Gold – SPOTLIGHT, EXCERPT
May 9
Books a Plenty Book Reviews – REVIEW
The Book's the Thing – REVIEW, EXCERPT
Sapphyria's Book Reviews – SPOTLIGHT
May 10
Christy's Cozy Corners – GUEST POST
Ascroft, eh? – CHARACTER INTERVIEW
May 11
Mysteries with Character– AUTHOR INTERVIEW
A Wytch's Book Review Blog – REVIEW, CHARACTER INTERVIEW
May 12
Brooke Blogs – SPOTLIGHT, RECIPE
Moonlight Rendezvous – REVIEW, EXCERPT
Have you signed up to be a Tour Host?
Click Here to Find Details and Sign Up Today!