Welcome to the Prism Book Tour for A Secret Christmas Wish by Cathy McDavid. Stop by each blog for excerpts and reviews from the book!
On Tour with Prism Book Tours
A Secret Christmas Wish (Wishing Well Springs #3)
By Cathy McDavid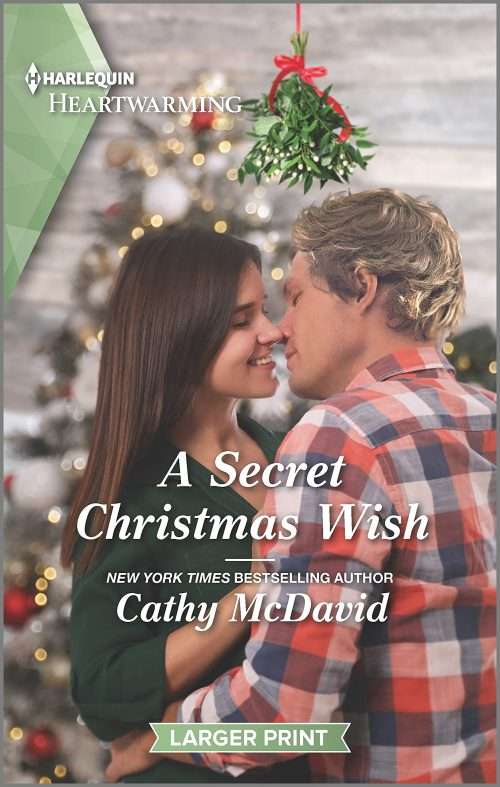 This post contains affiliate links. If you make a purchase, I may receive compensation at no cost to you.
A Secret Christmas Wish
(Wishing Well Springs #3)
By Cathy McDavid
Contemporary Romance, Clean Romance
Paperback & ebook, 384 Pages
October 26, 2021 by Harlequin Heartwarming
The magic of Christmas
Could make her wish come true!
A small-town Christmas wedding. What could be more romantic? Unless you're a plus-one for hire like single mom Maia MacKenzie. Too bad handsome cowboy Brent Hayes is her new coworker—and completely off-limits! Neither of them can afford to lose their job…or invest in a relationship. But when she sees Brent's adorable connection with her young son, Maia can't help wishing for a Christmas miracle.
(Affiliate links included.)
Amazon | Barnes & Noble | Target | Book Depository
A Secret Christmas Wish Book Excerpt
Staring at an attractive cowboy across the way while on a date with someone else probably wasn't considered good manners. Maia MacKenzie imagined her mother rolling her eyes and announcing she'd raised her youngest daughter better than that.
But, Maia rationalized, this wasn't a real date. Yes, technically she'd arrived with the man sitting to her left. And, like all the guests at Wishing Well Springs wedding barn, she waited for the familiar strains of "Here Comes the Bride." But at the end of the reception, they'd part ways and never hear from one another again.
Her date—Kenny Haselhoff, she reminded herself—seemed nice, if a bit nervous. She sent him her best you've-got-this smile. He fidgeted in response, his knee bobbing up and down.
According to the bio she'd been provided, Kenny worked as a project manager for a large flooring company, liked to golf and jog, was a newly divorced father of two and had season tickets to the Arizona Cardinals games. In the story outline he'd created, they'd been seeing each other for the past two months and weren't yet serious.
In truth, Maia had just met Kenny for the first time thirty minutes ago. In the rear parking lot of Payson Feed and Hay, of all places. He'd chosen the discreet location, insisting they not be glimpsed by anyone attending his cousin's nuptials. As Maia had learned this past year working for Your Perfect Plus One, people were funny when it came to weddings. They had no problems going solo to any other activity. Nightclubs. Parties. Sporting events. Movies. But somehow, arriving alone at a wedding screamed loser with a capital L.
Which explained why her older sister's wedding-and-event-date company had doubled in size since opening and why Maia was busy most weekends. Weddings were big business in this tourist town. More than ever since Wishing Well Springs had opened its doors. Getting hitched or hosting a family reunion in a glamorously rustic barn with an adorable Western-themed miniature town next door appealed to a lot of people. Particularly over the holidays.
Personally, Maia wouldn't want to get married on Thanksgiving eve, but to each their own. The turkey with all the fixings dinner reception at Joshua Tree Inn next door did promise to be delicious. She had that to look forward to at least.
Her gaze traveled again to the attractive cowboy in the pew across the aisle. He looked vaguely familiar, though not in an I-know-you way. More like an I've-seen-you-somewhere way. Hmm. Maybe his name would come to her before the end of the wedding.
Excerpted from A Secret Christmas Wish by Cathy McDavid, Copyright © 2021 by Cathy McDavid. Published by Harlequin Heartwarming.
Other Books in the Series
Click the books to learn more!
About the Author
In the third grade, NY Times, USA Today and Amazon bestselling author Cathy McDavid made it her goal to read every Black Stallion book ever written. Who knew such an illustrious ambition would eventually lead to a lifelong love of all things western, owning a stagecoach pulled by six mules, and a career writing contemporary romances for Harlequin?
With over 50 titles in print and 1.3 million-plus books sold, Cathy is also a member of the prestigious Romance Writers of America's Honor Roll. This "almost" Arizona native and mother of grown twins is married to her own real-life sweetheart.
After leaving the corporate world six years ago, she now spends her days penning stories about good looking cowboys riding the range, busting broncs, and sweeping gals off their feet — oops, no. Make that winning the hearts of feisty, independent women who give the cowboys a run for their money. It's a tough job, but she's willing to make the sacrifice.
Website | Goodreads | Facebook | Twitter | Instagram | Bookbub
Tour Schedule
Enter the tour giveaway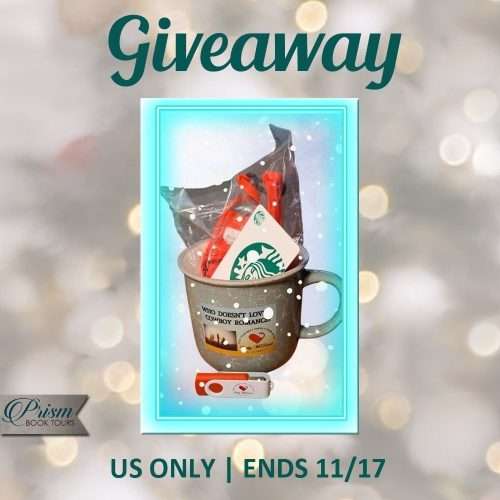 One winner will receive a coffee mug, author bling, and $20 Starbucks gift card (US only)
Ends November 17, 2021