I received the Beauty and the Beast Coloring Book free for review. This did not influence my opinion. This post contains affiliate links. If you make a purchase with those links, I may receive a compensation. 
Living with depression is not easy. Even when you see a therapist or a psychiatrist, you don't see them every day.  You have to find ways to cope on the days you're alone. Some days are just worse than others. This is true even if you don't suffer from clinical depression. When you are in the middle of a more down day, you're not in the mood to come up with ways to cope. Having a plan in place for your bad days can be really helpful.
Ways to Cope with Depression
These are some of the tips that I've learned through counseling and others things that just work for me. What I do might not be something you would do,  but it's a jumping off point. I also want to point out that if you do feel as if you may be suffering from clinical depression and haven't seen a doctor about it, do it! I'm not a doctor, but I do see one. And after pretending I was okay after my husband's death and finding indeed I wasn't, I see a therapist now too. It helps tremendously. She gives me lots of ideas on how to get through the rough days.
Do something creative
Even if you feel like you don't have a creative bone in your body, you do. You can do something as simple as coloring a picture. You're still being creative even if you are coloring a page out of your child's coloring book and not an adult one!  If you've got a creative hobby, engaging in it can be a great way to cope on a bad day. Maybe you'd like to learn a new hobby, like crocheting. You can find classes online to teach you just about anything.
Way before adult coloring books became a craze, I'd color with my kids. This Beauty and the Beast Coloring Book from Silver Dolphin Books is a great choice. It contains quotations from the original fairy tale, Beauty and the Beast, and it is 96 pages long. During your down days, it will give you something to distract you and cheer you up at the same time.
This enchanting coloring book is full of wonderful pictures, patterns, and borders to be colored in, as budding artists immerse themselves in the story of Beauty, who goes to live with the terrifying Beast in order to save her father…and then gradually learns to love him. All the key scenes and characters are here to color in as you relive this most romantic of fairy tales.
Get outside
Even if you don't feel like doing anything outside, just go out and sit for a little bit.  If it's cloudy, at least you're getting a little bit of fresh air and a change of scenery. When the sun is shining, let it soak into your skin for several minutes. That little boost of vitamin D might be just what you need. If you feel up to it, take a walk. Even walking for a few minutes can perk you up a bit. If you have a dog, take him with you. Did you know that just having a pet can help reduce your depression? It's true.
 Watch a movie
When planning for your bad days, you could compile a list of movies that always make you feel better. Put those movies in a decorative box and get the box out when you are having a down day. Then you'll already have those movies in front of you. Since you picked them out ahead of time, you know that no matter which movie you choose, it's going to cheer you up.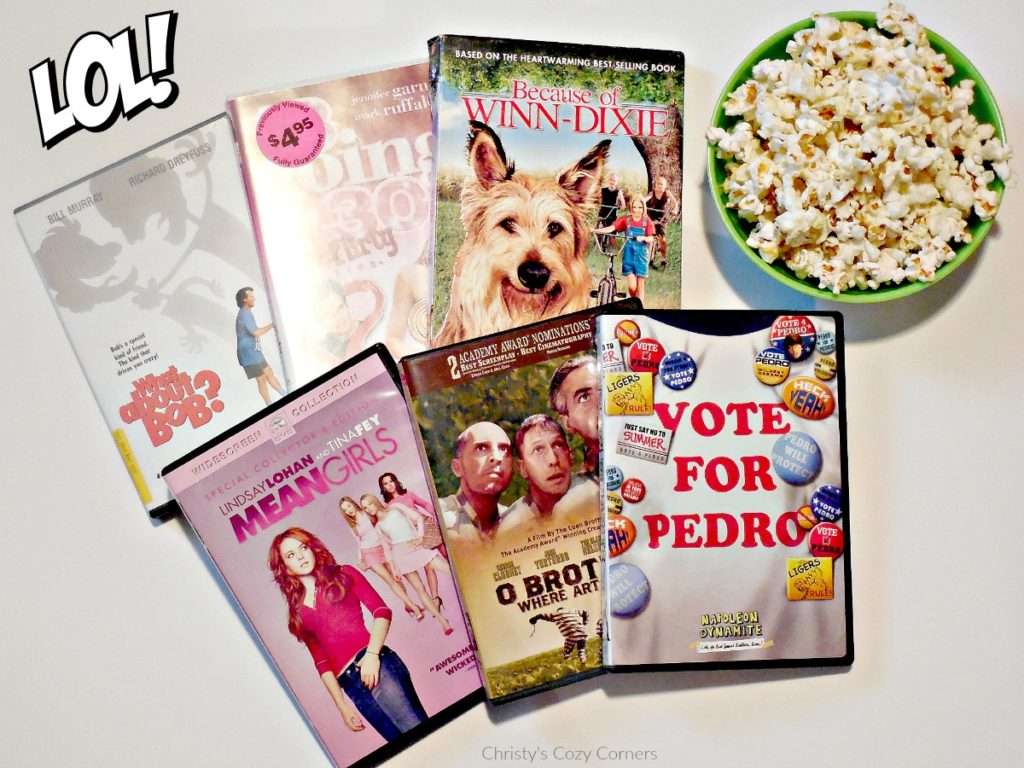 What would your list include? Here are some of mine:
13 Going on 30 (Just the soundtrack alone picks me up!)
Because of Winn Dixie (It's just such a heartwarming and adorable movie!)
O Brother Where Art Thou (Enough said)
Mean Girls (On Wednesdays, we wear pink.)
What about Bob? (Baby steps)
Napoleon Dynamite (umm…everything!)
Listen to a mixtape
So eighties, right? Okay, so it doesn't have to be a mixtape. Make a playlist on your iPod and title it, "My Terrible, Horrible, No Good, Very Bad Day Playlist." We've all got certain songs that cheer us up. As soon as you hear it, your spirits just get a boost. I know that the types of music that cheer me up might make you run away screaming and vice versa. That's why you've got to make your own.

Read a favorite book or a new book
I'm always reading, but sometimes I am just not in the mood to read what I've been reading. On those days, I set aside whatever I'm reading that's not making me happy, and pick up an old favorite. Sometimes, I'll just start a new book in a genre that I feel will cheer me up, like a cozy mystery book.  Kathi Daley's Whales and Tails series always cheers me up.
Have a chocolate
Okay, yes, I know that you shouldn't eat for comfort, but chocolate really does pick you up. Chocolate is metabolized by the body into serotonin which is one of our most potent mood enhancing hormones.  My grandma always had a stash of chocolates. Chocolate creams (vanilla and maple mostly) and chocolate covered marshmallows were her favorites. They are mine too. As long as you don't eat a whole row of Oreos (often), chocolate is a good choice on a down day.
Just remember…
Your bad days aren't going to be everyday.  You have to plan ahead, so that when they do come, you are ready to deal with them. These are just a few ways to cope with depression, and I'm sure you have your own ideas. I'd love to hear them.
Like this post? Pin it for later!
How do you cope with bad days?