Disclosure: I received free sauces to facilitate a review. All opinions are honest, my own, and may differ from yours. This post may contain affiliate links. I may receive a compensation if you make a purchase. Thank you.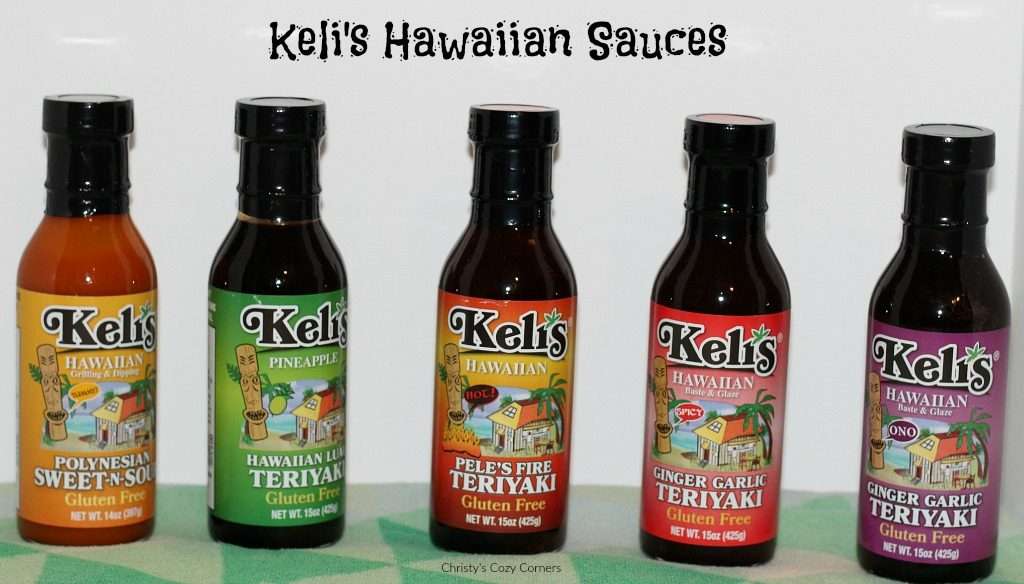 If you want to impress your family with an amazing dinner, you've got to try Keli's sauces. I love sauces because they can make a boring dinner tastier without too much work. These sauces are very versatile and can be used in several different ways. You can use them as a dipping sauce, a glaze, an ingredient, drink it out of the bottle….okay maybe not that last one, but you get the idea. Not only are they delicious, but they are gluten free which makes them a great choice for those of you with gluten allergies.
About Keli's Sauce Company
Originating in the Islands of Polynesia, Keli's Sauces was a recipe passed down from generation to generation. Before settling down to their regular jobs, Jim and Terry Morrisey traveled to the Marshall Islands. With no radio, television, or phone service, they made close friends with the people on the island, particularly with one Hawaiian family whose daughter was in Terry's Kindergarten class. During their time in the Islands, they shared a lot of meals and fell in love with the island inspired flavors and sauces.
In 1989, Penny, one of the Hawaiian family's children from the island of Molokai, took an adventure to meet Jim and Terry on the mainland working at their small deli on the Oregon Coast. Together, the dynamic duo created a recipe for the delicious sweet ginger Teriyaki that the islands are famous for. Encouraging them to market these savory sauces, Penny helped them design the very first label. Forever indebted to Penny, Terry named the company "IPO," which is Penny's middle name and means "Sweetheart" in Hawaiian. Penny named the sauce "Keli," which is Terry in Hawaiian.
Teriyaki Chicken and Pineapple Pizza
Keli's has several recipes on their website, and we decided to try this Teriyaki Chicken and Pineapple Pizza. Molly's friends were coming over since it was spring break. We all ended up loving it, but Kyle, being Kyle, didn't like it. Oh well, each to his own. He says pizza should only have pepperoni on it! Live a little, boy! We changed the recipe from their website a little bit, since we were serving more than 4, and Molly didn't know what refrigerated pizza dough was when she went to the store. She lives a sheltered life apparently…..
I'll share our recipe after the photos, and you can check out the original recipe on their site. This Teriyaki Chicken and Pineapple Pizza recipe uses Keli's Ginger Garlic Teriyaki.
Teriyaki Chicken and Pineapple Pizza with Keli's Sauces
Keli's Sauces make this teriyaki chicken and pineapple pizza delicious! Your family will love it!
Ingredients
2

boxes of Jiffy Pizza Dough Mix or another brand or homemade pizza dough...whatever

2

boneless

skinless chicken breast halves cut into small pieces

1

cup

pizza sauce

1 15

oz.

can pineapple chunks

¾

cup

Keli's Hawaiian Ginger-Garlic Teriyaki Glaze

reserve ¼ cup for chicken

1

cup

shredded Mozzarella cheese

1

cup

crumbled Feta cheese
Instructions
Preheat oven to 400 degrees F.

Saute chicken in very hot pan until browned .

Add 1/2 cup Keli's Hawaiian Teriyaki Glaze and mix with chicken till coated.

Spread the pizza dough on a baking sheet

Bake dough for approximately 7 minutes

Brush dough with thin layer of pizza sauce, and top with mozzarella cheese.

Top with the teriyaki chicken pieces, feta cheese, and pineapple chunks.

Drizzle 1/4 cup Keli's Hawaiian Teriyaki Glaze over top.

Bake for an additional 15 minutes, or until cheese is bubbly and slightly browned.
Try Keli's Sauces and learn how they stand out from all the rest:
Gluten-free
Vegan
Amazing flavor
No MSG
No preservatives
Low sodium
Low fat
These would make a great gift for Mother's Day or Father's Day
With BBQ season quickly approaching, you'll be cooking out a lot more! I know I would love a gift basket of these sauces myself! I'm sure those dads who love cooking on the grill would love trying something new! Be sure to go to their website to order some for your mom or dad!
What is your favorite recipe using teriyaki sauce? Which of these sauces would you like to try first? You can order them directly from Keli's website. Enjoy!