If you are still looking for a sweet treat for your upcoming patriotic celebrations, I've got an easy recipe for you. This festive and patriotic chocolate pretzel bark looks and tastes great!
Disclosure: This post contains affiliate links which means I make a small commission if you use them to make a purchase.
Festive and Patriotic Chocolate Pretzel Bark
For this chocolate pretzel bark, I bought a bag of pretzels (you won't use the entire bag), 2 bags of Wilton Royal Blue Candy Melts and 2 bags of Wilton Red Candy Melts.  I already had white chocolate at home, but guess what…it wouldn't melt! I got it at our local discount store, so that might explain it. We ended up using 2 bags of chocolate chips instead. It's still festive and still yummy. But I suggest you buy Wilton White Candy Melts if you want your candy melts to actually melt.


In order to make this chocolate pretzel bark, line a baking sheet with parchment paper, microwave your chocolates in separate bowls (obviously) for 30 second intervals. Stir. Keep microwaving until the chocolates are melted. Spread the white (or milk in our case) chocolate on the parchment paper. Place a layer of pretzels on the melted chocolate.


Then you just spread the blue and red chocolate on in rows until it looks like you want it to look. Sprinkle some red, white and blue sprinkles on top and freeze until set.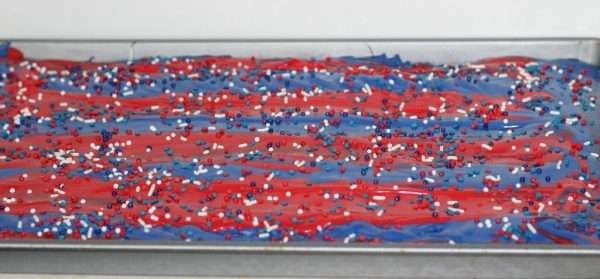 When the chocolate has hardened, take it out of the freezer and break it up into chunks. It is delicious and easy! You'll impress your family with your amazing talent, and they'll beg you to make this for every get-together you have…. Okay, I guess you're going to have to decide if you want to make this for every get-together or not before you take it places.


Doesn't that look good? Have you ever made chocolate pretzel bark? What is your favorite recipe for it? I know I've seen ones that are much more elaborate than this, but if you're going to have to make this for every get-together you'll ever attend, you might wanna keep it simple.
Pin Me!